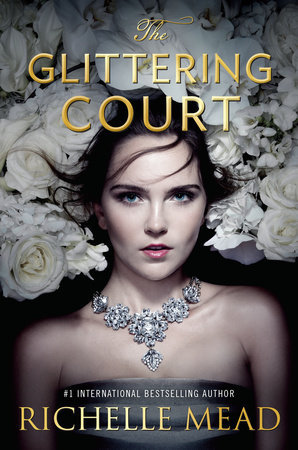 The Glittering Court
Author: Richelle Mead
Series: The Glittery Court #1
Release Date: April 5, 2016
Publisher: Razorbill
Get it Here: Amazon | Barnes & Noble | Book Depository
Synopsis:
Big and sweeping, spanning from the refined palaces of Osfrid to the gold dust and untamed forests of Adoria, The Glittering Court tells the story of Adelaide, an Osfridian countess who poses as her servant to escape an arranged marriage and start a new life in Adoria, the New World. But to do that, she must join the Glittering Court.
Both a school and a business venture, the Glittering Court is designed to transform impoverished girls into upper-class ladies who appear destined for powerful and wealthy marriages in the New World. Adelaide naturally excels in her training, and even makes a few friends: the fiery former laundress Tamsin and the beautiful Sirminican refugee Mira. She manages to keep her true identity hidden from all but one: the intriguing Cedric Thorn, son of the wealthy proprietor of the Glittering Court.
When Adelaide discovers that Cedric is hiding a dangerous secret of his own, together they hatch a scheme to make the best of Adelaide's deception. Complications soon arise—first as they cross the treacherous seas from Osfrid to Adoria, and then when Adelaide catches the attention of a powerful governor.
But no complication will prove quite as daunting as the potent attraction simmering between Adelaide and Cedric. An attraction that, if acted on, would scandalize the Glittering Court and make them both outcasts in wild, vastly uncharted lands…
I haven't been the most avid Mead fan, even though I've read most of her YA books. The Vampire Academy series (review of first book here) was entertaining and diverting, yet a bit too dramatic for me. Soundless (review here) was a total disappointment, especially in regards to expressing my own culture. But The Glittering Court struck me in all the right ways. The sedate pace, which may be a bit off-putting to some, follows Lady Whitmore as she finds her independence and freedom in the New World. Although categorized as fantasy, there isn't any magic or strange creatures to enhance the story. Rather, it reads like a historical novel with different names for the locations.
Here's the way I envisioned it in my mind: we start in Georgian England. (Although I've seen some reviewers label it as "Victorian" or "Elizabethan," I'm sticking with the Georgian, which was around the 1700's. Since people are just starting to colonize the New World, my head placed it around that time period. //End history section). Aka the place where debutantes are trying to score a marriage to the higher classes, because ancestral lines are all the rage. Lady Whitmore comes from a very fab ancestral line, but her family's losing money, fast. Thus, her grandma arranges a marriage that she simply can't wait to get out of. She stumbles upon her maid Ada, who was recruited to be on the Glittering Court, hosted by the Thorns. I thought this concept was fairly interesting, and a rather smart business endeavor on the characters' parts. Whitmore finds her freedom by switching places with Ada and entering this competition. The girls are then brought to the New World (which I thought of as the Americas in my head), and choose husbands for themselves. This happens within the first half of the story, so we also get to see a bit of frontier life as well from Adelaide's (who Whitmore becomes) point of view.
"Ada looked at my ancestry and wealth as if that was power, but really, a commoner had more freedom than me. Which was why, perhaps, I needed to become one."
The concept of the Glittering Court was pretty intriguing. Jasper and his son Cedric Thorns picks up girls from around the area and polishes them up to become wives for the settlers in the New World. I hear that it's rather similar to The Selection, which I've managed to stay away from for a while. But after talking to a friend who has read it, this book seems like the better option. First, although all the girls want to make successful matches, it's not about ONE guy that they all want to marry. (So no weird love dodecagons or anything.) And even though the main characters' name both start with an A, I prefer Adelaide over America, no? (Okay that's pretty trivial but I cannot seriously read a book where I get put off by a character's name).
I love love love the characters in here. They have so much depth, and shone through the pages. Adelaide obviously wants to find her freedom, and she starts growing so much after leaving her sheltered life. She goes from pampered princess to complacent learner to hard-working lady. I love the changes she goes through, and how resilient her character is. She's the type to solve problems and think about others. Reading from her narrative and seeing how much she's grown since the beginning of the book was so refreshing. The friendships she made with two other girls from the Glittering Court was also so nice to see. Yay for female friendships, and not pitting other girls against each other even though it's a competition!
So we can obviously tell from the length of the book that a lot is going on in the story. Like I said, the first half of the story takes place in that pseudo-European region, and then we go through a sea trip and land in the New World for the latter half or so. There was also a rather intriguing addition of religion in the story. People are quite strict on that aspect and label other sects of their religion as "heretics." There were a lot of details surrounding it, and it also tied in a bit with the plot. Although I can't exactly say I loved it, I did think that it added a bit of flare to the story.
Sighh, the romance in this book was so touching, so sweet. Cedric isn't high-born or anything; in fact, he's a University student. There's a bit of a forbidden love aspect since his father and uncle are the schemers of the Glittering Court and Adelaide is one of the "jewels" in it. How could he want to reach so far? But of course, their feelings and determination make it possible for many swoony and sigh-inducing moments to ensue. Their love was selfless, supportive, and just plain sweet. The pace fit in quite nicely with the rest of the plot and reading about those two just made my heart melt.
"'Don't you know that I'd lie with you in the groves, under the light of the moon? That I'd defy the laws of gods and men for you?'"
Although I enjoyed the majority of the book, I did feel as though the end was quite rushed (which was a little reminiscent of Soundless) and had a bunch of convoluted plot elements jumbling together to make an otherwise satisfying conclusion. It was like the first 85% of the book was a meandering stroll that went with the events and the last 15% went to a trot, tripped over some random bicycles, and finally got to the finish line. Compared to the rest of the book, I found it a tad messy. However, I do love that the book finishes up on Adelaide's story, but we also get to look forward to companion novels of her vivacious friends. At first I wasn't sure about the setting so reminiscent of history, but the compelling story and utterly dazzling characters left me starry-eyes by the glittering jewels found in this book.