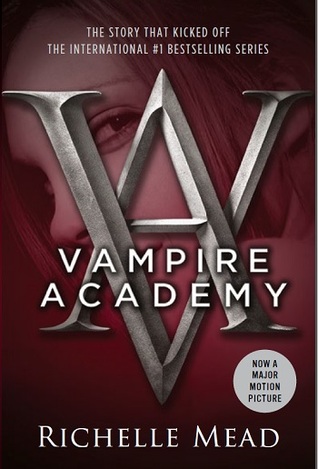 Vampire Academy
Author: Richelle Mead
Series: Vampire Academy
Get it here: Amazon | Barnes & Noble | Book Depository
Synopsis:
St. Vladimir's Academy isn't just any boarding school—it's a hidden place where vampires are educated in the ways of magic and half-human teens train to protect them. Rose Hathaway is a Dhampir, a bodyguard for her best friend Lissa, a Moroi Vampire Princess. They've been on the run, but now they're being dragged back to St. Vladimir's—the very place where they're most in danger. . . .Rose and Lissa become enmeshed in forbidden romance, the Academy's ruthless social scene, and unspeakable nighttime rituals. But they must be careful lest the Strigoi—the world's fiercest and most dangerous vampires—make Lissa one of them forever.
Well, I finally joined the bandwagon. Vampire Academy has always been one of those series that I've always known was there, but never really payed much attention. Same goes for the movie (or TV show? Have no idea). It garnered some attention, but personally I never paid much to it. I bought the whole series on a whim from BookOutlet because they were so cheap and ended up binge-reading them in two days. Blame exam week in two weeks, not me.
I'm sure everyone knows about the different vampires, or have an idea. When I was reading reviews about it, I was too lazy to really pay attention. I'd say Mead did an ok job on making the vampire world. My biggest complaint is that throughout the series we have all this money strolling in – how the fuck do vampires get this kind of money if they don't hang out with humans? 
Continuing on, this first book was not what I expected. Since I'm writing the review after reading all the books (seriously I slept at 3 am last night finishing it), I'm putting it out there that I feel as if the series gets better up to the third book, then progressively gets worse again. So it's like a bell curve. 
I didn't hate the book, I just felt like I was watching some vampire soap opera. Especially in this book, where the climax is finding out who had sex with whom. (That may have been an exaggeration.) But honestly? The amount of gossip and high school drama in the book just astounds me. I thought we were going to be training and fighting. What do I get? Mean girls.
And Rose, wow, talk about a selfish bitch. Yeah, in the end she feels bad about what happened and set everything to rights but jfc you don't control Lissa. You need to calm down sometimes. Another plot hole I find with the "bond" between Lissa and Rose is that rather than a cool addition to vampire powers, it's more of a plot technique. We get to see things from Lissa's view at EXACTLY the time that it's useful information. In real life, how many times would Rose get useless info? What if Lissa's taking a piss? This bothered me more during the later books, but still. Great bond.
The romance between both girls (to separate people) is alright, although nothing swoon-worthy over. I have to admit, I enjoy high school drama myself so I kept on reading with no qualms (I'm nosy af), but it's one of those superficial enjoyments. Likable during the time, but when I look back all I see is cat claws and sharp words. Nothing to get from it except unnecessary drama.
The ending was a lot more interesting, albeit predictable. What made me continue reading (other than the fact I bought the whole damn series) was finding more about Lissa's powers. Review for next books to come! (That's right. I read all six books, and I'm reviewing the shit out of this.)