Swoon Thursday is a hot meme hosted by the fabulous ladies at YA Bound!
– From the book you're currently reading, or one you just finished, tell us what made you SWOON. What got your heart pounding, your skin tingling, and your stomach fluttering
– Try to make the swoon excerpt 140 characters (or less), if you are going to tweet about it. Use the hashtag #YABOUND when tweeting.
REBEL OF THE SANDS BY ALWYN HAMILTON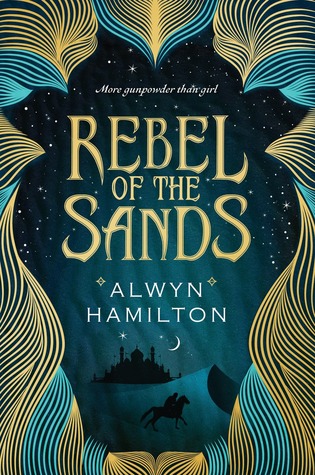 Synopsis:
She's more gunpowder than girl—and the fate of the desert lies in her hands.Mortals rule the desert nation of Miraji, but mystical beasts still roam the wild and barren wastes, and rumor has it that somewhere, djinni still practice their magic. But there's nothing mystical or magical about Dustwalk, the dead-end town that Amani can't wait to escape from.
Destined to wind up "wed or dead," Amani's counting on her sharpshooting skills to get her out of Dustwalk. When she meets Jin, a mysterious and devastatingly handsome foreigner, in a shooting contest, she figures he's the perfect escape route. But in all her years spent dreaming of leaving home, she never imagined she'd gallop away on a mythical horse, fleeing the murderous Sultan's army, with a fugitive who's wanted for treason. And she'd never have predicted she'd fall in love with him…or that he'd help her unlock the powerful truth of who she really is.
I CAN'T STOP THINKING ABOUT THIS BOOK. THE ENCHANTING WORLD. THE GRITTY CHARACTERS. THIS SHIPPPPP. Not gonna lie, I'm pretty sure I've reread this scene too many times to count.
I was a desert girl. I thought I knew heat.
I was wrong.
The contact sent a rush through me so sudden, I started to pull away before I caught fire. But Jin trapped my face in his hands. There was nowhere to run to. Nowhere to go.
Nowhere I wanted to go.
I hadn't really thought this through, but now I didn't have any thoughts left. Only the strength of his fingers against my neck.
His breath vibrated through me until I couldn't feel anything anymore except want.
More than want.
Need.
– ARC, Page 115 (aka my new fave page)
I seriously can't wait for you guys to pick up this one when you get the chance! It's just hands-down amazing. 😀 My recent review of it can be checked out here!