"Waiting On" Wednesday is a weekly event created by Breaking the Spine that spotlights upcoming releases that we're eagerly anticipating.
This week I'm featuring two debut authors with some pretty coincidential books:
Their first books come out on the same day: January 26, 2016!
Their first names are both Emily.
They both wrote contemporary books (although one has a lil' scifi in it) that I absolutely CANNOT wait to devour!
Without further ado, let me introduce you to these two books and GORGEOUS covers!
---
The Year We Fell Apart
Author: Emily Martin
Release Date: January 26, 2016
Publisher: Simon Pulse
ADD TO GOODREADS
Synopsis:
Few things come as naturally to Harper as epic mistakes. In the past year she was kicked off the swim team, earned a reputation as Carson High's easiest hook-up, and officially became the black sheep of her family. But her worst mistake was destroying her relationship with her best friend, Declan.
Now, after two semesters of silence, Declan is home from boarding school for the summer. Everything about him is different—he's taller, stronger…more handsome. Harper has changed, too, especially in the wake of her mom's cancer diagnosis.
While Declan wants nothing to do with Harper, he's still Declan, her Declan, and the only person she wants to talk to about what's really going on. But he's also the one person she's lost the right to seek comfort from.
As their mutual friends and shared histories draw them together again, Harper and Declan must decide which parts of their past are still salvageable, and which parts they'll have to let go of once and for all.
In this honest and affecting tale of friendship and first love, Emily Martin brings to vivid life the trials and struggles of high school and the ability to learn from past mistakes over the course of one steamy North Carolina summer.
From the moment I saw the cover, I fell in love. That color scheme coupled with the different pictures is just so soothing. I'm a sucker for stories of first love, and I can't wait to read about Harper discovering herself in this book, as well as salvaging her relationship with Declan. I guess what drew me in was the whole "making mistakes" part. I love characters that are human, and I can really empathize with them when they do make dumb mistakes and learn from them. Crossing my fingers that the characters can pick up the pieces of their relationships after the year they fell apart!
---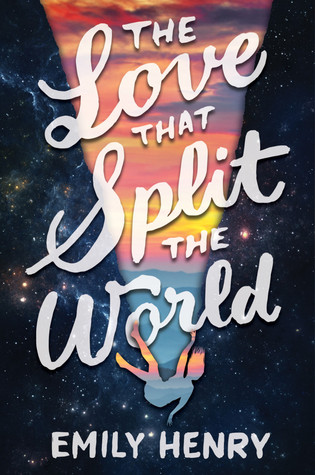 The Love That Split the World
Author: Emily Henry
Release Date: January 26, 2016
Publisher: Razorbill
ADD TO GOODREADS
Synopsis:
Natalie Cleary must risk her future and leap blindly into a vast unknown for the chance to build a new world with the boy she loves.
Natalie's last summer in her small Kentucky hometown is off to a magical start… until she starts seeing the "wrong things." They're just momentary glimpses at first—her front door is red instead of its usual green, there's a pre-school where the garden store should be. But then her whole town disappears for hours, fading away into rolling hills and grazing buffalo, and Nat knows something isn't right.
That's when she gets a visit from the kind but mysterious apparition she calls "Grandmother," who tells her: "You have three months to save him." The next night, under the stadium lights of the high school football field, she meets a beautiful boy named Beau, and it's as if time just stops and nothing exists. Nothing, except Natalie and Beau.
Emily Henry's stunning debut novel is Friday Night Lights meets The Time Traveler's Wife, and perfectly captures those bittersweet months after high school, when we dream not only of the future, but of all the roads and paths we've left untaken.
Every time I see the cover of this book, I want to weep with joy.
Okay but in all honesty, the premise just sounds so delicious. Towns fading away? Illusions following the main character Natalie? That sounds right up my alley. I always enjoy reading contemporary books with a touch of a little extra something (be it magic, time traveling, ghosts, and more) to add some spice to the story. That's probably because I wish something like that would happen in my own life, but so far nothing close has happened. :') Thus, I shall continue to experience it vicariously through characters in books such as The Love That Split the World.
Also I'm obsessed with time traveling.
---
Not gonna lie, 2016 is THE year for amazing debuts coming out. I just want to flash forward six months so my grabby hands can have these books in them. 😀
Alas, the closest I get to time traveling is reading about it.
What are you waiting on this week? Any 2016 debuts that you cannot stop hearing about? I want all the deets!