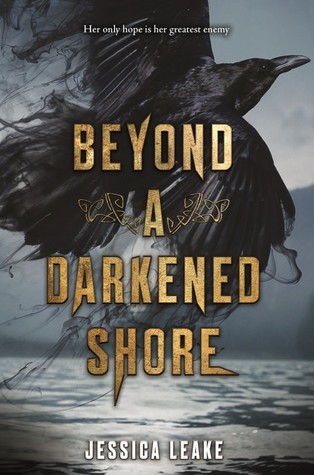 Beyond A Darkened Shore
Author: Jessica Leake
Release Date: April 10, 2018
Publisher: HarperTeen
Get it Here: Amazon | Barnes & Noble | Book Depository
Synopsis:
The ancient land of Éirinn is mired in war. Ciara, Princess of Mide, has never known a time when Éirinn's kingdoms were not battling for power, or Northmen were not plundering their shores.
The people of Mide have thankfully always been safe because of Ciara's unearthly ability to control her enemies' minds and actions. But lately, a mysterious crow has been appearing to Ciara, whispering warnings of an even darker threat. Although her clansmen dismiss her visions as pagan nonsense, Ciara fears this coming evil will destroy not just Éirinn, but the entire world.
Then the crow leads Ciara to Leif, a young Northman leader. Leif should be Ciara's enemy, but when Ciara discovers that he, too, shares her prophetic visions, she knows he's something more. Leif is mounting an impressive army, and with Ciara's strength in battle the two might have a chance to save their world.
With evil rising around them, they'll do what it takes to defend the land they love…even if it means making the greatest sacrifice of all.
Wow, wow, wow.
I did not expect to like this book as much as I did. Beyond A Darkened Shore was magnificent! Although I really liked the cover and was intrigued by the blurb, I didn't think that I would become so engrossed in the story and characters. I'm so glad I was wrong with this one! Beyond A Darkened Shore follows Nordic and Celtic mythology as two characters from vastly different locations and cultures clash. I loved reading the historical elements that Leake weaved into the story, as well as the different gods and folklore that came up. The antagonistic romance was also a blast to read. 😀 There was an amazing, slow-burn development as Leif and Ciara went from enemies, to distrustful allies, to a couple that would dare to defy the gods for their love.