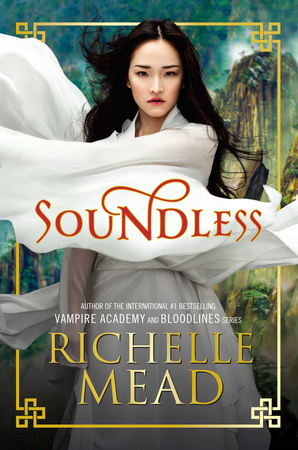 Soundless
Author: Richelle Mead
Publisher: Razorbill
Release Date: November 10, 2015
Get it Here: Amazon | Barnes & Noble | Book Depository
Synopsis:
From Richelle Mead, the #1 internationally bestselling author of Vampire Academy and Bloodlines, comes a breathtaking new fantasy steeped in Chinese folklore.For as long as Fei can remember, there has been no sound in her village, where rocky terrain and frequent avalanches prevent residents from self-sustaining. Fei and her people are at the mercy of a zipline that carries food up the treacherous cliffs from Beiguo, a mysterious faraway kingdom.
When villagers begin to lose their sight, deliveries from the zipline shrink and many go hungry. Fei's home, the people she loves, and her entire existence is plunged into crisis, under threat of darkness and starvation.But soon Fei is awoken in the night by a searing noise, and sound becomes her weapon.Richelle Mead takes readers on a triumphant journey from the peak of Fei's jagged mountain village to the valley of Beiugo, where a startling truth and an unlikely romance will change her life forever…
I received an ARC of this book in exchange for an honest review!
While I was really excited to start this book based off my own culture's folklore, I have to admit that I was quite disappointed. Soundless is a very light read, so light that I found myself floating away while reading. That is, getting bored or distracted. I feel as if not much is going on in the book in terms of action, but instead Mead focuses on world-building and characters.
From the beginning we are introduced to Fei's village, and how one day she can hear sound in the midst of deaf people. Her sister is going blind, and the village relies on a zipline to bring food to them because they can't grow their own. Things are pretty tense there, and even more so when other villagers start going blind. Mead really draws out the beginning, and the explanations got a little tedious for me. I expected a quick journey, but you're put through a good amount of reading about the different aspects of Fei's life before going on that journey.
Finally when Fei starts off with a cute love interest to get more food for her village, things got a little more exciting. She's exposed to things that she's never seen before, while at the same time discovering her feelings about the love interest. Who's a total cutie-pie.
However, what got me disappointed was the cop-out at the end. I feel like Mead really pulled a deus ex machina on the readers, which was anticlimactic for me. The ending is very sweet and satisfying, but the climax just didn't do it. And it really hurt the book overall since it was a standalone. I was left bereft of action and excitement, instead focusing on the punch Mead threw when most of the problems in the book got resolved like *snap*. 
There was such a build-up with conflicts piling on top of each other, when we end with a small fizzle. Yes, there were incorporations of Chinese folklore (DEFINITELY. Will not argue with that.) But I kind of missed the whole Chinese tradition thing. I never really felt IMMERSED in the world, or thought that it was a Chinese one, at that. (If you ignore the myth-like aspects.) Maybe that was just higher expectations from a Chinese reader, but it really didn't pop out for me when reading the book.
I would recommend this for fantasy readers who are interested in Chinese culture and a short and sweet and simple read. The book passes like a blurr, and the ending, while anti-climactic, was certainly satisfying.