Be On the Lookout! is a feature highlighting magnificent books that I'm trying to convince people to preorder, add to their TBR, or just be on the lookout for. It's mainly a way for me to fangirl about the merits of a book outside a review, and hopefully make more readers aware of books that are not to be missed!
I'm really happy to be here for a shout out of an awesome #OwnVoices book for Korean representation: Rebel Seoul by Axie Oh! It's action-packed from beginning to end, with amazing characters that you'll just grow to love and awesome robots that are both daunting as they are amazing. I literally can't shout enough of my love for this book to the sky! Pacific Rim + Kdramas = Rebel Soul, which comes out September 15, 2017.
BONUS: If you preorder the book, you get a postcard (with REALLY REALLY COOL art of the characters) and get entered in a giveaway for character-themed packages! Trust me, these packages are super cool. Face masks, Gundam suits (omg), and all sorts of awesome tidbits that the author got from Korea.
Find the details on the Axie's website here!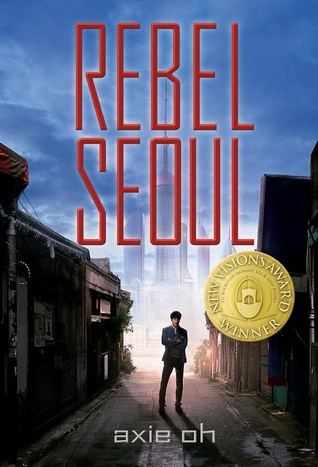 After a great war, the East Pacific is in ruins. In brutal Neo Seoul, where status comes from success in combat, ex-gang member Lee Jaewon is a talented pilot rising in the ranks of the academy. Abandoned as a kid in the slums of Old Seoul by his rebel father, Jaewon desires only to escape his past and prove himself a loyal soldier of the Neo State.
When Jaewon is recruited into the most lucrative weapons development division in Neo Seoul, he is eager to claim his best shot at military glory. But the mission becomes more complicated when he meets Tera, a test subject in the government's supersoldier project. Tera was trained for one purpose: to pilot one of the lethal God Machines, massive robots for a never-ending war.
With secret orders to report on Tera, Jaewon becomes Tera's partner, earning her reluctant respect. But as respect turns to love, Jaewon begins to question his loyalty to an oppressive regime that creates weapons out of humans. As the project prepares to go public amidst rumors of a rebellion, Jaewon must decide where he stands—as a soldier of the Neo State, or a rebel of the people.
Pacific Rim meets Korean action dramas in this mind-blowing, New Visions Award-winning science fiction debut.