Be On the Lookout! is a feature highlighting magnificent books that I'm trying to convince people to preorder, add to their TBR, or just be on the lookout for. It's mainly a way for me to fangirl about the merits of a book outside a review, and hopefully make more readers aware of books that are not to be missed!
This post will basically be a highlight of why The Epic Crush of Genie Lo resonated with me so much as a reader, and as a Chinese-American student. The Epic Crush isn't just one of my new favorite books, it's THE BOOK I've been waiting for since I was a child. It's the book I've grown up wanting, the branch between the Chinese folklore I grew up watching and learning, and the American Young Adult novels that captured my interests and delivered me to another world. All I can say now is that I'm so happy it exists, and I urge readers to also pick it up. It comes out to the world on August 8, 2017 by Amulet Books!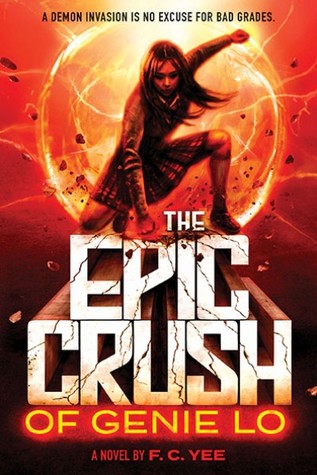 The struggle to get into a top-tier college consumes sixteen-year-old Genie Lo's every waking thought. But when her sleepy Bay Area town comes under siege from hell-spawn straight out of Chinese folklore, her priorities are suddenly and forcefully rearranged.
Her only guide to the demonic chaos breaking out around her is Quentin Sun, a beguiling, maddening new transfer student from overseas. Quentin assures Genie she is strong enough to fight these monsters, for she unknowingly harbors an inner power that can level the very gates of Heaven.
Genie will have to dig deep within herself to summon the otherworldly strength that Quentin keeps talking about. But as she does, she finds the secret of her true nature is entwined with his, in a way she could never have imagined…
How I Related to this Book
As A Student
"It was going to be a long haul, re-creating the notes from my AP classes. My secret weapons – all of the practice exams that I'd hounded my teachers into giving me – were gone. Studying by any method other than active recall was for chumps."
Okay first of all, where's the lie in this passage. Practice exams are the way to go in pulverizing your classmates. ANYWAYS, ahem, Genie Lo goes to an extremely competitive prep school called Santa Firenza Prep, dominated by many other students vying to be the best of the best. Although I didn't go to a prep school, my high school (which I graduated from just a month ago!) was extremely competitive, being in the IB program. Competitive as in call-outs for 'cheating,' hoarding study guides, and spending hours after school sucking up – I mean, helping out with teachers.
All the mentions of going to college and being another Asian-American Applicant ™ in the extremely large pool of applicants just stuck straight to my heart. Genie's position… was exactly where I was only a couple years ago. The feeling of "never being better than anyone else" and of being exactly like my peers followed me throughout high school. It's so easy to get caught up in that not only because of societal and familial pressures, but also the pressure one puts on oneself.
As A Girl Who Doesn't Fit the Mold of "Average" Body Type
"The distinction was lost on my mother. All those words meant the same thing to her. Masculine. Ungirly. Wrong."
Genie is extremely tall and easily towers over her classmates. This distinction, as well as being a volleyball member, is a focus of her traditional Chinese mother, who notes Genie's body type in the book. This piece of dialogue isn't long at all in the story but it's there and I appreciate it loads. I've grown up in a traditional Chinese household where body shaming is an art they excel at. I grew up listening to my mom bemoan my body shape and wonder where I got it, exclaiming at her thinness in her own youth. I've played with cousins calling me "whale" and "giraffe," never mind the fact that I was the youngest of them all. I don't fit in the standard of what my Chinese family thinks should be the standard (and definitely not the "All-American girl" type with blonde hair and white skin), and I have never since an early age. Genie just gets me on this and relating to this kind of strong, fierce character on such a small thing made me love her more.
As A Competitive Teen
"When people asked why, I told them I thrived on the camaraderie. In reality, though, I liked destroying people.
Single-handedly."
This quote refers to what Genie thinks of playing volleyball and I lol'd so hard when I read it. The thing about her personality is that most readers will know exactly why her actions are justified. When she meets Quentin, she's so weary of him and even punches him in the face because of something he does. It's not only funny, it's the kind of stuff that I would do if I had guts in real life. Reading from her pragmatic first person narrative was just refreshing. There's no romanticization of things that happen, she's a super quick thinker that keeps on her toes, and just extremely down-to-earth. Fighting demons and trying to stay on top of school work and keeping up a social life? Tough stuff!
As A Chinese Teen Growing Up In America
"Ming bai le ma, dickhead?"
(Translation: "Do you understand, dickhead?")
The dialogue throws in some Chinese words and phrases that honestly complete me. It's basically the Chinglish I grew up saying in my house. (Of course this isn't often and trust me, readers will get the clear connotation of these short phrases.) I thought this was incredibly well-done of the author because it's so C L E A R. Like, readers – Chinese or not – will still know what's going on, and it accurately reflects the speech process of a Chinese person growing up in America. Okay what else do we have in the book? We have a HILARIOUS Chinese mom who cares very much about appearances (@ my mom??), a Chinese dad who's seen as a "failure" but still gets by (I have a close family member like him), Chinese myths and folklore that I've grown up learning about, and smashdown of stereotypes like how all Chinese people are proficient in music and are quiet and meek (lies I tell you! Lies!).
Check out more fan art for this book (I'm trash for it okay):
First of all, #ownvoices books for the win. Second of all, there are sooo many other reasons to love this book. The extremely adorable, slow burn romance that makes my heart flutter, the action and comedy wrapped up in equal measures, the compelling and refreshing narrative that will make you laugh… the list goes on and on. I love how having these kind of books take an Asian character – from any region – and just give them life. They're not just caricatures or stereotypes, "best friends" in a contemporary that become the token minority in a circle of white friends. They're real people, just as readers all over the world with non-Western heritage are real people. And honestly, they should have been there when I was growing into Young Adult books. I'm just so happy they've arrived, and teen readers around the world can see themselves in them.
F. C. Yee grew up in New Jersey and went to school in New England, but has called the San Francisco Bay Area home ever since he beat a friend at a board game and shouted "That's how we do it in NorCal, baby!" Outside of writing, he practices capoeira, a Brazilian form of martial arts, and has a day job mostly involving spreadsheets.
Have you read this book? Are you excited for it? This book gives me the energy to punch through a wall that's how much I love it.
Previous Be On The Lookout! highlights: