Be On the Lookout! is a feature highlighting special five star books that I'm trying to convince people to preorder, add to their TBR, or just be on the lookout for. It's mainly a way for me to fangirl about the merits of a book outside a review, and hopefully make more readers aware of books that are not to be missed!
Today I'm highlighting When Dimple Met Rishi by Sandhya Menon, which comes out on May 30, 2017 under Simon Pulse. With all the light, fluffy romantic comedies out there in the YA contemporary world, this one is NOT to be missed. I adored it from the first page to last, and was smiling about it hours after finishing. I also shoved it in my friends' faces to read the blurb, but that's neither here nor there.
One of my favorite parts is that it almost reflects my friends' relationship. Okay, so in my friend circle everyone totally ships these two Indian-American friends whose parents know each other quite well. The girl, like Dimple, is not only smart and ambitious (she's the valedictorian of our IB class), but also independent in a traditional household. The guy, like Rishi, is superrrr romantic, sweet, down-to-earth, and honest. Like once, he proposed to her for homecoming via calculator! If that's not adorkable, I don't know what is. (She said no.) And like the couple in this book, they're hesitant in starting a relationship – mostly on the girl's side. She's just not interested in dating right now, especially since it's so early in our life (we're seniors in high school). Dimple also faces this conundrum, as she vacillates between her growing feelings towards the super cute Rishi and her own ambition and plans for the future. But here's the full synopsis: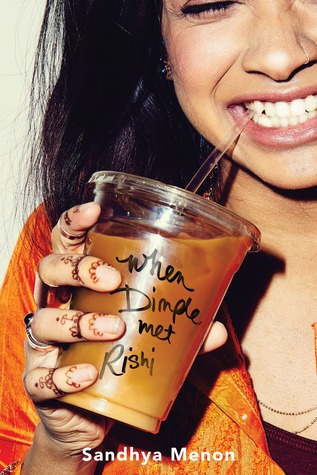 A laugh-out-loud, heartfelt YA romantic comedy, told in alternating perspectives, about two Indian-American teens whose parents have arranged for them to be married.Dimple Shah has it all figured out. With graduation behind her, she's more than ready for a break from her family, from Mamma's inexplicable obsession with her finding the "Ideal Indian Husband." Ugh. Dimple knows they must respect her principles on some level, though. If they truly believed she needed a husband right now, they wouldn't have paid for her to attend a summer program for aspiring web developers…right?
Rishi Patel is a hopeless romantic. So when his parents tell him that his future wife will be attending the same summer program as him—wherein he'll have to woo her—he's totally on board. Because as silly as it sounds to most people in his life, Rishi wants to be arranged, believes in the power of tradition, stability, and being a part of something much bigger than himself.
The Shahs and Patels didn't mean to start turning the wheels on this "suggested arrangement" so early in their children's lives, but when they noticed them both gravitate toward the same summer program, they figured, Why not?
Dimple and Rishi may think they have each other figured out. But when opposites clash, love works hard to prove itself in the most unexpected ways.
Why Should You Be On The Lookout?
R-E-L-A-T-A-B-L-E
This book was honestly one of the most relatable contemporaries I've read. Granted, recently authors have been doing a phenomenal job in incorporating teen culture in YA books, but the addition of a focus on academics and ambition for the future was a very, very welcome aspect of the book. Dimple's not searching for a relationship, she's searching for success. Which, in the end, made the romance even more sweet.
Indian Culture and Social Clashes
The inclusion of Indian culture (like Bollywood actors and dancers (YAS Shah Rukh Khan), yummy foods, and colorful clothing) was another awesome addition to the story. Rishi's traditional values and going by them as the eldest child of his family is something that is seen all too often – my brother is a great reflection of that. I can see his struggle of going with the status quo career of being an engineer against his passion for art in my friends' choices as well. Dimple's more independent values against her mother's stubbornness on keeping traditions is also something I can directly relate to. Celia's chase to hang with the "it" crowd for that high school experience she never had can be seen with multiple friends of mine. I don't think I've ever read such a book where I can stop reading, look around the room, and see the characters' conflicts and emotions reflected in many of my peers and friends.
Relationship Dynamics
The exploration of both love interest, family, and friendships was AMAZING. The pace was perfect and extremely realistic. The conflict deals with situations that are very common and down-to-earth.
BANTER
THE DIALOGUE WAS 2CUTE4ME. The very first thing Rishi does upon meeting Dimple is calling her "future wife." Stop, the adorkableness is too much.
Honestly, if you could only read ONE contemporary in the year and you're a fan of rom-coms, then this is it. As a teen who has struggled with seeing characters like herself in Young Adult books (geared TOWARDS teens), this book was absolutely refreshing and revolutionary. I'm excited for the numerous diverse contemporaries coming out in the next upcoming years, and what cultures and experiences they'll bring.
My name is Sandhya Menon, and I write books for teens. I was born and raised in India on a steady diet of Bollywood movies and street food. I pretty much blame this upbringing for my obsession with happily-ever-afters, bad dance moves, and pani puri.
I currently live in Colorado, where I'm on a mission to (gently) coerce my husband, son, and daughter to watch all 3,220 Bollywood movies I claim as my favorite. Also, I love my cat a little too much, as you can probably tell.
LINKS

Image Source: RivetedLit