Be On the Lookout! is a feature highlighting magnificent books that I'm trying to convince people to preorder, add to their TBR, or just be on the lookout for. It's mainly a way for me to fangirl about the merits of a book outside a review, and hopefully make more readers aware of books that are not to be missed!
I'm really happy to be here for a shout out of an awesome #OwnVoices book for Korean representation: Rebel Seoul by Axie Oh! It's action-packed from beginning to end, with amazing characters that you'll just grow to love and awesome robots that are both daunting as they are amazing. I literally can't shout enough of my love for this book to the sky! Pacific Rim + Kdramas = Rebel Soul, which comes out September 15, 2017.
BONUS: If you preorder the book, you get a postcard (with REALLY REALLY COOL art of the characters) and get entered in a giveaway for character-themed packages! Trust me, these packages are super cool. Face masks, Gundam suits (omg), and all sorts of awesome tidbits that the author got from Korea.
Find the details on the Axie's website here!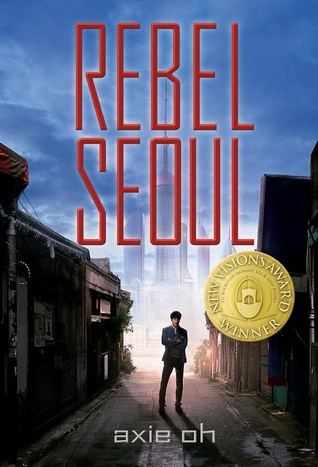 After a great war, the East Pacific is in ruins. In brutal Neo Seoul, where status comes from success in combat, ex-gang member Lee Jaewon is a talented pilot rising in the ranks of the academy. Abandoned as a kid in the slums of Old Seoul by his rebel father, Jaewon desires only to escape his past and prove himself a loyal soldier of the Neo State.
When Jaewon is recruited into the most lucrative weapons development division in Neo Seoul, he is eager to claim his best shot at military glory. But the mission becomes more complicated when he meets Tera, a test subject in the government's supersoldier project. Tera was trained for one purpose: to pilot one of the lethal God Machines, massive robots for a never-ending war.
With secret orders to report on Tera, Jaewon becomes Tera's partner, earning her reluctant respect. But as respect turns to love, Jaewon begins to question his loyalty to an oppressive regime that creates weapons out of humans. As the project prepares to go public amidst rumors of a rebellion, Jaewon must decide where he stands—as a soldier of the Neo State, or a rebel of the people.
Pacific Rim meets Korean action dramas in this mind-blowing, New Visions Award-winning science fiction debut.
Why Should You Be On The Lookout?
Kdrama Vibes Romantically
The main romance is one of the got dang cutest dot com romances and is extremely reminiscent of the Korean dramas that I've watched and loved growing up. Jaewon loves to needle Tera, but this girl can certainly hold her own ground. She's physically stronger than him, which makes for a power imbalance that creates interesting dynamics. I for one really enjoyed that aspect, and the fact that Jaewon knows she could beat him up if she wanted to (hehe). My favorite parts of their interaction is when he goes like, "Idk why but I just like getting her attention and making her smile," and then I'm here reading like, "GOT DANG Y'ALL MAKE MY HEART GO BA-BUMP."
There's another more minor romance that happens and is very cute as well. One side of this romance is Ama, who is so sweet and adorable and lovable and basically represents all the soft things in life that you just want to protect and keep safe. She has a very friendly and easy-going personality, but also has special abilities as well. Yes to girl power. B-) The other side of it is Alex, who is a chaebol (rich heir) that comes across as very flighty and privileged, yet has his own burdens. He's quite protective of Ama, who is from the beginning charmed by this worldly young man. Their relationship status isn't as solid as the former but I'M STILL HOPING FOR THEM OKAY. *cries into the abyss*
Teamwork, Friendship, and Camaraderie
So I talked about the romances in this book, but the BROMANCES? Legendary.
I absolutely adored the relationships that Jaewon makes in this book, whether it's the hesitant development of a mutually beneficial friendship with Alex, or the tough love he shares with his childhood best friend, Young. There's such a beautiful exploration of family and camaraderie between all these characters, making my heart burst with love for everyone. There's just something about a friendship that could be seen as family that makes me want to tear. Jaewon and the sacrifices his friends and him make for the benefit of the other was just amazing to see: their love, their support, and their hopes. I really can't express my love for all these characters enough.
In fact, I love them so much I drew them here.
Wonderful Exploration of Futuristic Elements
I'm honestly ruined for science fiction stories taking place in the future because of such well-written settings such as in Rebel Seoul. Like, seriously. I've read two other science fictions with futuristic settings after this one and they were absolutely incomparable. There is clear reasoning behind the conflict of the war happening in the Neo Alliance, and the ideology between the opposing sides is absolutely justified. The politics of the world are easy to catch up on, as Jaewon finds himself more and more entangled in it. I love that he's conflicted about it, and that both sides have worthy goals that he can connect with. Oh paints a world of a gradient gray instead of the clear-cut black-and-white that most post-apocalyptic and sci-fi YA stories like to instill. This makes not only the characters dimensional, but the setting as well.
ROBOTS
Enough said.
Axie Oh
is a first generation Korean American, born in NYC and raised in New Jersey. She studied Korean history and creative writing as an undergrad at the University of California – San Diego and is currently pursuing an MFA at Lesley University in Writing for Young People. Her passions include K-pop, anime, stationery supplies, and milk tea. She currently resides in Las Vegas, Nevada with her puppy, Toro.
Have I convinced you to add this book to your TBR yet? Are you ready to feast your eyes on glorious character development and action? What did you think of this book, if you've already read it?
Previous Be On The Lookout! posts: