Hello everyone!
Today I'm continuing from my first post around Flame in the Mist a week or so ago (you can find it here!) to finish up with Smoke in the Sun, the stunning sequel to Ahdieh's newest duology. You can find my review of the first book over here. This follow-up story is packed with action, betrayals, secrets, and a drop of lovely romance. It's everything a reader ever wants in a sequel as well as a conclusion. I can't wait for more readers to finish this one, so we can rave about that ending!

Smoke in the Sun
Author: Renee Ahdieh
Series: Book 2
Release Date: June 5, 2018
Get it Here: Amazon | Barnes & Noble | Book Depository
Synopsis:
The highly anticipated sequel to Flame in the Mist—an addictive, sumptuous finale that will leave readers breathless from the bestselling author of The Wrath and the Dawn.
After Okami is captured in the Jukai forest, Mariko has no choice—to rescue him, she must return to Inako and face the dangers that have been waiting for her in the Heian Castle. She tricks her brother, Kenshin, and betrothed, Raiden, into thinking she was being held by the Black Clan against her will, playing the part of the dutiful bride-to-be to infiltrate the emperor's ranks and uncover the truth behind the betrayal that almost left her dead.
With the wedding plans already underway, Mariko pretends to be consumed with her upcoming nuptials, all the while using her royal standing to peel back the layers of lies and deception surrounding the imperial court. But each secret she unfurls gives way to the next, ensnaring Mariko and Okami in a political scheme that threatens their honor, their love and very the safety of the empire.
In my previous blog stop, I appealed to the Japanese texture of the storyline that Ahdieh builds and featured songs in Japanese, from traditional instrumentals to 99/00's anime music (more of the latter than the former, haha). I also created some accompanying quote graphics for each of the songs.
This post will be a bit different!
In this one, I made two graphics that match with a quote from each book. These quotes were super empowering for me, and I love that Ahdieh continues this message throughout the series. Please click the images to get linked to the HD image. Don't hesitate to reach out if you would like it resized! Currently, they're 750 x 1334 pixels to match the iPhone 6/7 family.
Subsequently, I made a Spotify playlist for 
Smoke in the Sun
for this blog post. This time, I appealed to the alternative music fan in me and gathered melancholy yet hopeful songs that fit with the messages in the story. I'll go through the first five that came up, but I'll probably be updating the playlist as I discover more songs!
https://open.spotify.com/user/1277230015/playlist/3EOLtxDiQ3SyBSuYxHcV8h?si=azBN8AMCSf-Ox_66rSBwEw
1. Broken – lovelytheband
I like that you're broken
Broken like me
Maybe that makes me a fool
I like that you're lonely
Lonely like me
I could be lonely with you
I am in absolute loveee with this song. It's so vulnerable and raw, just like how I felt whenever Mariko and Ōkami met in Smoke in the Sun. They were both super flawed characters, but that made them even more real. The chords in Broken are both so sad and aching, yet so hopeful. Totally the tune I get when I see these star-crossed lovers meet.
2. Pretender – Steve Aoki (Ft Lil Yachty and AJR)
I'm a good pretender
Won't you come see my show?
Won't you come see my show?
I've got lots of problems
Well, good thing nobody knows
Good thing nobody knows
This is a new fave of mine, because I relate so closely to it. But you know who else would relate? Mariko. In Smoke in the Sun, she gets captured by Raiden and her brother Kenshin, to be set aside as Raiden's bride. She has to pretend (you see what I did there) to be loyal to the emperor, and pretend that she isn't hurt seeing the boy she loves captured in the dungeons. Despite these masks and pretenses, though (and the book has a lot of court pretense), she stays true to her loyal character and her beliefs.
3. Youth – Daughter
We are the reckless,
We are the wild youth
Chasing visions of our futures
One day we'll reveal the truth
This song comes off as romantic at first, but to me it's more of a celebration to the generation the singer is in, and how they can shape their future to anything their imaginations can hold. These lyrics resonated to me because in Smoke in the Sun, a lot of the characters' burdens originate from their parents' actions. Despite these obstacles, they manage to forge a path for themselves that stands up for what they believe in (I'm looking at you, Yumi and Tsuneoki).
4. The Sound of Awakening – Walk the Moon
The distance
And the difference
Between us
Is just illusion
This song is just soooo unique. Seriously, listen to all 6 minutes – yes I know, 6 minutes! – of it, and you'll understand. The lyrics are mesmerizingly poetic, and the vocoder that the singer uses makes them pop out even more. This matches the way I view Ahdieh's writing – mesmerizing and addictive. Getting into her characters' thoughts is such a meaningful experience, and it really adds depth to them. Anyhow, aspects of these lyrics (including the one highlighted above) remind me of the heartstopping romance between Mariko and Ōkami.
5. Demons – Imagine Dragons
When you feel my heat
Look into my eyes
It's where my demons hide
It's where my demons hide
Don't get too close
It's dark inside
It's where my demons hide
It's where my demons hide
I KNOW, I AM THAT BASIC PERSON. Usually when I make playlists, I try to highlight new songs that people probably don't know, but this is one that most American teens have been exposed to. NO MATTER. It fits so dang well with the book. Let's talk about all the ways:
– Ōkami and other characters have actually made deals with demons so… the lyrics "my demons hide" is true figuratively and literally.
– The lyrics "don't get too close" is exactly what Ōkami wants when he at first tries to push Mariko away by creating an antagonistic relationship. IT'S THERE, OKAY.
– This is delving into slight spoiler territory but "this is my kingdom come" is PERFECT FOR ŌKAMI AHH.
– The whole vibe of the song – exposing insecurities and fears to someone else – just fits so naturally with the character progression we see with Ōkami.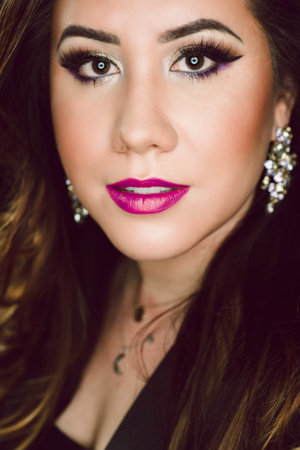 Renée Ahdieh is the author of the #1 New York Times bestselling The Wrath and the Dawn and The Rose and the Dagger. In her spare time, she likes to dance salsa and collect shoes. She is passionate about all kinds of curry, rescue dogs, and college basketball. The first few years of her life were spent in a high-rise in South Korea; consequently, Renée enjoys having her head in the clouds. She lives in Charlotte, North Carolina, with her husband and their tiny overlord of a dog.
Find out if Renee Ahdieh will be near you soon for her book tour!
Follow the rest of the blog tour here!
FLAME IN THE MIST
WEEK ONE
May 21 – Velaris Reads – Makeup Look + Creative Instagram Picture
May 22 – Live Laugh Read – Favorite Moments from Book 1
May 23 – My Friends are Fiction – Creative Instagram Picture
May 24 – Novel Novice – Creative Instagram Picture
May 25 – Enchanted with Words – Review + Creative Instagram Picture
WEEK TWO
May 28 – Adventures of a Book Junkie – Spotlight + Giveaway
May 29 – That's Normal – Social Media Promo
May 30 – Seeing Double In Neverland – Review + Creative Instagram Picture
May 31 – One Way or an Author – Playlist + Book Graphics
June 1 – Book Is Glee – Creative Instagram Picture
SMOKE IN THE SUN
WEEK THREE
June 4 – Velaris Reads – Makeup Look + Creative Instagram Picture
June 5 – Live Laugh Read – Instagram Picture
June 6 – My Friends are Fiction – Review
June 7 – Novel Novice – Styled by Books
June 8 – Enchanted with Words – Review + Creative Instagram Picture
WEEK FOUR
June 11 – Adventures of a Book Junkie – 5 Reasons To Read It
June 12– That's Normal – Giveaway
June 13– Seeing Double In Neverland – Moodboard
June 14 – One Way or an Author – Playlist + Book Graphics
June 15 – Book Is Glee – Creative Instagram Picture