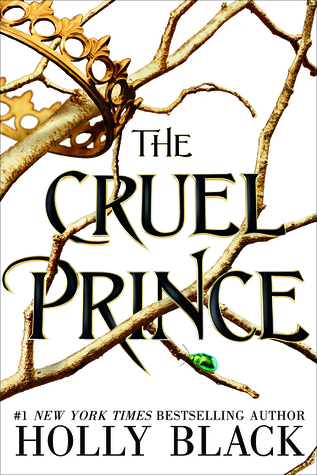 The Cruel Prince
Author: Holly Black
Series: The Folk of Air #1
Release Date: January 2, 2018
Publisher: Little, Brown Books for Young Readers
Get it Here: Amazon | Barnes & Noble | Book Depository
Synopsis:
Jude was seven years old when her parents were murdered and she and her two sisters were stolen away to live in the treacherous High Court of Faerie. Ten years later, Jude wants nothing more than to belong there, despite her mortality. But many of the fey despise humans. Especially Prince Cardan, the youngest and wickedest son of the High King.To win a place at the Court, she must defy him–and face the consequences.
In doing so, she becomes embroiled in palace intrigues and deceptions, discovering her own capacity for bloodshed. But as civil war threatens to drown the Courts of Faerie in violence, Jude will need to risk her life in a dangerous alliance to save her sisters, and Faerie itself.

So the most important question for this book to me is… hype – worth it or nah? For me, the answer is in the middle. There are some parts I liked about The Cruel Prince (namely, the main character), and other parts that fell very flat with me. This book follows the tangled politics and court intrigue of the High Court of Faerie and the human girl that resides there and is ready to rise up in the ranks. There is a bit of a romance (honestly, hardly anything and I'm disappointed that people place so much on it), an intriguing father-daughter relationship, and sisterhood that pushes past certain boundaries. It's a pretty large book, but in the end I'd say it's worth the read.
The book is told from the first person POV of Jude, a human girl who was taken from her world to the High Court of Faerie after the fae that took her killed her parents. He then proceeded… to raise her. Already, we can tell that the tone of the book has a bit of a dark atmosphere where people and fae are cunning and vicious. Jude has grown up in this vicious fae world, and now that she's in her teens, she's created more enemies than friends. Much of the book follows her rivalry against the other fae in her classes and the Court, and her intrinsic motivation to become the best of the best.
"What they don't realize is this: Yes, they frighten me, but I have always been scared, since the day I got here."
Jude is one of the best characters I've read in a long time. She's tough, strong, and knows her own worth. She doesn't give up and is not ashamed for being a rebel and defying all odds. I just love how her character managed to step up against bullies despite their frequent attempts, and the way she used her resources to get back at them discreetly and cunningly. Her humanity and mortality is always a sore spot, and she really fights to survive in the court. I admit, I may have a huge crush on Jude. Her character really took the cake in this book, and I really hope the sequel gives her the rewards she deserves. This girl maneuvered her way across the fae court and did so much, to the appreciation of almost no one. Seriously, this girl better get her due later on. She deserves so much better.
There are also tumultuous relationships that The Cruel Prince brings on the page. The one I find interesting is the love that Jude and her father, Madoc, have. (Keep in mind, this is the "father" that murdered her parents as a child.) Despite that fact, he's raised the girls with a strict but affectionate way. It's an intriguing dynamic that calls into certain unhealthy thinking, but at the same time readers kind of get their love for each other. It's pretty odd, but also three-dimensional. Jude has an increasingly broken relationship with her twin, Taryn, and a bit of a far-off relationship with her older sister, Vivi, who has found love in the human world. Their love for each other it clearly evident, but it may take the intrigue of the fae world to put into test that love.
"'I thought I was supposed to be good and follow the rules,' I say. 'But I am done with being weak. I am done with being good. I think I am going to be something else.'"
Okay, so the reason why this book fell a bit flat: much of the tangled politics also include a large amount of petty fights and acts of bullying. This happens a lot when Jude is at school against a set of bullies led by Cardan. Their actions were actually quite unforgivable, and there was no redemption for any of the characters in my mind. You can tell that Cardan is conflicted in small actions, but in the end his cold and careless personality stays true. I understand that some characters are in love with him in the way the Darkling and other non-heroes are celebrated, but despite him and the Darkling's similar darker and crueler tendencies, he's utterly useless. He doesn't have a goal except to create petty drama and drink and party (which is clearly shown in the book). Obviously he will be very important in the sequel but for now, I am not with the majority of readers in liking him for his mysterious and cruel ways. Quite honestly… Jude deserves better. She's too fierce to be in an almost-romance with this greasy dude.
"Instead of being afraid, I will become something to fear."
I'd ideally give The Cruel Prince 3.5 stars, but am rounding down because of the gosh darn hype. I do think it's a good book, but am not quite onboard with the way readers romanticize Cardan and his whole character in general. No doubt the next book will place more exploration and understanding of him, but for now, he is not the romantic interest (antihero or not) that I am rooting for. The copious amounts of petty drama in the court amounted to nothing, and only the second half of the story is when things get moving and the plot gets more twisted. Nevertheless, The Cruel Prince is a ruthless addition to the fae world, and I'll definitely be picking up the sequel.
blood, explicit violence, suicide, self-harm, abuse