Hello everyone!
I am SO excited to be part of this blogger campaign for Renee Ahdieh's recent series, Flame in the Mist! This book takes place in the heart of historical Japan, where samurais and dangerous clans lurk the land. The main character, Mariko, escapes her fate to become married and disguises herself as a boy after being ambushed by a group of bandits. Thus starts the tale of a girl who finds courage within herself to take her fate into her own hands. You can check out my review of the first book here!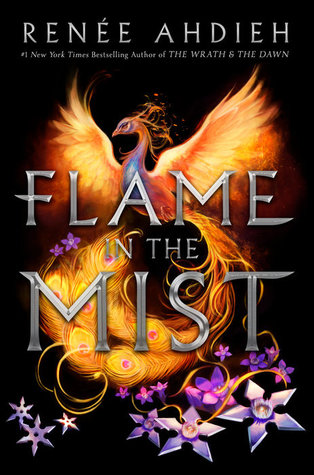 Flame in the Mist
Author: Renee Ahdieh
Series: Book 1
Release Date: May 16, 2017
Get it Here: Amazon | Barnes & Noble | Book Depository
Synopsis:
The only daughter of a prominent samurai, Mariko has always known she'd been raised for one purpose and one purpose only: to marry. Never mind her cunning, which rivals that of her twin brother, Kenshin, or her skills as an accomplished alchemist. Since Mariko was not born a boy, her fate was sealed the moment she drew her first breath.
So, at just seventeen years old, Mariko is sent to the imperial palace to meet her betrothed, a man she did not choose, for the very first time. But the journey is cut short when Mariko's convoy is viciously attacked by the Black Clan, a dangerous group of bandits who've been hired to kill Mariko before she reaches the palace.
The lone survivor, Mariko narrowly escapes to the woods, where she plots her revenge. Dressed as a peasant boy, she sets out to infiltrate the Black Clan and hunt down those responsible for the target on her back. Once she's within their ranks, though, Mariko finds for the first time she's appreciated for her intellect and abilities. She even finds herself falling in love—a love that will force her to question everything she's ever known about her family, her purpose, and her deepest desires.
In my blog stop, I will be creating a playlist with songs that contribute to the book's themes of bravery, independence, and loyalty, with delightful graphics that highlight some key quotes. So grab some headphones, sit back, and enjoy these songs!
1. Sakura Sakura by Rin
Under these cherry blossoms,
as if we were one, sharing the same thoughts
To glide through the present,
our shadows will fuse together and become one silently
This is a melodic song that focuses heavily on traditional Japanese instruments such as the koto and accompanies them with heart-felt, poetic lyrics of the singer serenading to their loved one. I decided to highlight this one first because of its traditional Japanese vibe and the heartfelt, romantic lyrics. Mariko and Ōkami's romance was lovely and in-depth, which can be reflected from the soothing melodies of the song that also proceed towards a tension in the bridge.
2. Flash by Perfume
Shake the air, sound the heartbeat
We'll light a fire to the quiet night now
It's an emotion completely different from love
Tonight starts now
Perfume is a Japanese girl band and I really love these lyrics! The emphasis on revolution and change is placed before the romantic storyline, which really matches the action-packed plot of Flame in the Mist. I can totally imagine having this song featured as Mariko learns to survive on her own, against all odds.
3. Realize by Nami Tamaki
I do not know where I'll arrive at
I believe I'll reach there, I'll let my thoughts run for now
The form of the heart and this path changes
But there is a wish that never disappears
Seeing a different dream, looking at the same sky
That day I swore "I will not lose"
Nami Tamaki is an old-school singer who sang the hopeful and enduring songs of the Gundam Seed anime from loong ago. I decided to include her works because the lyrics give such a resolute message that matches the goals that Mariko gives herself when she disguises as a boy to survive. It's full of hope, courage, and freedom that any character would want to have as their background music.
4. Golden Time Lover by Sukima Switch
The situation looks grim, but it's gutless to just run away.
I can't see how things will end, but all I can do is courageously advance,
hold my instincts in check, and search the target for an opening.
The only thing you need is 'pride in victory'-
whether we taste the high-grade sake of 'triumph' or the bitterness of 'defeat',
they're just two parts of the same thing: the thread of fate I wish to manipulate.
For this song, I wanted to focus on Ōkami's character and the deceit he had to play throughout the story of Flame in the Mist. I really appreciated his character because although he had to lie to get to where he was, it was always with good intentions. The legacy his father left behind and the burgeoning rebellion that he helped brew was a great fit with this anime opening that speaks of resilience and determination.
5. Rolling Star by YUI
Even though you keep on falling,
You laugh and get up every time
As I board the vacant back of the bus
You flash me a small smile
I must place my trust in you
This song brings a balance of the romantic feelings that are starting to creep up between Mariko and Ōkami, and the action they face every day as they discover the secrets of their families' histories. The lyric "I must place my trust in you" really struck a chord with me because the song speaks of support and loyalty, which both characters have to have before they can fight together or speak about their feelings. It's heartfelt, catchy, and upbeat.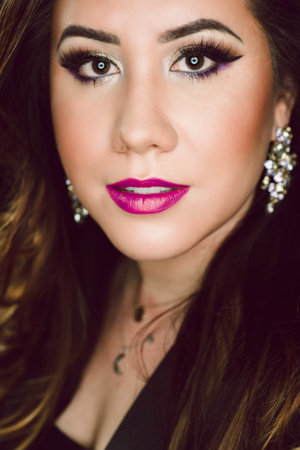 Renée Ahdieh is the author of the #1 New York Times bestselling The Wrath and the Dawn and The Rose and the Dagger. In her spare time, she likes to dance salsa and collect shoes. She is passionate about all kinds of curry, rescue dogs, and college basketball. The first few years of her life were spent in a high-rise in South Korea; consequently, Renée enjoys having her head in the clouds. She lives in Charlotte, North Carolina, with her husband and their tiny overlord of a dog.
Find out if Renee Ahdieh will be near you soon for her book tour!
Follow the rest of the blog tour here!
FLAME IN THE MIST
WEEK ONE
May 21 – Velaris Reads – Makeup Look + Creative Instagram Picture
May 22 – Live Laugh Read – Favorite Moments from Book 1
May 23 – My Friends are Fiction – Creative Instagram Picture
May 24 – Novel Novice – Creative Instagram Picture
May 25 – Enchanted with Words – Review + Creative Instagram Picture
WEEK TWO
May 28 – Adventures of a Book Junkie – Spotlight + Giveaway
May 29 – That's Normal – Social Media Promo
May 30 – Seeing Double In Neverland – Review + Creative Instagram Picture
May 31 – One Way or an Author – Playlist + Book Graphics
June 1 – Book Is Glee – Creative Instagram Picture
SMOKE IN THE SUN
WEEK THREE
June 4 – Velaris Reads – Makeup Look + Creative Instagram Picture
June 5 – Live Laugh Read – Instagram Picture
June 6 – My Friends are Fiction – Review
June 7 – Novel Novice – Styled by Books
June 8 – Enchanted with Words – Review + Creative Instagram Picture
WEEK FOUR
June 11 – Adventures of a Book Junkie – 5 Reasons To Read It
June 12– That's Normal – Giveaway
June 13– Seeing Double In Neverland – Moodboard
June 14 – One Way or an Author – Playlist + Book Graphics
June 15 – Book Is Glee – Creative Instagram Picture