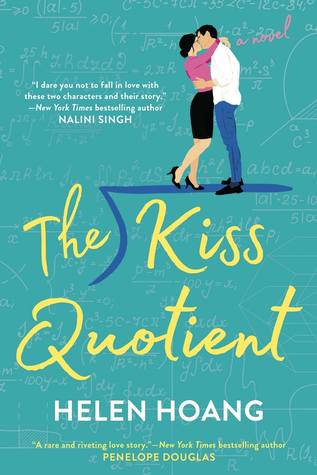 The Kiss Quotient
Author: Helen Hoang
Release Date: June 5, 2018
Publisher: Berkley Romance
Get it Here: Amazon | Barnes & Noble | Book Depository
Synopsis:
A heartwarming and refreshing debut novel that proves one thing: there's not enough data in the world to predict what will make your heart tick.
Stella Lane thinks math is the only thing that unites the universe. She comes up with algorithms to predict customer purchases–a job that has given her more money than she knows what to do with, and way less experience in the dating department than the average thirty-year-old.
It doesn't help that Stella has Asperger's and French kissing reminds her of a shark getting its teeth cleaned by pilot fish. Her conclusion: she needs lots of practice–with a professional. Which is why she hires escort Michael Phan. The Vietnamese and Swedish stunner can't afford to turn down Stella's offer, and agrees to help her check off all the boxes on her lesson plan–from foreplay to more-than-missionary position…
Before long, Stella not only learns to appreciate his kisses, but to crave all the other things he's making her feel. Soon, their no-nonsense partnership starts making a strange kind of sense. And the pattern that emerges will convince Stella that love is the best kind of logic…
I literally can't find the words to describe how much I love this book. The Kiss Quotient is definitely on my top romance books for this year (I know it's really early, but I adore this book wayy too much). The Kiss Quotient follows the developing love story of an econometrician, Stella, and an escort, Michael, as one steps out of her shell and the other finds the value within himself. I loved both of these characters and their voice – flaws and all. Fans of the fake dating trope are going to be mesmerized by this book.
Stella Lane is thirty years old, a highly successful econometrician, and has a mother waiting for babies. The only problem is that she's super uncomfortable in the sex scene, although she's highly curious about it. She finds herself clamming up during sexual encounters and decides getting an escort could solve her problems. The one she ends up getting, Michael, a very attractive biracial man (half-Swedish, half-Vietnamese) who she has an insta-attraction with, which bodes well for their chemistry in bed.
"Regular men were incentivized by things like personality, humor, and hot ex – things she didn't have. Professionals were incentivized by money. Stella happened in have a lot of money."
Stella is an amazing character. She's so hard-working, exceptionally quirky, and super direct. I love how when she sets her mind on something, she's not afraid to go after it. She's also a huge people-pleaser, which means sacrificing a bit to make the people around her happy. Her love and passion for her job and economics is clearly shown throughout the story, which is really awesome to see. Heroines who are successful in their jobs are super sexy for me. 😀 Although her job is going well though, she is ready to advance in her love and sex life.
The Kiss Quotient is an #ownvoices story for autism. Stella has Asperger's, but she doesn't let herself be defined by that label as she navigates a new love life. Hoang is also half-Vietnamese like Michael, and incorporates awesome Vietnamese elements such as food and traditions in the book effortlessly. While their chemistry is off the charts, Stella takes some time to open up with Michael due to her nervousness during sex. Because of that, they start a contract to explore sexual intercourse. This contract evolves into a fake-relationship later on as Stella and Michael find themselves drawn towards each other. (Is it really fake-dating when you know that the characters really want to be real-dating each other? 😉 )
"Only now that he knew her better, he wanted to do more than teacher her how to be good at sex. He wanted to give her the best nights of her life.
Tonight, he was giving her fireworks."
Michael was a character that had my heart as well. He has escort services to help with his mother's medical bills, as she's receiving treatment for cancer. He also doesn't want to become like his dad, a cheating and selfish man who left his family for other women. Michael really has an internal struggle as he thinks he's not good enough for Stella, even as his body and heart are pulled towards her. He comes from a low-income background as well, which is a heavy contrast against both Stella's high-end background and her successful job. I love how multifaceted he is and his love for his mother and sisters. Michael is also full of doubts and insecurities, which is always refreshing to see in love interests.
The way that Hoang navigates the balance between love and duty is so well-done in this book. Michael feels like he has a duty towards his family, while Stella's own insecurities of having autism makes her hesitate to open up. Both have secrets from the other, but don't realize that the details they hide don't make up the entirety of their character. They are more than the son of a cheater or a girl who loves numbers. They're two strong individuals finding love in unlikely circumstances.
"She had a disorder, but it didn't define her. She was Stella. She was a unique person."
The Kiss Quotient is SUCH a bomb romance book. Stella and Michael are both lovely and dynamic characters with amazing chemistry and characterization. (Also, Michael is two years younger than Stella!) I absolutely loved their interactions and seeing them fall in love with each other. (Not to mention the sexy times happening!) I also enjoyed seeing their relationships with their families and friends, who are super sweet and supportive. I'm just such a fan of basically everything in this book, and cannot recommend it enough. ❤ For readers looking for a wholesome romance, refreshing characters, and the best fake dating interactions, I highly recommend The Kiss Quotient. Contemporary romance readers cannot miss out on this one!
explicit sexual content
Thank you Berkley Romance for the review copy!