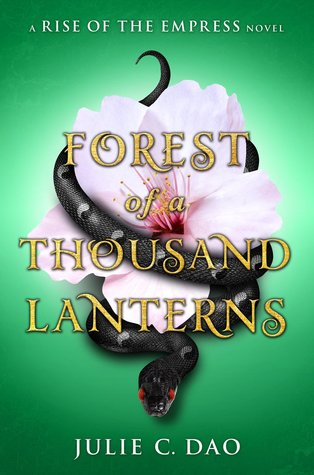 Forest of a Thousand Lanterns
Author: Julie C Dao
Series: Rise of the Empress #1
Release Date: October 10, 2017
Publisher: Philomel Books
Get it Here: Amazon | Barnes & Noble | Book Depository
Synopsis:
"A richly developed fantasy world coupled with an ambitious anti-heroine of complex agency, this story shines and surprises at every turn." Marie Lu, #1 New York Times bestselling author
An East Asian fantasy reimagining of The Evil Queen legend about one peasant girl's quest to become Empress–and the darkness she must unleash to achieve her destiny.
Eighteen-year-old Xifeng is beautiful. The stars say she is destined for greatness, that she is meant to be Empress of Feng Lu. But only if she embraces the darkness within her. Growing up as a peasant in a forgotten village on the edge of the map, Xifeng longs to fulfill the destiny promised to her by her cruel aunt, the witch Guma, who has read the cards and seen glimmers of Xifeng's majestic future. But is the price of the throne too high?
Because in order to achieve greatness, she must spurn the young man who loves her and exploit the callous magic that runs through her veins–sorcery fueled by eating the hearts of the recently killed. For the god who has sent her on this journey will not be satisfied until his power is absolute.
"In the silence, the hunger began – deep and primal and fierce, stronger than anger, more potent than lust. The creature preened, its poison caress sending tingles of need into every fiber of her body. She was helpless in the face of its desire, for its craving was hers, as well."
This sentence, full of aching hunger and intensity, is a great example of the beautiful yet scheming story that Julie Dao presents in Forest of a Thousand Lanterns. We watch one girl's grapple between her dark destiny and the road towards light that sets the course towards turmoil in the court of the kingdom. This book is certainly not for the faint-hearted. Xifeng is an admirable, ambitious young woman who does not hesitate to rise up and take what she wants. Throughout the book, she battles between the fate that her Guma, or aunt, set up for her, and the whispers of happiness with her lover Wei that would eventually prove unsatisfying.
Many times in stories, characters that have inner turmoil between a good side and bad side will eventually choose the former. Xifeng brings a refreshing perspective as many of her actions stem from her desire to become more than what she came from: a small village. She is vain and selfish, all characteristics stemming from the influence of her Guma and the intense hunger to be seen and appreciated by a world outside of her village. I could definitely see reason behind her actions – as horrifying and thrilling as they may seem. This is a primarily character-driven story, as the whole basis of the plot unravels when Xifeng sets out towards the destiny that her Guma grew up telling her, never realizing that it was a part of something larger than she could have ever imagined.
"Some days, Xifeng thought she would gladly watch this town burn. She ached to leave it all behind and never look back. To think she was trapped here forever, while the Imperial palanquin carried that other girl straight into the Emperor's swan-feathered bed."
Dao blends fantastical elements in a Chinese-inspired setting very well. I could very well imagine the Imperial Court and the forest that Xifeng and her companions had to travel through in order to reach it. Perhaps it wasn't the most descriptive of settings in terms of adding intricate details such as food, but the author still builds a solid, descriptive world that adequately reflects a historical Chinese setting, adding her own mystical basis on how the formation of the world came to be. Even though Xifeng's actions are the ones that drive the plot, the supporting characters also define her actions based on her interactions. Whether it's her heartbreak in Wei's sacrifice, according to her destiny written in the cards, or the deceptive nature of the women at court – even ones that she may consider with a maternal figure – Xifeng's many interactions all become a basis of her future actions and how she chooses to pursue her dark fate.
I thought that Xifeng's internal conflict was written really well. It was a push-and-pull of her own selfish realizations and knowing that what she could have, she would never deserve. The discovery of something else warring inside her to take control of her actions, and the push against it, happen during the hardest choices, and ultimately create a dark path towards how the story goes. Comparing it to the Evil Queen in Snow White is extremely apt, as Dao gives a refreshing perspective of an anti-heroine who's not afraid to seize the opportunities given to her, however low she must fall to eventually reach the top.
"Could it be possible that the creature had her interests at heart? If she dared embrace it, would it come and go – would it help her at her will?"
The romance was so extremely bittersweet and kind of sad. From the beginning, readers know that Xifeng has the choice to sacrifice the man she loves for her ascendance towards a greater destiny as the Empress of Feng Lu. The main dynamic of the romance between Xifeng and Wei is her gravitating towards the safety net he offers her, and her own ambition on making something of herself, for herself. Since the beginning of her life, she lived for her Guma and now that she's broken past that part of it, she's hesitant on living for Wei this time. Now that she's set the courses of destiny in place, Xifeng is ready to embrace the power she has, spoken in the cards – no matter the costs.
Xifeng's tumultuous journey, full of inner conflict, brings a refreshing, power-hungry anti-heroine whose actions are certainly justified as she lusts for an attention and appreciation that stems from her village origins. There were twists at every chapter as discoveries are revealed and Xifeng's actions spiral her down a deadly path that she cannot turn away from. Step back, heroines who dream of hope and saving others, here's a down-to-earth heroine who fights to get to the top using whatever means necessary. The cutthroat court politics was an engaging battle to see Xifeng in, and even more curious are the magical elements that are introduced throughout the story. I'm definitely looking out for the next book of this series. Readers ready to embrace a fierce heroine with this character-driven story in a lush setting will definitely want to pick up this fantasy.
Thank you Penguin for the review copy!