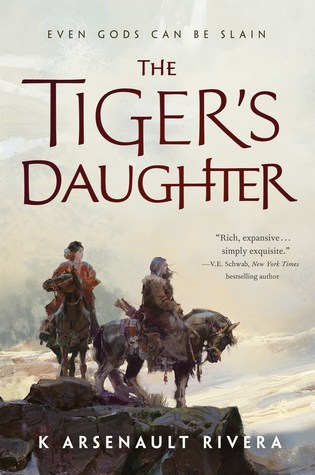 The Tiger's Daughter
Author: K. Arsenault Rivera
Series: Their Bright Ascendancy #1
Release Date: October 3, 2017
Publisher: Tor Books
Get it Here: Amazon | Barnes & Noble | Book Depository
Synopsis:
Even gods can be slain
The Hokkaran empire has conquered every land within their bold reach—but failed to notice a lurking darkness festering within the people. Now, their border walls begin to crumble, and villages fall to demons swarming out of the forests.
Away on the silver steppes, the remaining tribes of nomadic Qorin retreat and protect their own, having bartered a treaty with the empire, exchanging inheritance through the dynasties. It is up to two young warriors, raised together across borders since their prophesied birth, to save the world from the encroaching demons.
This is the story of an infamous Qorin warrior, Barsalayaa Shefali, a spoiled divine warrior empress, O Shizuka, and a power that can reach through time and space to save a land from a truly insidious evil.
A crack in the wall heralds the end…two goddesses arm themselves…K Arsenault Rivera's The Tiger's Daughter is an adventure for the ages.
Note: This book contains mature content (sexy times) and graphic violence. Please be aware!
I admit, this book was not on my radar at first. I requested it solely because of the lesbian romance and the aspect of fighting demons. I would soon find out that not only does this book feature those things, but also an expansive Mongolian-inspired world (as well as an issue that I discuss below), and a slowly burgeoning romance that would make my heart burst with both love and satisfaction. The Tiger's Daughter is a beautiful tale that will burrow its way into your heart, as you traverse through the land with Shizuka, Shefali, and their grand love story.
The Tiger's Daughter starts out slow – almost exceptionally slow. It took me a bit as a reader to really get into the story. But once 20% or so in, I was ready to keep reading until the end. Arsenault really feeds information to the readers in increments, slowly building up to the climax. She does this really well, in the form of letters. Each chapter begins with the third person musings of Shizuka, the Empress of Hokkaro, as she reads a letter from her best friend and lover, Shefali, who for some reason isn't there with her. The letter takes the narrative into a second person POV, as Shefali is writing her feelings and recollections of past events to Shefali, with the readers experiencing it as well. The super long letter takes readers on an emotional journey from the time when the women were first born to the present time, explaining bit by bit the revelations and discoveries made throughout their toddler-age, adolescence, and young adulthood.
"You and I were going to do great deeds, were going to be the brightest stars in the sky."
It wasn't exactly "love at first sight" for Shefali and Shizuka. Given that Shizuka tried to attack Shefali the first time she saw her, that's no surprise! But what begins as a tentative friendship – mostly because their mothers battled and killed a demon together – develops into something infinitely more. Many things stood in the way of their love, not including the fact that they are two women, but also the class and racial distinctions between the two. While Shizuka is born as the niece of the Emperor of Hokkaro and direct heir, Shefali is just the daughter of the leader of the Qorin people. Qorin are discriminated against by the Hokkarans and even when Shefali is at Shizuka's side, she still gets treated as lesser. It really made my heart ache to see Shefali treated that way, but her stubborn character made her resilient against it.
I liked seeing the dynamics of the relationship as both women worked out the parts of them that made them so different from the other. Shizuka sees past the prejudice and appreciates Shefali for her character, even as Shefali sees past Shizuka's shiny and spoiled veil into the caring person that she is. These two extremely capable and extremely fierce women complemented each other just fantastically. While Shefali says very few words and instead uses her mind to think before acting, Shizuka is very impetuous and loves to talk (and all the attention!). Shefali is a natural on the horse and unparalleled with an arrow. It's the same for Shizuka but with her sword skills. Both of these women were just so multifaceted and really leapt off the pages while I was reading. Separately, they were strong in mind and spirit. Together, they were unstoppable.
"I wanted you. Only you. From the day we met, I've known this as my heart has known to beat."
From a very young age, Shizuka knew that they were special (and not just because of their unbreakable bond). As young children, they were extremely powerful. Shefali could speak to her horse, while flowers followed the path of Shizuka. Both women have mysterious powers that lead them towards battling the demons that plague the nation. It isn't when a battle goes wrong that they start worrying, however.
There's honestly so much that happens in this book as readers go from the birth of Shizuka and Shefali to the current time, when they are in their mid-20's (if my calculations are correct). The two women are so fierce, cunning, brilliant, and magnificent. I loved reading about their growth into who they become, as well as their sweet, wholesome, developing relationship. The romance itself was also a large part of the book, as each woman can't help but gravitate towards the other. There is a forbidden love aspect added as tradition doesn't allow Shizuka, as Empress, to be in a relationship with a woman. But through their wit and support of trusted allies, no obstacle could bar the power of their love.
"I hold you dear as air, dear as light, dear as flame and earth."
One thing that made me pause while reading (and even ruminate about after reading) is the direction the author took with Hokkaran, Qorin, and Xian culture. Hokkaran is based on Japanese culture, Qorin on Mongolian, and Xian on Chinese. The author uses the elements of these cultures very loosely in the story – especially Hokkaran and Xian – which in turn gives readers a very vague notion of how the world came to be. In the storyline, the Hokkaran conquered much of the land, including Xian land. Arsenault takes bits and pieces of each culture and instills them in the traditions of Hokkaro and its citizens. This mix-and-match of Chinese and Japanese-inspired countries may be an issue with readers, especially given the historical and modern animosities between them. I don't think the world was written with the research and preparation to account for these sentiments, and this kind of integration may promote the misconception that the two cultures are interchangeable. At the same time, as a Chinese reader I wasn't put out by this part of the world while reading, in favor of the storyline and romance, and believe that this aspect will be up to each individual reader's discretion. I just want to highlight this point and have readers be aware of it before they start the book.
This book came as a surprise as to how much I ended up enjoying it. The ferocious action and devastating (in a way that made my heart ache and beat faster) romance made The Tiger's Daughter a thrill of a read. I really recommend this to fantasy lovers, as this f/f romance is set within an exciting backdrop of court intrigue, deception, and demons. I do acknowledge the problems with the world-building, although readers will find that the setting is rather light in contrast to the focus on romance and characterization. I honestly can't gush enough about this book, and just really recommend readers to pick it up and really discover the endearing and powerful love story that develops between the pages.
Shout out to Aentee @ Read At Midnight for beta reading parts of this review!
Thank you Netgalley and Tor Books for the review copy!