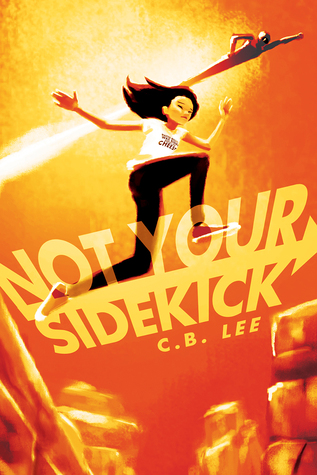 Not Your Sidekick
Author: CB Lee
Series: Sidekick Squad #1
Release Date: September 8, 2016
Publisher: Duet Books
Get it Here: Amazon | Barnes & Noble | Book Depository
Synopsis:
Welcome to Andover… where superpowers are common, but internships are complicated. Just ask high school nobody, Jessica Tran. Despite her heroic lineage, Jess is resigned to a life without superpowers and is merely looking to beef-up her college applications when she stumbles upon the perfect (paid!) internship—only it turns out to be for the town's most heinous supervillain. On the upside, she gets to work with her longtime secret crush, Abby, who Jess thinks may have a secret of her own. Then there's the budding attraction to her fellow intern, the mysterious "M," who never seems to be in the same place as Abby. But what starts as a fun way to spite her superhero parents takes a sudden and dangerous turn when she uncovers a plot larger than heroes and villains altogether.
This was one super cute, super extraordinary book about a group of teens who live in a futuristic setting where superheroes run rampant, saving the day from supervillains. Although the writing seemed a bit juvenile at times, I thought of this as a positive – that means younger readers can also delight in this wonderful, respectful, and lovely read with #ownvoices representation. I loved going through the heads of each of the characters, and overall it was just a fast read with plenty of action and fun times to keep a reader going.
The book is told in the present-tense third person narrative, which made it feel a bit juvenile at times. There isn't much description in terms of world-building or anything – in fact, it hardly went in-depth – but readers can still enjoy this light-hearted superhero book. Because of this, it makes for a fairly quick read that never dragged a reader down. I finished it in one sitting because that's how awesome it is! There are definitely some predictable parts, especially with the superhero storyline, but that didn't detract me from the story at all. Sometimes parts of the plot and writing came out as a bit cheesy, but I honestly sucked it all up. Not Your Sidekick takes place in the distant future after a series of natural disasters where new Alliances are being formed and superheroes reign in the media, after discovering a mutant human gene that gave them powers. There are fun mentions of new technology such as cute robots with Artificial Intelligence, and light descriptions on the world. Other than that, much of the focus was on characters, action, and dialogue.
Some character fan art I drew!
Jess starts the book pining for superpowers. Her sister is training to become a superhero, and her parents are secretly C-class superheroes – the local heroes of Andover, where she lives. Jess is frustrated with her lack of powers and her averageness in school, but her resilient nature doesn't allow her to give up. This allows her to end with an internship at Monroe Industries, the company that produces the robots that help out with people's daily lives. Who would have thought that this internship puts her under the supervillains that her parents fight against?!
"Working for Master Mischief? This would be an act of sheer rebellion. Her parents would be livid if they ever found out.
And it would be hilarious."
I really liked Jess's characterization and her relationship with the other characters in this book, who are just as refreshing. Told from an #ownvoices narrative of being Vietnamese-Chinese American and bisexual, Jess's voice just leapt from the pages. She thinks about the ostracization of not "fitting in" with the other Asians, and the schism between her Chinese side and Vietnamese side, even though both of them make up, well, her. There's also a perspective about her bisexuality and how she doesn't exactly fit in with the LGBTQ+ Alliance crowd, and a general good message about how standardized tests and out-performing people in school doesn't equate to being a good person or having a good future.
"Jess often feels as if she's not Chinese enough in certain situations and not Vietnamese enough in others. It's awkward when you're not quite one but not quite the other."
Jess has a slight crush on the volleyball captain, Abby, who coincidentally interns with her at Monroe Industries as well! They make a really adorable pair, complete with all the awkwardness of first crushes and high school. Jess's friend group is also super supportive, cheerful, and kind – friends that I totally would like. Bells is transgender, goes by he/him pronouns, and has some secrets of his own… while Emma just stands out with her optimism and sweetness. I also like the way adults are added in the story. They're not clueless, but rather become a part of the plot. Yay for parent and children teams in saving the world!
Not Your Sidekick was quick, fun, light, and made my heart warm from start to finish. The refreshing dialogue, sweet characters, shippable romance, and non-stop action made it an awesome read that left me with a smile on my face. I really recommend this to action readers, especially ones that adore cute superhero novels! I will be eagerly anticipating the sequel to this one, as the conclusion leaves the plot rather open while still being conclusive.