Hello everyone! I'm extremely happy to be the last stop for the blog tour of Forest of a Thousand Lanterns by Julie Dao – a dark, vengeful fantasy that is as beautiful as it is deadly. In this tour stop, I'll be taking you on a tour of the setting of the book. From the green landscapes to gleaming palace, Dao's luscious writing makes every page a treat to read. The pictures I'll be using are taken either by my father or me during our trips around the country, and I'll be giving short descriptions at each stop. Ready for this?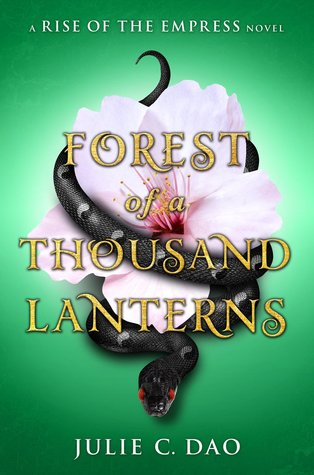 Forest of a Thousand Lanterns
Author: Julie Dao
Series: Rise of the Empress #1
Release Date: October 10, 2017
Publisher: Philomel Books
Get it Here: Amazon | Barnes & Noble | Book Depository
Synopsis:
Eighteen-year-old Xifeng is beautiful. The stars say she is destined for greatness, that she is meant to be Empress of Feng Lu. But only if she embraces the darkness within her.
Growing up as a peasant in a forgotten village on the edge of the map, Xifeng longs to fulfill the destiny promised to her by her cruel aunt, the witch Guma, who has read the cards and seen glimmers of Xifeng's majestic future. But is the price of the throne too high? Because in order to achieve greatness, she must spurn the young man who loves her and exploit the callous magic that runs through her veins–sorcery fueled by eating the hearts of the recently killed. For the god who has sent her on this journey will not be satisfied until his power is absolute.
Set in an East Asian-inspired fantasy world filled with both breathtaking pain and beauty, Forest of a Thousand Lanterns possesses all the hallmarks of masterful fantasy: dazzling magic, heartbreaking romance, and a world that hangs in the balance. Fans of Heartless, Stealing Snow, and Red Queen will devour this stunning debut.
Forest of a Thousand Lanterns takes place in the continent of Feng Lu. Although the book is Chinese-inspired, the world itself houses many different groups of people and cultures. With that, this tour will follow the different locations that Xifeng travels to and parallels in China, as well as a little bit about the setting's significance.
"For eighteen years, the dusty, forgotten town had been Xifeng's world."
So small a place that a name is not even mentioned, the village Xifeng is from is dusty, ragged, and composed of mostly a muddy square. Even with this setting, Dao's beautiful writing still makes it seem vivid and alive. You can almost taste the grit of the villagers and see their weathered, hard-working faces. This is the start of Xifeng's story.
"She could already smell wet bark and rich soil, growing nameless things deep in the belly of the woods. The treetops stirred in the light wind and beckoned to them like fingers."
Ranging from mundane greenery to dangerous attackers, the tricky path to the Imperial City is full of events that further the story – and Xifeng's growing character. Prepare to be thrown into wild events on this road as Xifeng gets closer to the goal that her soul is calling for.
"'There are many opportunities in the city. This is where people dream of a better life.'"
The Imperial City is the heart of Feng Lu. It's a bustling city with scrumptious food, many guards and opportunities, and a stone wall that directs people entering and leaving. Xifeng uses her assertiveness and wits to create an opportunity for herself and Wei, her friend, here. This is the start of her ascension to power and although it's a small start, it could lead to great heights.
"The Imperial Palace seemed to Xifeng an earthly rendering of the Dragon Lords' Home in the heavens."
You will become immersed in the court politics as Xifeng guides readers into the Imperial Palace. From scheming concubines to gossiping servants, every step you take is a dangerous on in the palace. Proceed with caution, as one wrong piece of dialogue can lead to a lifetime of regret. Baths are scathing, but tongues are even more so. Build up your resilience in this place or else it'll be too late.
The majority of the story follows Xifeng in the vast places of the Imperial Palace.
"This water gurgled. It belched. It shoved along fissures and fractures in the rock, forcing its way along with a ferocity she had to admire. It bubbled in a glorious ugliness that was almost beauty."
A hot spring that Xifeng stumbles upon, this place – secret and magical – is crucial to certain events.
Welcome to our last stop!
The best part of this stop is that you, readers, get to discover it yourself when you pick up the book. It is lush; it is shining; it is full of menace and mystery. And I highly recommend you not to hesitate when deciding whether to pick this book or not.
Julie C. Dao (www.juliedao.com) is a proud Vietnamese-American who was born in upstate New York. She studied medicine in college, but came to realize blood and needles were her Kryptonite. By day, she worked in science news and research; by night, she wrote books about heroines unafraid to fight for their dreams, which inspired her to follow her passion of becoming a published author. Forest of a Thousand Lanterns is her debut novel. Julie lives in New England. Follow her on Twitter @jules_writes.
Enter for a chance to be one (1) of three (3) winners to receive a hardcover copy of Forest of a Thousand Lanterns by Julie Dao. (ARV: $18.99 each).
NO PURCHASE NECESSARY. Enter between 12:00 AM Eastern Time on October 2, 2017 and 12:00 AM on October 27, 2017. Open to residents of the fifty United States and the District of Columbia who are 13 and older. Winners will be selected at random on or about October 30, 2017. Odds of winning depend on number of eligible entries received. Void where prohibited or restricted by law.
Follow the Tour!
 Week One:
October 2 – Alexa Loves Books – Author Guest Post | Inspiration Behind FOATL
October 3 – No BS Book Reviews – Review
October 4 – The Young Folks – 10 Reasons to Read FOATL
October 5 – Chasing Faerytales – Author Guest Post | On Villains & Backstories: What Makes Them So Interesting?
October 6 – Arctic Books – Favorite Villains & Anti-Heroes
Week Two:
October 9 – NovelKnight – Review
October 10 – The Book's Buzz – Author Q&A
October 11 – Across the Words – Author Q&A
October 12 – What Sarah Read – FOATL Mood Board
October 13 – One Way or an Author – Tour of the World of FOATL
You can find my glowing review (and picture) of the book here! Did you enjoy this tour? Have you read this book? What are your favorite East-Asian inspired fantasies?