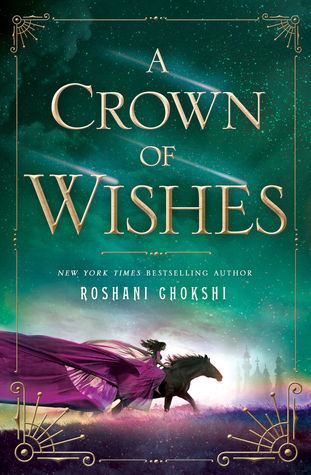 A Crown of Wishes
Author: Roshani Chokshi
Series: Companion to The Star-Touched Queen
Publisher: Griffin Teen
Release Date: March 28, 2017
Get it Here: Amazon | Barnes & Noble | Book Depository
Synopsis:
An ancient mystery. An unlikely union. For one young princess in a state of peril, a dangerous wish could be the only answer…
She is the princess of Bharata—captured by her kingdom's enemies, a prisoner of war. Now that she faces a future of exile and scorn, Gauri has nothing left to lose. But should she trust Vikram, the notoriously cunning prince of a neighboring land? He promises her freedom in exchange for her battle prowess. Together they can team up and win the Tournament of Wishes, a competition held in a mythical city where the Lord of Wealth promises a wish to the victor. It seems like a foolproof plan—until Gauri and Vikram arrive at the tournament and find that danger takes on new shapes: poisonous courtesans, mischievous story birds, a feast of fears, and twisted fairy revels. New trials will test their devotion, strength, and wits. But what Gauri and Vikram will soon discover is that there's nothing more dangerous than what they most desire.
Thank you MacMillan for the review copy!
Note: This book is a companion to A CROWN OF WISHES, and thus will have no spoilers for the previous book in the series.
Roshani Chokshi does it again with A CROWN OF WISHES, the companion sequel to her best-selling THE STAR-TOUCHED QUEEN, which you can find my review here. Filled with heavy imagery and a flowy prose, this book focuses on Gauri, a warrior princess who tried to take the throne and failed, and Vikram, the fox prince who wants to extend beyond his name as the next puppet king in the country his father rules. Both characters are so endearing and you really fall in love with them – and their dialogue – as we enter this magical adventure with them.
The book starts with Vikram getting invited to play the Tournament of Wishes, where the winner gets a wish fulfilled. However, he also has to have a partner – and she may come at an inopportune time. Gauri arrives as a prisoner made by her own father the king of Bharata to Vikram's court. It turns out that she's his partner for the Tournament of Wishes, and the story gets rolling from there. I know a complaint for some readers for THE STAR-TOUCHED QUEEN was how confusing the writing and descriptions could be, but it's much less evident in this book. There are more tangible scenes (rather than the very ethereal situations in THE STAR-TOUCHED QUEEN) that readers will have an easier time imagining in their heads. The descriptions are as beautiful as always, although some readers may be tired of the abundance of flowery words, which can head towards purple prose territory pretty fast. But despite it, I certainly didn't have a problem while reading, and it only heightened my reading experience.
"'Surviving isn't just about cutting out your heart and burning every feeling into ash,' he said. 'Sometimes it means taking whatever is thrown at you, beautiful or grotesque, poisonous or blissful, and carving out your life with the pieces you're given."
There are so many magical elements to this book, and several characters that readers will fall in love with as Gauri and Vikram enter the Tournament of Wishes. We get to read between Gauri's first person POV and Vikram's limited third person POV, which allows us to really get to know the characters. Both are burdened with things of the past and want to win this tournament to use that wish and get what they want. Chokshi does a superb job in painting their desperation and anguish over not having what they wanted. Eventually they realize how much potential they had in themselves to fulfill those goals of theirs.
"He didn't look at me with an unspoken farewell in his gaze. He looked at me with understanding. For a moment, I felt as if fire braided the space between us. It was charged and alive, lit by a shared dream: to wish."
The romance was extremely well-done, sweet, and slow. In the first meeting between Vikram and Gauri, Gauri is a prisoner and pretty much attacks him. Their banter is so hilarious and charged with wit. I also enjoyed seeing familiar characters from the previous book pop up in this one! I think the pacing of the relationship developments was really well-done and corresponded to perfect times with the rest of the story. The satisfactory ending, leaving me bursting with emotion and love and colors and words, is pretty evident of that.
"I never dared to hope for someone who challenged and respected me, knew me at my worst and still coaxed out my best. And yet I had found that in the unlikeliest of places and most inconvenient of people. Wasn't that enough to fight for?"
Full of descriptive imagery, captivating Indian folklore, and a journey between two souls for a wish that could change their lives, A CROWN OF WISHES enchants a reader from start to finish on this magical journey. Vikram and Gauri are so easy to love, but the other characters stand out as well; Chokshi's writing breathes life into even the most minor of characters with their enjoyable dialogue and ulterior motives. There are so many things to love about this book, from the amazing characters to superb representation of Indian culture to the exciting journey. Fantasy lovers out there will devour this one, and readers looking for a romantic and thrilling adventure will definitely fulfill that search with this book.
I don't usually do this, but here are some more wonderful quotes that I wanted to share:
"Hope was the only thing that lay between him and a throne that would only be his in name."
Vikram is so swoon-worthy!
"His belief felt like heat that crinkles and greases the air. The force of it pressed and needled the world, as if it could summon kingdoms out of sheer force. His conviction set me alight.
I grasped his hand."
SO SHIPPY.
"She was not a thing to be possessed. But her entrance in his life had conjured light. And losing the light of her would plunge him into a darkness he'd never find his way out of."
Why so romantic – I cry.
"Her kiss burned in his bones. And maybe it was the magic of Alaka or maybe his mind was splintering from everything they'd gone through, but he would have sworn she tasted like cold honey and caught magic."
Want more? Check out my fan art for The Star-Touched Queen over here, as well as my art for the characters in A Crown of Wishes over here.