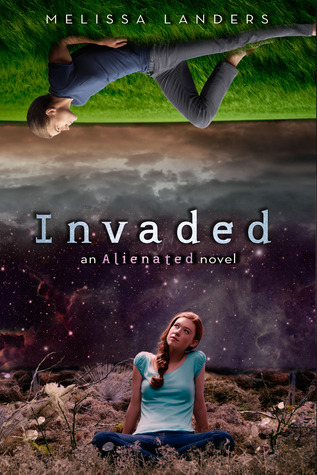 Invaded
Author: Melissa Landers
Series: Alienated #2
Release Date: February 3, 2015
Publisher: Disney Hyperion
Get it Here: Amazon | Barnes & Noble | Book Depository
Synopsis:
The romantic sequel to Alienated takes long-distance relationships to a new level as Cara and Aelyx long for each other from opposite ends of the universe…until a threat to both their worlds reunites them.
Cara always knew life on planet L'eihr would be an adjustment. With Aelyx, her L'eihr boyfriend, back on Earth, working to mend the broken alliance between their two planets, Cara is left to fend for herself at a new school, surrounded by hostile alien clones. Even the weird dorm pet hates her.
Things look up when Cara is appointed as human representative to a panel preparing for a human colony on L'eihr. A society melding their two cultures is a place where Cara and Aelyx could one day make a life together. But with L'eihr leaders balking at granting even the most basic freedoms, Cara begins to wonder if she could ever be happy on this planet, even with Aelyx by her side.
Meanwhile, on Earth, Aelyx, finds himself thrown into a full-scale PR campaign to improve human-L'eihr relations. Humans don't know that their very survival depends on this alliance: only Aelyx's people have the technology to fix the deadly contamination in the global water supply that human governments are hiding. Yet despite their upper hand, the leaders of his world suddenly seem desperate to get humans on their side, and hardly bat an eye at extremists' multiple attempts on Aelyx's life.
The Way clearly needs humans' help . . . but with what? And what will they ask for in return?
I thought that this was a charming and delightful sequel in the Alienated series! We get to see more of Cara and Aelyx's sweet relationship, as well as an exciting alien plot that's happening in L'eihr. Friends come and go, and friendships form and get mended. The book's quick pace and easy-to-follow writing makes the read go by like a breeze. All in all, it has me more excited to see what's in store with these characters in the next book, United.
We get to read in limited third person POV's of both Cara and Aelyx, who are in L'eihr and Earth, respectively in order to solidify the Alliance between the two planets. Both characters have to deal with problems as they try to fit into the customs. Aelyx's life is constantly jeopardized by assassins, while the L'eihrs aren't so accepting of Cara back in that planet. Despite it all, they persevere so they can one day live in the colony on L'eihr together. Their love for each other made my heart warm up so much, and you can really see it through their dialogue and sacrifices.
"He wasn't sure he understood, so he told her, 'I miss you.'

That seemed to get through to her. Her face broke into a sad smile. 'Me, too. More than you know. When something weird or funny happens, I look for you because you're the first person I want to tell. But then I remember you're not here, and it stings.' She rubbed her chest to show him. 'Every single time.'"
While that romance is going, we get to see other relationship developments with the wonderful side characters. I loved Cara and her brother's sibling dynamics. In the first book, he was pretty stand-offish and ignored her, which made me not like him much. But you can really see how much he cares for her (and her, him) when he does things like stay an extra couple of weeks at L'eihr with Cara, just so she won't be lonely, being the only human on the planet. Next notable relationship is the friendship between Syrine and Aelyx. In Alienated, you could tell she really didn't like humans. But her character progression is tremendous and she slowly starts to open up to them (a particular male one too, aha). She and Aelyx mend their friendship that was a bit shattered from the first book, and overall you could really see how much she's changed.
While the action part of the plot was fun (and discovering more secrets that the L'eihr have), it wasn't particularly exciting. Hmm, how should I say it? Okay, here's an analogy: I love food – especially sweets. So once in awhile I pick up the cupcakes at my school's cafeteria. And they're not terribly good cupcakes, but they're not horrible either. Plus, they're sweet, so that makes them enjoyable to my taste buds. When I eat them, it's always satisfying and yummy. But they aren't a novelty either, so it's enjoyable while it's happening, but I forget about it rather soon after I finish. That was the case with the L'eihr alien plot going on in this book. It was interesting to see the characters solve the mysteries going on around them, but a bit forgettable after reading.
"'Why settle for satisfying when you can have spectacular?'"
So there you have it! While Invaded was definitely a solid sequel, it didn't have the refreshing feel that Alienated had for me. I loved seeing the characters continue to grow, but the plot wasn't as engaging as I expected. There were certainly explosions and assassination attempts and all that fun stuff, but overall not that unforgettable. I still can't see what Cara, Aelyx, and the crew have in story for us in the next book, though!