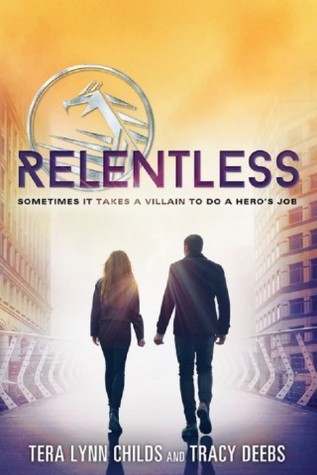 Relentless
Author: Tera Lynn Childs and Tracy Deebs
Series: The Hero Agenda #2
Release Date: June 7,  2016
Publisher: Sourcebooks Fire
Get it Here: Amazon | Barnes & Noble | Book Depository
Synopsis:
Revenge is easy, but justice is worth fighting for…
Kenna is tired of being lied to—and hunted by the very allies she once trusted. Unearthing the dark secrets of the superhero world has not only endangered her life, now her boyfriend faces execution for crimes he didn't commit and her mother is being held captive in a secret governmental prison.
Kenna is determined to stand up for what's right and save those she loves from unspeakable fates. It's time for the betrayal to end. It's time for the real criminals to face justice.
But the truth is even more terrifying than Kenna could imagine. A conspiracy threatens the fate of heroes, villains, and all of humanity. If Kenna's going to survive, she must draw on her deepest strength: her resilience. Because when Kenna's pushed to the limit, she doesn't break down. She fights back.
Thank you Netgalley and Sourcebooks Fire for the review copy!
One word that effectively describes this series is just awesomesauce. For the action lover like me, it satisfies on almost all points. We have a group of teenagers that go against an antagonist who is more than what he seems to be, while discovering things about themselves. Granted, the premise sounds like the many out there. However, the fast pace and nonstop action makes it an adventure that is just plain fun. Certain key points of the book just made it a great and quick read for me.
Great Action Sequence With A Great Pace
The story is not the longest, being a bit less than pages long. But that's still enough time to properly develop the characters, the plot, and more importantly, the action scenes. Each one of them is significant and isn't pure fluff. No words are wasted in this book, and the utter lack of drama (seriously, things are kept quite light) just brings out the adventure. Although the book is kept relatively short, there's still just enough in there to satisfy my appetite for action scenes and people fighting each other. The plot is actually pretty simple, but I was totally good with it – more time for action and friendship scenes! It's nonstop fun throughout.
Lovely Friendships Among Wonderful Characters
The group that this story centers around is a mix of both Heroes and Villains. In this world, you're born as either on or someone who doesn't have powers. There's always a prejudice against Villains, but in the first book Powerless (which you can find a review of here), the main character Kenna finds out that things aren't what seem. What if the Villains are just trying to survive? What if they're not the bad guys that the media puts them out as? In this book, we find out who the real antagonists are and what their plan is. 
Throughout it all, we see so much growth between the characters of their group. Each one of their personalities shine and the combination of them all make for a daunting team. From Riley, whose innocence is blasted away from the evil deeds of his father, to Kenna, who finds herself stepping to the task of leading people, they were all such endearing characters. I love their camaraderie and how they just mesh so well together. They're definitely an underdog team worth reading about.
Sweet Romances That Stays On The Side
There are quite a few romances, and all of them are so sigh-inducing. Kenna and Draven have each other's backs, and the support they lend each other is so nice to see. This also goes with all the other couples that form in the story. And although yes, people are getting into relationships, I love how the authors don't make such a big deal about it. There is no angsty drama that digresses from the main storyline, and each character still has their priority of saving the world in order. It's a perfect balance with the great action that we see in the story.
"'We both want to keep each other safe, but there's no such thing as safety anymore. The whole world is upside down and getting more screwed up every day. There's no way to guarantee that all of us – that any of us – will make it out of this alive. For as long as we have, I don't want to be separated from you again. Not if I don't have to be.'"
All in all, Relentless is a solid sequel in The Hero Agenda and although the conclusion is definitely satisfying, I would still love to see more from this lovable cast of characters. Although the short length of the book makes for very minimal world-building and explanations, the more I read, the more I just went along with it. Instead, the focus is put on the action and characters, which were both fun to read about. Readers looking for a fast-paced adventure featuring characters that you just can't help but root for should definitely pick this one up!