I've seen this series around Goodreads (and really love the covers), but I haven't heard any insights about it from reader friends until it was recommended by Kimberly Karalius. I rather liked it! It didn't blow me away, but the spunky main character and her strong-will made me keep on reading the series.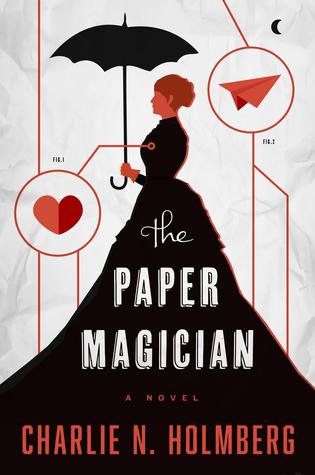 The Paper Magician
Series: The Paper Magician Trilogy #1
+Add to Goodreads
Synopsis:
Ceony Twill arrives at the cottage of Magician Emery Thane with a broken heart. Having graduated at the top of her class from the Tagis Praff School for the Magically Inclined, Ceony is assigned an apprenticeship in paper magic despite her dreams of bespelling metal. And once she's bonded to paper, that will be her only magic… forever.
Yet the spells Ceony learns under the strange yet kind Thane turn out to be more marvelous than she could have ever imagined — animating paper creatures, bringing stories to life via ghostly images, even reading fortunes. But as she discovers these wonders, Ceony also learns of the extraordinary dangers of forbidden magic.
An Excisioner — a practitioner of dark, flesh magic — invades the cottage and rips Thane's heart from his chest. To save her teacher's life, Ceony must face the evil magician and embark on an unbelievable adventure that will take her into the chambers of Thane's still-beating heart—and reveal the very soul of the man.

What I Liked:
Right off the bat, Ceony's narrative hooked me in and didn't let go. In a world full of magic, she gets lumped in with the Folders, who enchant… paper. Doesn't sound like a very fun power, does it? She learns to love her skill though, and her growth in the book was amazing to see.
The setting basically has different occupations that revolve around magical powers, like Smelters who can forge weapons or jewelry. It was definitely one that appealed to me – especially when you add Excisioners to the mix – magicians whose magic is fueled by blood.
What I Didn't Like:
I wouldn't say the short length of the book is a weakness, but it certainly dulls the plot down a bit. I found myself wanting the adventure that Ceony goes on to hurry up and happen, if only because I just wasn't that into it.
I also wish I were more of a fan of Magician Thane, who teaches Ceony the art of paper folding. He certainly has his quirks as a character, but his limited page time didn't really make me like him as much as I wanted to.
Although the romance wasn't prevalent, the undertones of Ceony's journey carried the attraction, and in general I just wasn't a big fan. I love the character loads, but man Thane's side of the romance (or rather, lack of) definitely brought it down.
Recommended for:
Lovers of magic and strong characters! Ceony is a great, dynamic character who stole my heart from the first quarter of the book. Although I really wasn't sold on the romance at this point of the trilogy, I still couldn't wait to see it explored. Definitely check this series out for a run ride!
---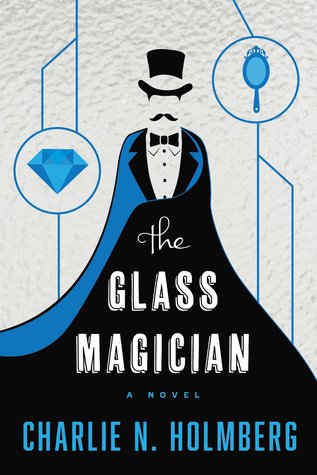 The Glass Magician
Series: The Paper Magician Trilogy #2
+Add to Goodreads
Synopsis:
Three months after returning Magician Emery Thane's heart to his body, Ceony Twill is well on her way to becoming a Folder. Unfortunately, not all of Ceony's thoughts have been focused on paper magic. Though she was promised romance by a fortuity box, Ceony still hasn't broken the teacher-student barrier with Emery, despite their growing closeness.
When a magician with a penchant for revenge believes that Ceony possesses a secret, he vows to discover it…even if it tears apart the very fabric of their magical world. After a series of attacks target Ceony and catch those she holds most dear in the crossfire, Ceony knows she must find the true limits of her powers…and keep her knowledge from falling into wayward hands.
The delightful sequel to Charlie N. Holmberg's The Paper Magician, The Glass Magician will charm readers young and old alike.

What I Liked:
Definitely the fact that I'm liking Magician Thane more! Or Emery, as Ceony is starting to call him. I like that their attraction isn't so blatant, but it's definitely there. It makes for a subtle yet sweet pair who looks out for the other.
More revelations about the magic in this world, which is always fun. Magic is life.
What I Didn't Like:
Although I enjoyed Ceony's spunk in the previous book, I see her constantly making the same mistakes in this one and beating herself over it. When will she learn?? I understand being headstrong and wanting to get things done herself for the sake of plot, but it really shows her immaturity as a character. Someone who I thought was strong in the first book turned out to be brattish in this one.
Overall:
A nice sequel to the trilogy, but it still carries the charming yet bland plot elements that made me so wary in the first book. I like how the progression of the romance is going, but Ceony's actions made me quite annoyed throughout it all.
---
The Master Magician
Series: The Paper Magician Trilogy #3
+Add to Goodreads
Synopsis:
Throughout her studies, Ceony Twill has harbored a secret, one she's kept from even her mentor, Emery Thane. She's discovered how to practice forms of magic other than her own — an ability long thought impossible.
While all seems set for Ceony to complete her apprenticeship and pass her upcoming final magician's exam, life quickly becomes complicated. To avoid favoritism, Emery sends her to another paper magician for testing, a Folder who despises Emery and cares even less for his apprentice. To make matters worse, a murderous criminal from Ceony's past escapes imprisonment. Now she must track the power-hungry convict across England before he can take his revenge. With her life and loved ones hanging in the balance, Ceony must face a criminal who wields the one magic that she does not, and it may prove more powerful than all her skills combined.

What I Liked:
Each character stays true to themselves (and yes, even Ceony's reckless actions). This time it wasn't so bad, because the stakes are higher when we have a huge murderer on the loose.
The plot calls for interesting turns that keeps readers interested.
Ceony and Emery continue their sigh-worthy romance that starts to gain attention. Like I said, subtle yet still enough to make my heart warm.
There is a rather random sister relationship development that I thought didn't fit with the plot, but I enjoyed nonetheless. It was like, "Oh this is happening?" and a bit confusing at first, but seeing Ceony's actions for her sister was rather nice to read, so it didn't bother me that much.
What I Didn't Like:
The ending felt a bit rushed! I would've loved to have seen an epilogue (personally), but what we got was definitely satisfying and worth the read throughout the series. Other than that, I had no large qualms!
Overall:
The Paper Magician trilogy is charming, sweet, and features a headstrong main character who isn't afraid to do what she thinks is right (even if it means annoying the readers). The cute romance made me smile throughout the book, while the plot features many likable characters that grow as we get to know them. With your typical mustache-twirling villains, the story makes for a super fun read that's light in atmosphere. Although the series would be a solid 3.5, I'm rounding down just because there wasn't really a point that "wowed!" me throughout it all.