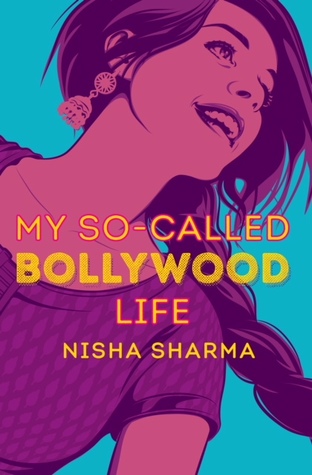 My So-Called Bollywood Life
Author: Nisha Sharma
Release Date: May 15, 2018
Publisher: Crown Books for Young Readers
Get it Here: Amazon | Barnes & Noble | Book Depository
Synopsis:
The romance of Stephanie Perkins meets the quirk of Maureen Johnson, then gets a Bollywood twist in this fate-filled debut that takes the future into its own hands.
Winnie Mehta was never really convinced that Raj was her soul mate, but their love was written in the stars. Literally, a pandit predicted Winnie would find the love of her life before her eighteenth birthday, and Raj meets all the qualifications. Which is why Winnie is shocked when she returns from her summer at film camp to find her boyfriend of three years hooking up with Jenny Dickens. As a self-proclaimed Bollywood expert, Winnie knows this is not how her perfect ending is scripted.
Then there's Dev, a fellow film geek and one of the few people Winnie can count on. Dev is smart and charming, and he challenges Winnie to look beyond her horoscope and find someone she'd pick for herself. But does falling for Dev mean giving up on her prophecy and her chance to live happily ever after? To find her perfect ending, Winnie will need a little bit of help from fate, family, and of course, a Bollywood movie star.
OH. MY. GOD. This book was absolutely STUNNING. Let me give you five reasons on why I'm rating this book five stars:
Preface: I know for a fact that some readers are going to say "This book had too much drama" or "This book was predictable" or "These characters were immature" or along those lines. The drama part is true, so come into the book with that expectation in mind. My main point is that this is a total rom-com, and thus, romance is a focal point to this book (as well as hella character development). What can I say? I'm weak for fluffy romantic comedies. ESPECIALLY when they feature marginalized characters.
1. The dialogue = PERFECT??
Right off the bat, something about Sharma's writing and I just CLICKED. The dialogue was incredibly believable and witty and real. The transitions of the conversation and back-and-forth was just so smooth and had this natural flow that kept me reading. There was just some spark – I honestly don't know how to fully explain it – in the characters' dialogue that paved the way for an instant connection with me.
2. Exploration of kismet (to follow destiny, or not to follow?)
"'Because those who fight destiny, who fight what's written in the stars, always end up having the hardest struggle.'"
The book follows Winnie's belief in a prophecy that she will meet her soulmate before her 18th birthday. The prophecy also states that their name will being with an "R," and they will give her a silver bracelet. This belief shatters when Winnie's "break" with her current boyfriend (and soulmate?) Raj ends up in Raj cheating on her. From here, she finds herself lost. What is destiny? How true is it, really? And is there some way to escape the cycle? I thought Sharma's exploration of this concept through Winnie's thoughts was really well-done and extensive – especially for a teenage girl that isn't quite sure of her future.
3. Winnie and her fierce family = A+
Wow, words cannot describe how much I enjoyed Winnie's family. Her mother and grandmother are so fierce and bedazzling! I also adored seeing the little tidbits of the family's traditions and customs (woohoo, #ownvoices novel!) that are included in her narrative. (Also, all the food that was mentioned?! I NEED to go to a Dosa Hut one day.) Her mom, dad, and grandmother may be strict sometimes, but also exceptionally supportive of her life decisions. Their interactions were always a blast to read.
4. Dev aka A BOLLYWOOD-WORTHY ROMANCE
"'As much as I love Bollywood damsels in distress, I don't need saving. I'm my own hero.'"
Y'ALL. THIS SECTION. WILL BASICALLY JUST BE ME FANGIRLING.
No but for real. While a love triangle is low key advertised in the blurb, there's really only one viable love interest that readers root for. Dev is literally all your favorite, soft rom-com heroes wrapped into one character. He's been in Winnie's life since starting high school, but they kind of have a disconnect after she starts dating Raj. This book explores their reconnection and his courtship, now that Dev has a chance with her. And I LOVED every single moment of it. This boy was SO suave and charming (but not in a pretentious way) and soft! All their dates were cute with a capital "C," and it was so sweet to see him go out of his way to make sure Winnie had a great time. AND DON'T EVEN GET ME STARTED WITH THE DANCING. (Note: Dev isn't quite a Bollywood fan but a guy's gotta do what he's gotta do when wooing a girl who IS one.)
5. Follow your passions – whether it's your love life or your future.
"Screw pandits and star charts and prophecies. Sometimes you have to trust yourself and let destiny follow.'"
Winnie has these hilarious dreams with Shah Rukh Khan (aka the King of Bollywood), where she's placed in one of his iconic movie scenes. A lot of the time it's him giving her life advice through quotes from his own movies (LOL). It was a really great addition though, because it added a layer of dialogue to her introspection on how to forge her decisions and actions. Her passion in film was very evident in her film critic blog and dedication to the film club, but her love life was not so clear. Although I can't relate to Winnie on the emphasis of romance during senior year, I was super empathetic with her thoughts on the future. I loved that she put her foot down when Raj tried to convince her to sacrifice her dream school. And while some parts of this aspect of the story were unrealistic to me (can't say because of spoilers), I thought it was the perfect fit to the story's overall atmosphere and tone.
Finishing this book just made me want to watch more Bollywood movies. My So-Called Bollywood Life was delightful and full of fun. Sharma writes a sugar-sweet story of a high school senior trying to pave her own destiny, and finding love on the way. It's light and lovely and bursts with character development and swoony times. 11/10 would recommend contemporary readers to pick this one up!
Thank you Netgalley and Random House Children for the review copy!