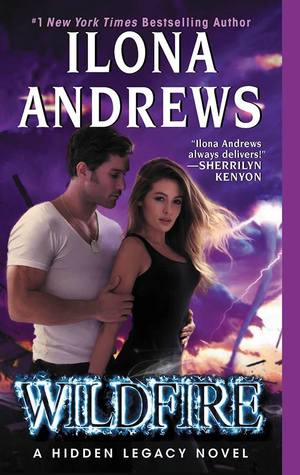 Wildfire
Author: Ilona Andrews
Series: Hidden Legacy #3
Release Date: July 25, 2017
Publisher: Avon
Get it Here: Amazon | Barnes & Noble | Book Depository
Synopsis:
Just when Nevada Baylor has finally come to accept the depths of her magical powers, she also realizes she's fallen in love. Connor "Mad" Rogan is in many ways her equal when it comes to magic, but she's completely out of her elements when it comes to her feelings for him. To make matters more complicated, an old flame comes back into Rogan's life…Rogan knows there's nothing between him and his ex-fiance, Rynda Sherwood. But as Nevada begins to learn more about her past, her power, and her potential future, he knows she will be faced with choices she never dreamed of and the promise of a life spent without him.
As Nevada and Rogan race to discover the whereabouts of Rynda's kidnapped husband and are forced to confront Nevada's grandmother, who may or may not have evil motives, these two people must decide if they can trust in each other or allow everything to go up in smoke.
Note: This is the last book of the Hidden Legacy series, and will have minor spoilers. You can check out my review for book 1, Burn For Me, over here and my review for book 2, White Hot, over here.
This was an amazing conclusion to the Hidden Legacy trilogy! Ilona Andrews continues on with a kickass action and adventure, featuring strong characters who aren't afraid to stand up and fight for what they love, and for what they believe in. We get more development with Nevada's powers, and a slight conflict with her family as secrets become unveiled. But throughout it all, her love and support from Rogan are there, as well as Nevada's dedicated and loyal personality that makes her so enjoyable to read about.
Nevada's family owns a small investigative agency, and this time Rogan – her boyfriend's – ex-fiance is asking her to help her missing husband, Brian. While Nevada's hilarious and upbeat grandma is hesitant on it, as she believes the ex-fiance will steal Rogan back, Nevada takes the case because it's pretty much the right thing to do. Nevada keeps these ethics and ideals throughout the book, even when faced with difficult decisions that'll perhaps create regret in the future.
"Our parents built Baylor Investigative Agency, and I spent seven years growing it. It wasn't just a business. It was the future and the core of our family."
The adventure that comes with the case is as fun as the other books. Ilona Andrews's world-building is always top-notch, and this book was no different. In the setting, magic users are at the top of the hierarchy and Primes are the leaders of the houses. They have the most power, and thus, the most influence. Nevada is applying to create a House Baylor to keep her family, who is full of ripe powers, safe from her other grandmother from House Tremaine, who wants them for their powers. While this is happening, we see a bunch of powers uncovered in the Baylor household. It was extremely exciting to see what potential Nevada's little sisters and cousins had and what kind of stories we can look out for from them next.
The romance with Rogan was one of the highlights of this story. Nevada wants to keep her independence – is adamant about it, actually – and so Rogan has to compromise. When Nevada starts getting a suitor because of her powers and ascent to a House, Rogan takes a step back and lets her decide for her own (even telling her to go for it, to the detriment of my heart). They're both extremely humble in their love, as each just wants the best for the other. But they're sooo compatible, even if their powers aren't, and I just love how they stand by their beliefs despite what other people think. Rogan's gruff, tough protectiveness was super cute, but his soft moments when looking out for Nevada was just as romantic.
"'When we were at the lodge, and you were dancing in the snow, I kept wondering why it wasn't melting. You're like spring, Nevada. My spring.'"
While the ending was conclusive and left readers satisfied, the authors also leave room for more story in this world. I absolutely can't wait! I'm going to hazard a guess and say it's going to be from the perspective of one of Nevada's other family members, possibly her sister Catarina. From the smoldering romance that was absolutely explosive to the wonderful familial dynamics and exciting action, the Hidden Legacy series was a successful Urban Fantasy that left this reader extremely satisfied. Fans of their books will not be let down by this one!
Thank you Edelweiss and Avon for the review copy!