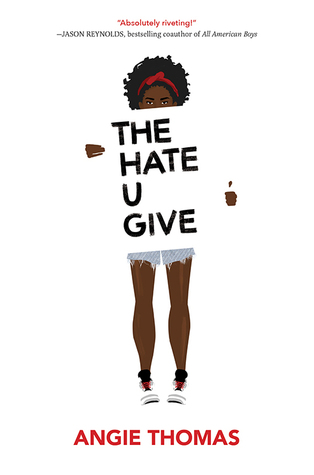 The Hate U Give
Author: Angie Thomas
Release Date: February 28, 2017
Publisher: Balzer & Bray
Get it Here: Amazon | Barnes & Noble | Book Depository
Synopsis:
Sixteen-year-old Starr Carter moves between two worlds: the poor neighborhood where she lives and the fancy suburban prep school she attends. The uneasy balance between these worlds is shattered when Starr witnesses the fatal shooting of her childhood best friend Khalil at the hands of a police officer. Khalil was unarmed.
Soon afterward, his death is a national headline. Some are calling him a thug, maybe even a drug dealer and a gangbanger. Protesters are taking to the streets in Khalil's name. Some cops and the local drug lord try to intimidate Starr and her family. What everyone wants to know is: what really went down that night? And the only person alive who can answer that is Starr.
But what Starr does or does not say could upend her community. It could also endanger her life.
Five stars for this book doesn't do it justice. It deserves ALL THE STARS. I've experienced so many emotions while reading this book, and will break this review down to some of the important ones. Phenomenal, uplifting, and honest, The Hate U Give follows the journey of Starr, a black teenager who finds her voice after a tragedy that makes it to national news.
I Raged
"Keep your hands visible.
No sudden moves.
Only speak when spoken to."
The Hate U Give gives an up-close and personal perspective of a black girl, Starr, who was next to her best friend, Khalil, when he was shot by a policeman even though he was unarmed – a showcasing of the rampant police brutality plaguing the nation today. It's a story that is more fact than fiction, as evident from the activists and voices springing up from the #BlackLivesMatter movement. It's a story that takes the events covered in the news and gives it a first-hand perspective, making readers more than ever aware of the danger of the situation going on.
There were so many things going on in this book that made me angry, whether it was the blatant racism of one of Starr's so-called friends or the revelation that justice may never be served for Khalil. Readers will be frustrated reading this book, angered at their inability to change things, and saddened by some of the outcomes. This is especially important when you realize that as frustrated as we are with the events, imagine having it happen in real life – because it does. These events reflect reality, and these words have the power to galvanize readers to seek out their own voice and rise up for justice.
I Ached
"I don't talk like me or sound like me. I choose every word carefully and make sure I pronounce them well. I can never, ever let anyone think I'm ghetto."
Throughout the book, Starr finds herself acting like two people: the Starr from Garden Heights, a poor neighborhood, and the Starr from Williamson, a preppy high school in the suburbs. My heart ached for Starr as the aftermath of Khalil's death becomes national news. Soon enough, people who she thought were friends use the excuse of protesting to skip class and sympathizers with the murderer police start popping up. While balancing this aspect of her life, Starr also sees the gang dynamics of the Kings of her neighborhood, who rule specific territories. Readers get a close-up look at the abuse, manipulation, and fear that some of these gangs have over the neighborhood, and how that can affect a person's future.
Never have I been more aware of my own privilege while reading a book. Starr's voice really brings out the emotions as she sees the discrepancies between her own lifestyle and the life of her rich, white boyfriend, or prep school friends. Readers get a perspective that is usually not found in YA contemporaries, because it'll make them think and even make them uncomfortable at times. And I for one welcomed it. This book has opened my eyes to a new look on the outrageous, racist, and brutal events that happen on the news.
I Cried
"I can't change where I come from or what I've been through, so why should I be ashamed of what makes me, me? That's like being ashamed of myself.
Nah. Fuck that."
Starr's bravery and resilience throughout the book was so amazing to see. Although she hesitates to speak about being a witness to Khalil's murder at first, she finds support through her family and friends to raise her voice and keep Khalil living in their hearts and in the movement. There are so many beautiful love stories that happen in this book as well: young romantic love, the love between friends, the love between family, the bond between a mother and her children, and the love of oneself.
Starr is a narrator like no other. She doesn't hesitate to show readers the unfairness of the situation and her own introspection also got me thinking as well. I just loved her bravery, her down-to-earthness, and the development she goes through as all these events unravel around her.
I Hoped
"'You and your brothers are something to live for, and something to die for, and I'll do whatever I gotta do to protect you.'"
There is a romance that happens between Chris, a white boy from Williamson, and Starr. I really liked this relationship, because Starr doesn't hesitate to call out Chris for his behavior. At the same time, Chris is willing to understand and support Starr throughout everything that happens. It's very sweet and balanced, as both Starr and Chris respect and care for the other very much. It's so cute, too! Especially with the way they bond over The Fresh Prince of Bel-Air (swoons).
My favorite relationship in this book, however, surrounds Starr and her whole family. They're so supportive and lovable throughout the entirety of the story. Starr's dad used to be involved in the gang business but came out and now he owns a small store in the neighborhood, trying to help it out. Her mom and dad are such a force – whether it's their strong, supportive voice or their obvious care and dedication to their children and family. The small aspects of their family lives, like saying grace before eating and coughing up a dollar for every swear word, was so real and honest and beautiful.
Although this book will take you on an emotional roller coaster, the prevailing emotion throughout it all is "hope." There is a side fighting, and it's up to you whether you decide to take action or not. As readers follow Starr's journey in finding her voice to take the side of justice, they will also find themselves relating back to their own lives, and how they can make a difference in the choices they make and things they say.