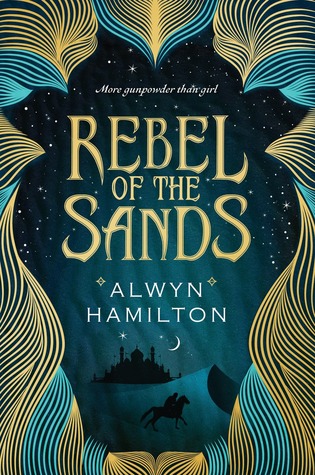 Rebel of the Sands
Author: Alwyn Hamilton
Series: Rebel of the Sands #1
Release Date: March 8, 2016
Publisher: Penguin
Get it Here: Amazon | Barnes & Noble | Book Depository
Synopsis:
She's more gunpowder than girl—and the fate of the desert lies in her hands.
Mortals rule the desert nation of Miraji, but mystical beasts still roam the wild and barren wastes, and rumor has it that somewhere, djinni still practice their magic. But there's nothing mystical or magical about Dustwalk, the dead-end town that Amani can't wait to escape from.
Destined to wind up "wed or dead," Amani's counting on her sharpshooting skills to get her out of Dustwalk. When she meets Jin, a mysterious and devastatingly handsome foreigner, in a shooting contest, she figures he's the perfect escape route. But in all her years spent dreaming of leaving home, she never imagined she'd gallop away on a mythical horse, fleeing the murderous Sultan's army, with a fugitive who's wanted for treason. And she'd never have predicted she'd fall in love with him…or that he'd help her unlock the powerful truth of who she really is.
Thank you lovely Kit from Let the Pages Reign for sending me a review copy!
I'm not sure how to properly convey my love for this book. The setting, the characters, the magic, the story – everything just makes me want to shout to the world "READ THIS NOWWWwww!!" I was immediately captivated by Amani's gritty character, and fell head over heels in love with the desert setting that they're encompassed in. As I followed her adventure with Jin, a enigmatic hot foreigner, I found my eyes glued to the pages. Along the way, we learn more about Djinn in the world and end up being involved with a rebellion taking place in the desert.
We start the book off with a BANG as Amani takes a round in a shooting contest for the victor's money. I loved seeing her skills rather than the being told how good of a sharpshooter she is. It's here that she sees a mysterious foreigner named Jin, who for some reason helps her out. But this smart girl's outta there the moment trouble starts, so she abandons him. Hey, what else can a girl do when she's in trouble, right? But at home, things aren't going so great either. Amani lives with her uncle and aunt, as well as a bunch of cousins. She's constantly being nagged at from them, and her uncle even has (gross) plans of marrying her himself…? Talk about yuck. No wonder this girl wants to get out as soon as possible! Opportunity presents itself when she encounters a Buraqi, or desert horse. They're a First Being that can be trapped with iron, which is why iron is such an important commodity in the world.
"But if knowledge was power, then the unknown was the greatest weakness of immortal things. We all knew the stories… They were drawn to us, but also vulnerable to us. We could turn them into flesh and blood."
And thus begins a perilous journey that's full of adventure, a scorching romance, and new revelations of the magic in the world. Jin, the foreigner, is much more hot than he seems… For some reason, he keeps appearing wherever Amani's at, so they become travel companions toward the city, where Amani wants to start a new life. Following a seemingly broken compass, the trek turns into something more as the Rebel Prince gets involved.
The Rebel Prince, like his name implies, is organizing a rebellion to overthrow the Sultan. We get to learn about the story behind this, and it turns out that the rebellion is much more connected to the characters then one would think. There are so many facets in the world that you just NEED to read it. Not only about the rebellion, the characters' journey, and the scintillating culture, but also the magic that's subtly weaved in the setting that you just want to soak up. The writing is just enchanting and presents colorful imagery that gives a clear picture to the desert world that we're in. From the stuffy caravans to the radiant garments, no detail is left out when describing the world.
JIN IS MY LOVE AND LIFE. Ah, *ahem.* I MEANT to say that he's such a swoony love interest, and is full of hidden depths. As we get towards the destination of him and Amani's journey, we find out secrets about him that change the course of our characters' actions. He's definitely the mysterious type, but is also compassionate, determined, and just darling. Seeing him by Amani's side just made my heart swell because they're so great together.
"'So what do you say, Bandit.' He stuck his hand out. 'Stick together?'
My hand fit well in his."
And the romance didn't feature insta-love or attraction. There are no distractions like love triangles, either. It's one that slowly builds heat while the characters are traveling. One that starts with untrust, develops into camaraderie, and steadily becomes something more. It also helps that they're at each other's sides all the time too.
"My knuckles skimmed over the edges of the sun tattooed over his heart. That was the last thing I noticed before I kissed him….
I was a desert girl. I thought I knew heat.
I was wrong."
The captivating setting just draws you in as you read about Amani's journey across the desert. You'll find yourself falling in love with this courageous, skilled, and heartfelt desert girl as well as her hot traveling companion. The magic in the world remains mysterious, but we uncover more and more layers of it as their adventure continues. Finally, the flaming romance is just, well, *fans self.* Utterly gorgeous in every way, Rebel of the Sands is recommended to all readers, no matter what your preferred genre is. I'm pretty sure you'll tumble into love with the characters and world as fast I did.