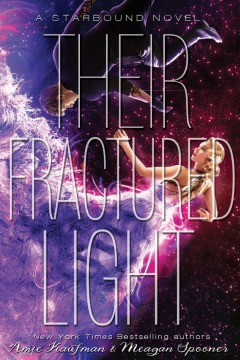 Their Fractured Light
Authors: Amie Kaufman and Meagan Spooner
Series: Starbound
Release Date: December 1, 2015
Publisher: Disney Hyperion
Get it Here: Amazon | Barnes & Noble | Book Depository
Synopsis:
A year ago, Flynn Cormac and Jubilee Chase made the now infamous Avon Broadcast, calling on the galaxy to witness for their planet, and protect them from destruction. Some say Flynn's a madman, others whisper about conspiracies. Nobody knows the truth. A year before that, Tarver Merendsen and Lilac LaRoux were rescued from a terrible shipwreck—now, they live a public life in front of the cameras, and a secret life away from the world's gaze.
Now, in the center of the universe on the planet of Corinth, all four are about to collide with two new players, who will bring the fight against LaRoux Industries to a head. Gideon Marchant is an eighteen-year-old computer hacker—a whiz kid and an urban warrior. He'll climb, abseil and worm his way past the best security measures to pull off onsite hacks that others don't dare touch.
Sofia Quinn has a killer smile, and by the time you're done noticing it, she's got you offering up your wallet, your car, and anything else she desires. She holds LaRoux Industries responsible for the mysterious death of her father and is out for revenge at any cost.
When a LaRoux Industries security breach interrupts Gideon and Sofia's separate attempts to infiltrate their headquarters, they're forced to work together to escape. Each of them has their own reason for wanting to take down LaRoux Industries, and neither trusts the other. But working together might be the best chance they have to expose the secrets LRI is so desperate to hide.
I'm surprised I could drum up a review for this book. It goes to the point where it's just so amazing I have no words. But I have managed to drum some up for a review; apologies in advance if I fangirl more than review.
For example, COULD THIS HAVE BEEN A MORE PERFECT ENDING??? OH EM GEE. It was magnificent and grandiose and amamamamazing and just spectaculorious. (It seems I like to add syllables to words when I get excited.)
ANYWAY.
The book starts off with Sofia and Gideon meeting. From the first glance, I knew they were meant for each other. EEE. They were too adorbs. Obviously though, the relationship had to grow. Sofia's character was very wary, especially as she's from Avon and had a horrible past. Gideon also has a bunch of secrets, such as being a super famous hacker, that brings obstacles to their path. But their escapades against LaRoux industries manage to bring them together and THEY'RE SO PERFECT FOR EACH OTHER. EEEE.
"Sofia squeezes my hand as we turn together for the nearest elevator, and I squeeze hers back tight, a tangle of fear and anger, pain and hurt. We're in this together now, and I'm not losing her.

So we run.

Down.

Down.

Down."
One of my favorite things about this last book in the Starbound trilogy was how all the characters from the previous book got together too. Jubilee and Flynn, and Lilac and Tarver. There are shocking discoveries of how both Sofia's and Gideon's paths are interconnected to the other couples'. Reading it felt like putting the piece in to complete a puzzle, and I have to say, WHAT a discovery it was, guys, what a discovery.
Each chapter began with a little narrative by the "whispers," as they're called by the characters. Remember, the entities from the previous books that had something to do with LaRoux industries? Well, we discover more about them and their voice just made me ache. The whispers were brought by Lilac's father and subjected to a various display of oh-so-human emotions that left them confused and infuriated. Confused because they didn't understand how lights of love could stem from the otherwise greedy, dark thoughts of humanity, and infuriated because of the torture that was inflicted upon them.
"'Love… We once thought that was something to be admired in you, learned from you. Turns out it's just part of the disease you call mankind.'"
The actions of the characters from this series as well as the things that the whisper learn from mankind really bring into perspective the way our world works. Yes, there will always be a want for more and more and MORE from humans, no matter the consequences, and yes we will be selfish and evil and full of nastiness. But that's just one aspect of the huge rainbow of emotions we have. The other side, filled with hope and gratitude and love, is the one that drives us to be the best that we can be.
"'That's what makes us human. Love and trust… that's what we've all chosen, over and over.'"
And this book wasn't without fault. I was annoyed at some of Sofia's choices. In the end though? It just showed how human she was. I enjoyed seeing her learn to love and trust throughout the book.
This conclusion was just beautiful and perfect. Definitely a desirable outcome for the fans of the series. I would totally recommend this trilogy to science fiction lovers and readers looking for an adventure in space that explores all the complexities of humanity. If you've read the first two and not this one, WHAT ARE YOU WAITING FOR?
And if I still haven't convinced you: the covers guys, the covers. Why wouldn't you want those beauties to grace your bookshelf.