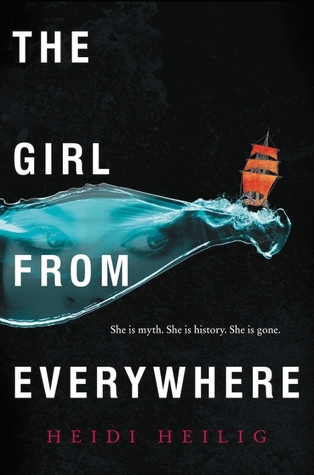 The Girl From Everywhere
Author: Heidi Heilig
Release Date: February 16, 2016 (my birthday! ❤ )
Publisher: Greenwillow Books
Get it Here: Amazon | Barnes & Noble | Book Depository
Synopsis:
Heidi Heilig's debut teen fantasy sweeps from modern-day New York City to nineteenth-century Hawaii to places of myth and legend. Sixteen-year-old Nix has sailed across the globe and through centuries aboard her time-traveling father's ship. But when he gambles with her very existence, it all may be about to end. The Girl from Everywhere, the first of two books, will dazzle readers of Sabaa Tahir, Rae Carson, and Rachel Hartman.
Nix's life began in Honolulu in 1868. Since then she has traveled to mythic Scandinavia, a land from the tales of One Thousand and One Nights, modern-day New York City, and many more places both real and imagined. As long as he has a map, Nix's father can sail his ship, The Temptation, to any place, any time. But now he's uncovered the one map he's always sought—1868 Honolulu, before Nix's mother died in childbirth. Nix's life—her entire existence—is at stake. No one knows what will happen if her father changes the past. It could erase Nix's future, her dreams, her adventures . . . her connection with the charming Persian thief, Kash, who's been part of their crew for two years. If Nix helps her father reunite with the love of his life, it will cost her her own.
In The Girl from Everywhere, Heidi Heilig blends fantasy, history, and a modern sensibility with witty, fast-paced dialogue, breathless adventure, and enchanting romance.
So you might be wondering: WHAT IS THIS?
Exactly what it sounds like. Instead of a typed-up review, this is one where I RAP about my feelings about the book. Ohhh shyeahhh. *puts sunglasses on*
But in all honesty, the idea stemmed from the combination of two things. 1) Bloggers trying to think up of new jazzy ways to write reviews/get the word out for books and 2) A rap I did for AP Bio when studying cell membranes… which really helped! These both happened during the same time, so I incorporated them and got this idea. 😀
I'm not a rapper (which you'll find out in the video), but it was super fun trying to make things rhyme and recording/editing. Apologies in advance for the mistakes and awkward pauses! (It seemed as if the more I did run-throughs, the worst it got… oops.)
Lyrics:
Now are you prepared for an upcoming sensation?
I read this book so quick like a girl with starvation.
If you're looking for a read that'll rattle your mind,
warm up your heart, see what you find in this
work of art
NUMBER 1 let's talk about the characters:
each one so unique, they sure aren't actors.
Now the main character Nix has pretty cool powers
as she travels through time
it's sublime
sometimes a crime
with a crew
SAY WHAT?
It's a "pirate" crew.
Papa's at the helm tryna find his lost wife
but in the end, he's just causing a lot of strife.
Who would want a dead woman to come back to life?
(Guess he loved her)
And LOVE, speaking of love let's talk: love triangles.
Now i'm not really sayin' that they're hashtag – GOALZ.
But i can't say that I have really reason to complain
considering both sides of the spectrum aren't so mundane.
On one hand we have a Persian thief – what a cutie!
He's pretty good at stealing things and finding the looty.
And on the other, a mapmaker just tryna do his duty.
The romance overall was pretty darn groovy
And the setting – oh my gawd – lemme talk about this world.
We're traveling between time and place and space
what a whirl!
But please rest assured that you won't get lost
'Cuz Heidi's gorgeous writing will hold you aloft.
The crew's on a quest to find a map to Hawaii
but every single day it's more and more unlikely.
What will Nix do, with her crew, to find a clue
for a map that would make her existence
less, less likely?
This book has it all:
Family and adventure –
A venture worth repeating for the love
We're dreaming of.
A romance that spans time
the angst is quite sublime.
A daughter father relationship
developing while they take a trip.
This is quite a book that delivers
On waterfalls and rivers
with a setting so bright the light
chases out the night
when you can write like Heidi writes
it's really such a delight
to read.
So this is my review
with my thoughts of the book.
If you don't know about it – YOU SHOULD REALLY TAKE A LOOK
The girl from everywhere is fantastic
I swear!
There's no other reason why i'd be enthusiastic.
What would YOU do if you could time-travel?
Where would YOU go if you were so capable?
Leave a comment below because I'd love to know
the places your imagination would want to go.
Thank you for your time and thank you for the rhymes,
this is my last word to bring this rap about:
You really need to read this book in your life
without a doubt
Aila out.
(Word)
Sooo… what did you think of this review format? 😀 I'm thinking of continuing it and improving my skills for a hypothetical job as a DJ or rapper in the future. Hope you guys enjoyed it as much as I enjoyed making it!