Ahoy there, matey!
Congratulations on safely landing on this blog post, which will spotlight an amazing book that traverses the world through place and time. Why the pirate lingo? Well, the main character doesn't time travel using a ship and her crew for nothing!
We also have some epic giveaways featured towards the end of this post, and you know how we pirates love our loot.
Blimey, me fellow buccaneers, let's get this party started!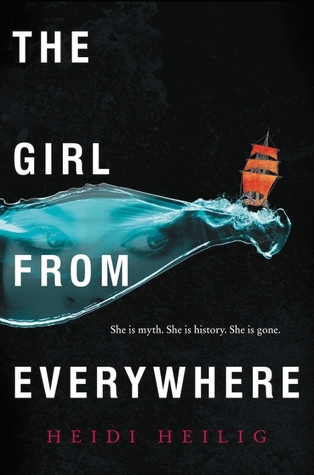 Heidi Heilig's debut teen fantasy sweeps from modern-day New York City to nineteenth-century Hawaii to places of myth and legend. Sixteen-year-old Nix has sailed across the globe and through centuries aboard her time-traveling father's ship. But when he gambles with her very existence, it all may be about to end. The Girl from Everywhere, the first of two books, will dazzle readers of Sabaa Tahir, Rae Carson, and Rachel Hartman.
Nix's life began in Honolulu in 1868. Since then she has traveled to mythic Scandinavia, a land from the tales of One Thousand and One Nights, modern-day New York City, and many more places both real and imagined. As long as he has a map, Nix's father can sail his ship, The Temptation, to any place, any time. But now he's uncovered the one map he's always sought—1868 Honolulu, before Nix's mother died in childbirth. Nix's life—her entire existence—is at stake. No one knows what will happen if her father changes the past. It could erase Nix's future, her dreams, her adventures . . . her connection with the charming Persian thief, Kash, who's been part of their crew for two years. If Nix helps her father reunite with the love of his life, it will cost her her own.
In The Girl from Everywhere, Heidi Heilig blends fantasy, history, and a modern sensibility with witty, fast-paced dialogue, breathless adventure, and enchanting romance.
Get your fingers ready for these preorder links:
Goodreads | Amazon | Barnes & Noble | Book Depository
Heidi grew up in Hawaii where she rode horses and raised peacocks, and then she moved to New York City and grew up even more, as one tends to do. Her favorite thing, outside of writing, is travel, and she has haggled for rugs in Morocco, hiked the trails of the Ko'olau Valley, and huddled in a tent in Africa while lions roared in the dark.
She holds an MFA from New York University in Musical Theatre Writing, of all things, and she's written books and lyrics for shows including The Time Travelers Convention, Under Construction, and The Hole. She lives in Brooklyn with her husband and their pet snake. They do not own a cat.
There she blows! We're looking at not one, not two, but THREE giveaways on this post! That's right maties, three prizes to be given out to three lucky pirates.
Giveaway #1 – A Harper Teen Winter 2016 Catalog prizepack of 40+ books*.
*All YA titles in the Winter2016 catalog with the exception of The Siren by Kiera Cass, Yellow Brick War by Danielle Paige and Glass Sword by Victoria Aveyard.*
Giveaway #2 – 5 Finished Copies from the Harper Teen Fall 2015 Catalog
5 books are: The Lies About Truth, Walk on Earth A Stranger, Dreamland, Dumplin', and Da Vinci's Tiger
How to enter:
Collect the daily word from each blog stop during the Harper Winter 2016 Tour (a total of 45). Once you've collected them all, email the complete saying to: HarperTeenTour@gmail.com.
The word for this blog stop: YOUR
Prize Rules:
Winner must have a valid US mailing address to receive the prize.
Winner must be over 13.
Only one (1) entry per person for Prize #2 – duplicates will be deleted.
Only a completed phrase will be accepted as an entry – do not email each word/phrase daily. Wait until you have the complete saying and then email in.
All email submissions must be received by 11:59 PM EST

11/30/2015.

Winners will be selected

12/1/2015

and will have 48 hours to claim their prize before another is selected.
Participating blogs and bloggers are not responsible for unsent, damaged, and/or stolen prizes offered by the publisher.
And finally, Giveaway #3 – An INTL preorder of this book
(available where Book Depository ships)
Yohoho, best of luck to ye all!
This is the Harper Winter 2016 Tour!

---
Get onboard, matey, 'cos we're visiting the next stop for this blog tour!