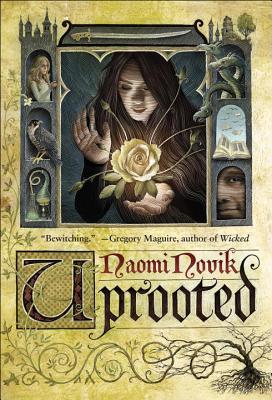 Uprooted
Author: Naomi Novik
Release Date: May 19, 2015
Get it here: Amazon | Barnes & Noble | Book Depository | Kobo
Synopsis:
Naomi Novik, author of the bestselling and critically acclaimed Temeraire novels, introduces a bold new world rooted in folk stories and legends, as elemental as a Grimm fairy tale.
"Our Dragon doesn't eat the girls he takes, no matter what stories they tell outside our valley. We hear them sometimes, from travelers passing through. They talk as though we were doing human sacrifice, and he were a real dragon. Of course that's not true: he may be a wizard and immortal, but he's still a man, and our fathers would band together and kill him if he wanted to eat one of us every ten years. He protects us against the Wood, and we're grateful, but not that grateful."
Agnieszka loves her valley home, her quiet village, the forests and the bright shining river. But the corrupted Wood stands on the border, full of malevolent power, and its shadow lies over her life.
Her people rely on the cold, driven wizard known only as the Dragon to keep its powers at bay. But he demands a terrible price for his help: one young woman handed over to serve him for ten years, a fate almost as terrible as falling to the Wood.
The next choosing is fast approaching, and Agnieszka is afraid. She knows—everyone knows—that the Dragon will take Kasia: beautiful, graceful, brave Kasia, all the things Agnieszka isn't, and her dearest friend in the world. And there is no way to save her.
But Agnieszka fears the wrong things. For when the Dragon comes, it is not Kasia he will choose.
I was provided a copy of this book in exchange for an honest review. Thanks Netgalley and Random House Publishing Group!
So when writing reviews, adjectives are pretty important. All the quotes you see on the cover of books are usually adjectives that describe the book, that lure readers in, that make you curious. After finishing Uprooted, I was thinking of what kind of adjectives to use in my review and a few came to mind: enthralling, captivating, magnificent. All those words are too mundane to describe this book. (Although I really do like Maguire's "Bewitching" on the cover.)
 You can tell I really like a book when I stay up at 2 am to read it. That's exactly what happened with Uprooted, and I have NO regrets. The story sucked me in from the very first sentence, all the way to the end.
The writing flows so well, and the descriptions are perfect – not too much that it takes away from the story and not too little that the reader has to guess at what's happening and where. Agnieszka is a character that any reader would love. She may be a naive valley girl in the beginning, but her journey throughout the book changes and strengthens her. I love all the other characters in the book. Kasia's character is also interesting and dynamic, and the Dragon turns out to have hidden depths under his fierce exterior. Each person, even the villain, is created with such depth and detail that they came alive while I was reading. 
I have only good things to say about this book. I wouldn't really recommend it for reading to your children, though, because there's some mature themes going on. But hey, whatever floats your boat. I will definitely be sharing this with my peers though, because the writing, story, and characters are just too stellar to pass.
I haven't read Novik's other books, but I'll definitely be checking out the Temeraire series of hers! I came for the eye-catching cover and mysterious blurb, I stayed for everything in between.