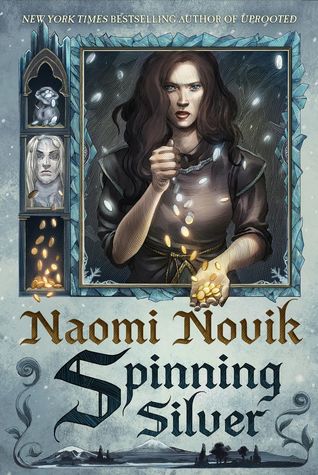 Spinning Silver
Author: Naomi Novik
Release Date: July 10, 2018
Publisher: Del Rey
Get it Here: Amazon | Barnes & Noble | Book Depository
Synopsis:
Miryem is the daughter and granddaughter of moneylenders… but her father isn't a very good one. Free to lend and reluctant to collect, he has loaned out most of his wife's dowry and left the family on the edge of poverty–until Miryem steps in. Hardening her heart against her fellow villagers' pleas, she sets out to collect what is owed–and finds herself more than up to the task. When her grandfather loans her a pouch of silver pennies, she brings it back full of gold.
But having the reputation of being able to change silver to gold can be more trouble than it's worth–especially when her fate becomes tangled with the cold creatures that haunt the wood, and whose king has learned of her reputation and wants to exploit it for reasons Miryem cannot understand.
"A moneylender's daughter, even a bad moneylender, learns her numbers. I wrote and figured and wrote and figured, interest and time broken up by all the little haphazard scattered payments… And when I had my list finished, I took all the knitting out of my bag, put my shawl on, and went out into the cold morning."
And thus begins Miryem's beginning as a cold moneylender, and eventually the queen of the cold.
This was another winner from Naomi Novik! After reading and adoring Uprooted when I first started reviewing books (you can find my review here), I was exceptionally eager for Spinning Silver and I was NOT disappointed. While the books are not connected at all, they follow a similar fantastical theme, with the most recent being fairy-tale based. Both books are amazing for different reasons, and I can't wait for readers to pick up and love Spinning Silver like I did.
Continue reading "Spinning Silver by Naomi Novik Review | Another Fairy-Tale Fantasy Hit!" →