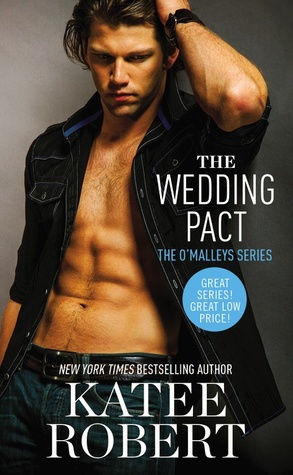 The Wedding Pact
Author: Katee Robert
Series: The O' Malley's #2
Release Date: April 26, 2016
Publisher: Forever
Get it Here: Amazon | Barnes & Noble | Book Depository
Synopsis:
New York Times and USA Today bestselling author Katee Robert continues her smoking-hot series about the O'Malleys—wealthy, powerful, and full of scandalous family secrets.
Carrigan O'Malley has always known her arranged marriage would be more about power and prestige than passion. But after one taste of the hard-bodied, whiskey-voiced James Halloran, she's ruined for anyone else. Too bad James and his family are enemy number 1.
Hallorans vs. O'Malleys—that's how it's always been. James should be thinking more about how to expand his family's empire instead of how silky Carrigan's skin is against his and how he can next get her into his bed. Those are dangerous thoughts. But not nearly as dangerous as he'll be if he can't get what he wants: Carrigan by his side for the rest of their lives.
Thank you Netgalley and Forever Publishing for the review copy!
I think I'm in a phase for mafia-related books recently. It doesn't help that Sil from The Book Voyagers knows so many great ones. Nevertheless, I had to pick this one up after seeing all the rave reviews on Goodreads. Although the mafia aspect* was pretty disappointing, the romance aspect was scorching hot and oh so sweet. Carrigan was a likable enough main character, but her passive feelings throughout the book were a bit frustrating to deal with. James is just plain yummy, err, I mean, a very thoughtful and caring guy with lots of depth, despite being the leader of a cruel family.
I think that mafia books all come with many degrees of unrealistic-ness (let's all pretend that's a word). In this case, I just can't see it as something dangerous in this one. Yes, there's a bit of violence and unsavory elements like human trafficking, yet it wasn't as graphic or gruesome as others I would imagine in real life. I didn't mind that much, but the surprisingly minimal amount of action just made me a bit disappointed. Years of watching action movies and reading the more mature manga out there have made me seek out more dramatic action elements in storylines, especially having to do with the dark side of society like the mafia.
Part of this lack of violence was just how utterly sweet James is. He doesn't like to be cruel, and torturing people gives him a sick taste in the stomach. On the other hand, he's the heir to his father's empire, and can't really leave the business to his volatile brother, Ricky. So he puts up with it, and tries to get his men's respect without becoming a savage like his father and older brother was.
"Love would never be enough. It didn't matter what he did, or how well he took care of the people in their territory, or how much their legal businesses had increased in the last few months since he'd taken the reigns. Nothing mattered but becoming a monster even the monsters feared. It was the only way to keep them in line.
Carrigan was such a nice pair with him. In the book, she was constantly described as "strong-willed" but I only saw hints of it rather later in the book. Before that, she was quite passive and, although reluctant, still agreed for an arranged marriage for her family's sake, even though it was unwanted. It wasn't until she truly understands her feelings for James when she decides to stand up and take action about it.
I really would've enjoyed the romance more if Carrigan would stop walking out on James after each encounter! She's constantly running from him (if only for the sake of her family, who strongly disapproves), and my heart went out to James. That doesn't seem to be the actions of a "strong-willed woman."
The antagonist of the story wasn't scary at all and, for me, was there for entertainment purposes. Think your average mustache-curling gentleman who cares for nothing but his own interest. BOOM. I'm done. No further characterizations needed.
The ending is actually quite satisfying and leaves room for the last book of the trilogy. If I ever get into the mood for a romance with filler mafia aspects in the background, I'd definitely pick it up! But I also won't be scrambling for the next book. If unrealistic action plots with a whole bunch of romance and smexy scenes (I'd put it on 20-80% of the book, respectively), then I urge you to pick this one up! It's absolutely fun and fast.
*I'm still a bit unsure if they are the mafia, since it's not directly mentioned in the book; given the feud between the families though, I choose to believe it's something along those lines.