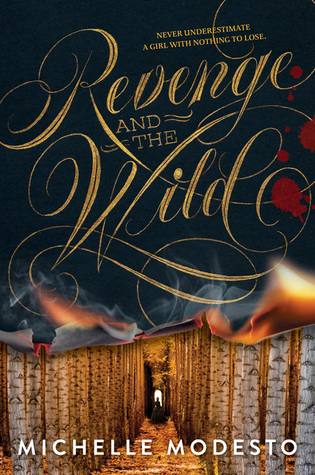 Revenge and the Wild
Author: Michelle Modesto
Release Date: February 2, 2016
Publisher: Balzer & Bray
Get it Here: Amazon | Barnes & Noble | Book Depository
Synopsis:
The two-bit town of Rogue City is a lawless place, full of dark magic and saloon brawls, monsters and six-shooters. But it's perfect for seventeen-year-old Westie, the notorious adopted daughter of local inventor Nigel Butler.
Westie was only a child when she lost her arm and her family to cannibals on the wagon trail. Nine years later, Westie may seem fearsome with her foul-mouthed tough exterior and the powerful mechanical arm built for her by Nigel, but the memory of her past still haunts her. She's determined to make the killers pay for their crimes—and there's nothing to stop her except her own reckless ways.
But Westie's search ceases when a wealthy family comes to town looking to invest in Nigel's latest invention, a machine that can harvest magic from gold—which Rogue City desperately needs as the magic wards that surround the city start to fail. There's only one problem: the investors look exactly like the family who murdered Westie's kin. With the help of Nigel's handsome but scarred young assistant, Alistair, Westie sets out to prove their guilt. But if she's not careful, her desire for revenge could cost her the family she has now.
This thrilling novel is a remarkable tale of danger and discovery, from debut author Michelle Modesto.
MAGIC.
COWBOYS.
STEAMPUNK.
Revenge and the Wild not only fuses exciting genres together, but adds in fearsome and courageous characers that have to battle their way to survive in this tumultuous setting. This is not a dainty book. Among humans are creatures like vampires, werewolves, banshees, and scattered  throughout are cannibals as well as the Undying: humans that turn into zombie-like figures after eating creatures. Your worst nightmare can probably be found in Rogue City; however, with the help of the Natives' magical powers, you'll probably be safe from them.
But… what happens when those magical properties are running out?

The main character Westie lives with her adopted father Nigel and his assistant Alistair, who are like family to her. Nigel's invention "Emma" is the only thing that can save their town from the monstrosities found in the Wild West. But inventions have to be made, and to be made requires parts, and parts require, well, money. Money that Nigel and his family doesn't have. With that, they get the help of investors to finish the only device that could save the population in Rogue City. Except there's one tiny detail: those investors are the same people that ate Westie's family.
From the beginning of the book, nothing is coated over with euphemisms or our stereotypical thoughts of how a Western setting would play out. Things got a little more gory and darker than I thought it would be, so I'd recommend this book for more mature readers. I don't usually say this, seeing as I've been reading some crazy things since I was pretty young, but Modesto is not afraid to have people chopped in half, eaten, or shot at. It's not that they're not appropriate, but if you're not used to such horrific concepts, it might deter your enjoyment of the book.
I myself found those additions intriguing and thought it spiced up the story. Westie is a character who makes mistakes; she is impetuous and imperfect, and although I was annoyed with her at times, I could empathize with her greatly. Torn between getting revenge for your old family while trying to get the best for your current, what's a girl gotta do? Sometimes Westie can make hasty actions with no regard to others, but in the end those actions were what she thought was best for them. Westie is also not a damsel in distress – she has a mechanical arm and can shoot, stab, and punch as good as any rogue out there. I definitely would be careful if I saw her on the streets!
There is a romance that I also enjoyed, although I thought could have had a better development. Lots of tension between the characters is shown throughout the story in bits and pieces, but the situation between Westie and several other – ahem – males (not exactly love interests, but that's open to interpretation) were kind of distracting to deal with. The reason why the love interest and Westie had a conflict to begin with was a little flimsy, but I was rooting for them the whole time. There's again some more mature scenes in this regard that younger readers may proceed with caution when reading.
Modesto's world is built with just enough details to satisfy the readers, without making it too imposing. Magic is found in nature, (which is why Natives have an affinity for it), but with the industry and expansion going on, it is slowly decreasing. Rogue City doesn't just have your local sheriff, but also menacing creatures like ogres and trolls that you could find down the street at the saloon. Although it sounds like an awesome setting in general, I definitely wouldn't want to live there! Danger lurks in every corner, whether it's a good-looking vampire, a cannibalistic little girl, or a vengeful elf.
Get ready for a wild adventure as you saddle up your horse to join Westie on her adventure in Revenge and the Wild! Take some extra intriguing characters, a formidable setting, a road to revenge and all the darker bits of the Wild West to create an unforgettable journey of the girl with a mechanical arm.