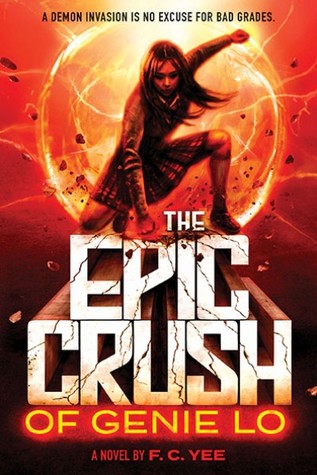 The Epic Crush of Genie Lo
Author: F.C. Yee
Series: Has confirmed sequel (Y E S!)
Release Date: August 8, 2017
Publisher: Amulet Books
Get it Here: Amazon | Barnes & Noble | Book Depository
Synopsis:
The struggle to get into a top-tier college consumes sixteen-year-old Genie Lo's every waking thought. But when her sleepy Bay Area town comes under siege from hell-spawn straight out of Chinese folklore, her priorities are suddenly and forcefully rearranged.
Her only guide to the demonic chaos breaking out around her is Quentin Sun, a beguiling, maddening new transfer student from overseas. Quentin assures Genie she is strong enough to fight these monsters, for she unknowingly harbors an inner power that can level the very gates of Heaven.
Genie will have to dig deep within herself to summon the otherworldly strength that Quentin keeps talking about. But as she does, she finds the secret of her true nature is entwined with his, in a way she could never have imagined…
It's been a couple of days since I've finished this book and I'm STILL NOT OVER IT. Seriously, I have all the love for this book to the moon and beyond. But I told myself I'd finish this review so I can schedule it and spread the love when closer to release date. The Epic Crush of Genie Lo immediately grasped my attention with its fierce cover and tag. I knew about a Chinese-American girl trying to juggle fighting demons and a supernatural power she never knew she had. That's all I knew, and I was already excited. When I got a bit more into the book, I fell absolutely in love with its hilarious narrative, Chinese folklore, and refreshing characters. This is the book my Chinese teen heart has been pining for since a young child, and it's one that really resonated with me. Continue reading "ARC Review: The Epic Crush of Genie Lo by F.C. Yee + Fan Art!" →