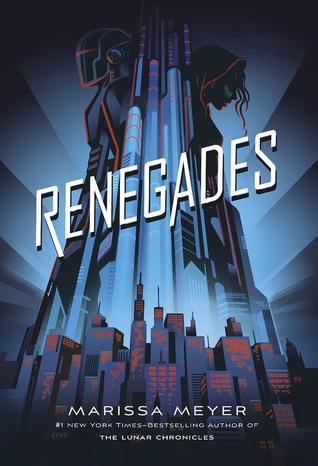 Renegades
Author: Marissa Meyer
Series: Renegades #1
Release Date: November 7, 2017
Publisher: Feiwel & Friends
Get it Here: Amazon | Barnes & Noble | Book Depository
Synopsis:
Secret Identities. Extraordinary Powers. She wants vengeance. He wants justice.
The Renegades are a syndicate of prodigies—humans with extraordinary abilities—who emerged from the ruins of a crumbled society and established peace and order where chaos reigned. As champions of justice, they remain a symbol of hope and courage to everyone…except the villains they once overthrew.
Nova has a reason to hate the Renegades, and she is on a mission for vengeance. As she gets closer to her target, she meets Adrian, a Renegade boy who believes in justice—and in Nova. But Nova's allegiance is to a villain who has the power to end them both.
Superhero fans will definitely recognize Renegades as a book that calls to them. It's a classic superhero book with villains, secret identities, and saving humanity. While Nova may be considered an anti-hero, I didn't really think so. Her character isn't morally grey as some (such as Adelina from The Young Elites for example.) She's vindictive, for sure, but she also believes in a just world – and in the end, that's what the Renegades are fighting for too. The whole 500+ page book is just one adventure after another, likening it to an episodic kind of vibe (very similar to Flash, the DC show). It was a fun, light sci-fi that explores what society really needs in a world of superheroes.
"Don't worry about helping yourselves. You've got enough on your plate, what with all the hiding and moping you've been doing lately. You take a day off. We're superheroes. We've got this.
Hope called themselves the Renegades."