Hello everyone!
I'm incredibly excited to be on this blog tour for Starry Eyes by Jenn Bennett. I've been following all her YA contemporary novels, and they have ALL been a hit. She's definitely one author that you can't miss out on! Starry Eyes brings two characters to life that you're going to absolutely fall in love with, just like I did. There's camping, survival skills, the cutest banter, and wonderful exploration of family dynamics. Let's get this party started!
---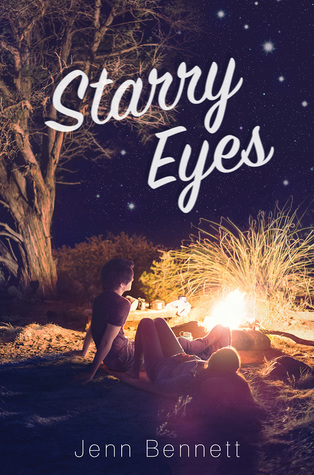 Starry Eyes
Author: Jenn Bennett
Release Date: April 3, 2018
Publisher: Simon Pulse
Genre: Young Adult, Contemporary, Romance
Get it Here:Amazon | Barnes & Noble | Book Depository | Kobo | Indiebound | iBooks
Synopsis:
Ever since last year's homecoming dance, best friends-turned-best enemies Zorie and Lennon have made an art of avoiding each other. It doesn't hurt that their fami-lies are the modern day, Californian version of the Montagues and Capulets.
But when a group camping trip goes south, Zorie and Lennon find themselves stranded in the wilderness. Alone. Together.
What could go wrong?
With no one but each other for company, Zorie and Lennon have no choice but to hash out their issues via witty jabs and insults as they try to make their way to safe-ty. But fighting each other while also fighting off the forces of nature makes getting out of the woods in one piece less and less likely.
And as the two travel deeper into Northern California's rugged backcountry, secrets and hidden feelings surface. But can Zorie and Lennon's rekindled connection sur-vive out in the real world? Or was it just a result of the fresh forest air and the magic of the twinkling stars?
Suchhhh a good YA contemporary read. Perfect for the summer: that comfortable time in-between semesters where teens have that sense of freedom and independence. Jenn Bennett always writes hit contemporaries, and Starry Eyes was no exception. There were excellent, down-to-earth characters, the most wholesome romance, and an adventurous setting. There was a bit more drama than her past books, but the atmosphere of the book overall remained light and sweet. Here are some reasons, with the help of emojis, that explain why I recommend this book. Continue reading "Blog Tour: Starry Eyes by Jenn Bennett Review (With the Help of Emojis!) + Giveaway" →