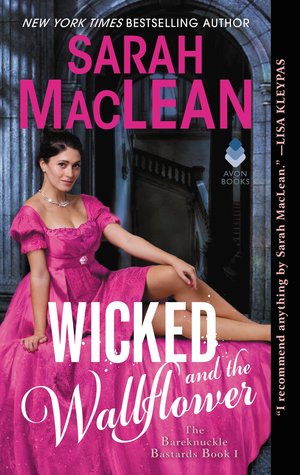 Wicked and the Wallflower
Author: Sarah MacLean
Series: The Bareknuckle Bastards #1
Release Date: June 19, 2018
Publisher: Avon
Get it Here: Amazon | Barnes & Noble | Book Depository
Synopsis:
When Wicked Comes Calling…
When a mysterious stranger finds his way into her bedchamber and offers his help in landing a duke, Lady Felicity Faircloth agrees—on one condition. She's seen enough of the world to believe in passion, and won't accept a marriage without it.
The Wallflower Makes a Dangerous Bargain…
Bastard son of a duke and king of London's dark streets, Devil has spent a lifetime wielding power and seizing opportunity, and the spinster wallflower is everything he needs to exact a revenge years in the making. All he must do is turn the plain little mouse into an irresistible temptress, set his trap, and destroy his enemy.
For the Promise of Passion…
But there's nothing plain about Felicity Faircloth, who quickly decides she'd rather have Devil than another. Soon, Devil's carefully laid plans are in chaos, and he must choose between everything he's ever wanted…and the only thing he's ever desired.
And Sarah MacLean does it again! Wicked and the Wallflower was wholly intoxicating, as Felicity and Devil's story grabbed me from the first chapter. I LOVE seeing a strong, seemingly-evil (he's not, I promise) man get on his knees for the woman he loves. And got dang, Felicity is definitely a heroine I could relate to. This is certainly an amazing start to the Bareknuckle Bastards series, and I cannot wait to see where MacLean goes next with these characters!
Wicked and the Wallflower follows Devil, a Bareknuckle Bastard looking for revenge, and Lady Felicity, a spinster on the shelf that only wants to retrieve her previous position as the belle of the ball. A good way to get to this goal? Getting engaged to the new duke in town. Felicity makes a deal with – dare I say it – Devil (not THE devil) as he plans to ruin both her and the duke for his revenge scheme. Like all revenge schemes, however, this one goes wrong as Felicity discovers that the favor of society is not what she wants to fight for, and Devil sees that there are more important things than revenge.
"She wished to be wanted. Beyond reason. She wished to be ached for."