You Lucky Dog
Author: Julia London
Release Date: August 25, 2020
Publisher: Berkley
Get it Here: Amazon | Barnes & Noble | Book Depository
Synopsis:
An accidental dog swap unleashes an unexpected love match in this new romantic comedy from New York Times bestselling author Julia London.

Carly Kennedy's life is in a spiral. She is drowning in work, her divorced parents are going through their midlife crises, and somehow Carly's sister convinces her to foster Baxter–a basset hound rescue with a bad case of the blues. When Carly comes home late from work one day to discover that the dog walker has accidentally switched out Baxter for another perkier, friendlier basset hound, she has reached the end of her leash.
When Max Sheffington finds a depressed male basset hound in place of his cheerful Hazel, he is bewildered. But when cute, fiery Carly arrives on his doorstep, he is intrigued. He was expecting the dog walker, not a pretty woman with firm ideas about dog discipline. And Carly was not expecting a handsome, bespectacled man to be feeding her dog mac and cheese. Baxter is besotted with Hazel, and Carly realizes she may have found the key to her puppy's happiness. For his sake, she starts to spend more time with Hazel and Max, until she begins to understand the appeal of falling for your polar opposite.
Check out my review on GoodReads over here!
"Forget the chemical reaction – was this love, that thing that pushed all rational thought aside and drove men to do things they might never do? Was it love that made this feel momentous and slightly desperate and unworldly? It wasn't just corporeal – it was more transcendent than that. It was wird, this thing called love – you didn't see it, you didn't hear it, but suddenly, you were there."
YOU LUCKY DOG has an adorable premise, lovable characters, and a fun family subplot. There was something about it, though, that was lacking the magic. Maybe it was passion between the main characters? They were both level-headed, and the romance a smooth development. I don't know why, but I just felt a disconnect between their relationship development and the eventual "I-love-you's." Nevertheless, the premise sets it up to be a light-hearted and sweet romantic read that's perfect for a summer day.
Max and Carly meet when their dog walker gets arrested for selling weed (while walking their dogs) and they get the wrong dog returned to them! While they're both basset hounds (sooo cute), Baxter is sad and calm, with soulful eyes. On the other hand, Hazel is energetic and playful. When they're together, they're an absolute chaotic treat! Finding their dogs is Max and Carly's meet-cute, and their attraction and flirtation starts from there.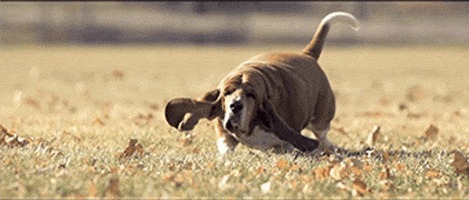 I thought both characters were super likable. Carly strives to be a publicist in New York, managing famous artists and the like. Currently though, she's between jobs and working her own individual clients. She's running low on money and managing a dysfunctional family where her mother is finding her sexual liberation and her sister is running wild with children. Max, on the other hand, is a neuroscientist at a university who's looking for tenure and balancing research projects, classes, and an autistic brother. I actually really enjoyed his research that links the love between dogs and humans to a way to target therapy for people on the autism spectrum. (I don't know if the author intimately knows the subject, but it was beautiful to see accurate neuroscience in the book.) It was interesting to see Jamie's behavior (he's Max's brother) as someone on the autism spectrum; I can't say anything about the representation but it's clear that Max and his father love Jamie dearly and want the best for him. Max is a bit awkward and dorky, while Carly's energetic and hard-working. Their dialogue is funny and adorkable – sure to leave a smile on readers' faces.
Everything about this book is "summer read" energy – from the adventurous dogs to the lovely romance. There's quite a lot of family drama that weighs the book down, but the ultimately light-hearted atmosphere of the book makes it bearable and laugh-out-loud at times. However, there's still something that's missing for me – I'm not sure what it is, but it made me enjoy this book without having it particularly stand out. Nevertheless, you'll get all the adorkable and sweet puppy vibes if you pick this book up! Oh, and a light and lovely romance.
depression
Thank you Berkley and Netgalley for the review copy!