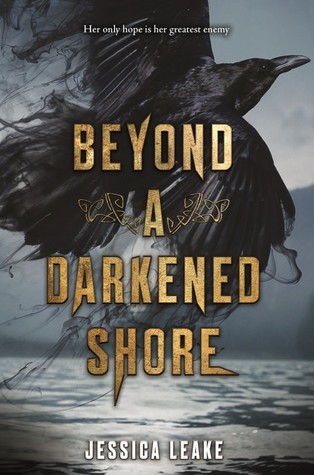 Beyond A Darkened Shore
Author: Jessica Leake
Release Date: April 10, 2018
Publisher: HarperTeen
Get it Here: Amazon | Barnes & Noble | Book Depository
Synopsis:
The ancient land of Éirinn is mired in war. Ciara, Princess of Mide, has never known a time when Éirinn's kingdoms were not battling for power, or Northmen were not plundering their shores.
The people of Mide have thankfully always been safe because of Ciara's unearthly ability to control her enemies' minds and actions. But lately, a mysterious crow has been appearing to Ciara, whispering warnings of an even darker threat. Although her clansmen dismiss her visions as pagan nonsense, Ciara fears this coming evil will destroy not just Éirinn, but the entire world.
Then the crow leads Ciara to Leif, a young Northman leader. Leif should be Ciara's enemy, but when Ciara discovers that he, too, shares her prophetic visions, she knows he's something more. Leif is mounting an impressive army, and with Ciara's strength in battle the two might have a chance to save their world.
With evil rising around them, they'll do what it takes to defend the land they love…even if it means making the greatest sacrifice of all.
Wow, wow, wow.
I did not expect to like this book as much as I did. Beyond A Darkened Shore was magnificent! Although I really liked the cover and was intrigued by the blurb, I didn't think that I would become so engrossed in the story and characters. I'm so glad I was wrong with this one! Beyond A Darkened Shore follows Nordic and Celtic mythology as two characters from vastly different locations and cultures clash. I loved reading the historical elements that Leake weaved into the story, as well as the different gods and folklore that came up. The antagonistic romance was also a blast to read. 😀 There was an amazing, slow-burn development as Leif and Ciara went from enemies, to distrustful allies, to a couple that would dare to defy the gods for their love.
I must say, this book is quite violent at times and gruesome, so be prepared for that. Told from Princess Ciara's first person POV, Beyond A Darkened Shore follows a quest where two enemies have to work together to defeat a shared foe – the jötnar – beings that seek to destroy their world, Éirinn, as they know it. Because of this opponent, the Celtic and Nordic gods teamed up to bring their best warriors to go against the jötnar and restore peace on their lands. But at what cost?
Ciara is an amazing main character! While she's the warrior princess for her father the king, she's reviled by the people of her clan. This is due to her enigmatic ability to be able to control people's minds if she makes eye contact with them. Ciara doesn't know where this ability came from, but it certainly makes her powerful in battle – even as it makes her an outcast. Her only friends are her sisters, Deidre and Branna, her younger sisters who she would do anything to protect. This instinct to protect them leads her to ally with an enemy Northman, Leif, who has mysterious powers of his own.
"I had always been a monster in his eyes. But I would gladly be a monster if it meant saving my sisters."
Leif was also a great character to follow. He may be a Viking, but he loves and bleeds like any other person. He was so direct and honest – even as this honesty led him to reveal his insecurities and doubts. Leif was super devoted to his family as well, and although he puts up a strong, fierce facade, he also has his worries. I thought he was a great pair with Ciara, especially as their powers complemented one another. Leif and Ciara's gradual relationship was also a blast to read. (Sorry, I'm weak for enemies-to-lovers.)
"'We're allies, and I would never betray my ally. I am a man of my word. Honor is the only code we uphold, and I would die for it.'"
I loved seeing how Leake incorporated all the different myths and stories together, and the large role they played in the plot. But most of all, Ciara and Leif took my heart. They were amazing together! They both suffered from losses and had loneliness and emptiness in them, but their ally forged from blood and tears had a natural development to something more. The slow burn romance was just A+ and the small bits and pieces of romance was so delightful to see! Also, their interactions were just so cute and honest. Have I told you how much I adore relationships built on truth and conquering obstacles?
"I glanced at Leif running beside me, the sun turning his hair to gold, and I knew whatever I was about to be greeted with, we would deal with it – together… A friendship and alliance forged by bloodshed and shared loss."
Beyond a Darkened Shore has excellent action, a mythical plot, and a slow-burn antagonistic romance that will tug on your heartstrings! I really enjoyed this book, and I really think more people should know of this historical fantasy. While Sky in the Deep (my review here) is another Viking-inspired story that has a similar atmosphere as this one, I also got similar vibes from To Kill A Kingdom (my review here). Both are darker, more intense stories that aren't afraid of blood and death, and both have enemies-to-lovers romances with two contrasting yet complementary characters going up against a shared enemy. Young Adult fantasy readers should really pick up this book. Best of all – it's a stand-alone! There's no wait for a cliffhanger, and the resolution is tied up extremely well. I was so satisfied when finishing this book, and will probably find myself rereading this one in the years to come.
abuse, heavy violence, blood/gore, torture, attempted rape