Hello everyone!
I can't believe Kate Daniels is on its last book. I discovered this amazing series later in the game, but each of the characters now have a special place in my heart. If you don't know, the Kate Daniels series is an Urban Fantasy series about an ass-kicking woman who deals with all kinds of supernatural entities, such as shapeshifting lions (yum) and monsters from cultures around the world. I really enjoy this series because of its humor, inclusitivity, and fast-paced action. Ilona Andrews writes lovable characters that you just want to read more and more about!
Magic Triumphs
Author: Ilona Andrews
Series: Kate Daniels #10
Release Date: August 28, 2018
Publisher: Ace Books
Get it Here: Amazon | Barnes & Noble | Book Depository
Synopsis:
Mercenary Kate Daniels must risk all to protect everything she holds dear in this epic, can't-miss entry in the thrilling #1 New York Times bestselling urban fantasy series.
Kate has come a long way from her origins as a loner taking care of paranormal problems in post-Shift Atlanta. She's made friends and enemies. She's found love and started a family with Curran Lennart, the former Beast Lord. But her magic is too strong for the power players of the world to let her be.
Kate and her father, Roland, currently have an uneasy truce, but when he starts testing her defenses again, she knows that sooner or later, a confrontation is inevitable. The Witch Oracle has begun seeing visions of blood, fire, and human bones. And when a mysterious box is delivered to Kate's doorstep, a threat of war from the ancient enemy who nearly destroyed her family, she knows their time is up.
Kate Daniels sees no other choice but to combine forces with the unlikeliest of allies. She knows betrayal is inevitable. She knows she may not survive the coming battle. But she has to try.
For her child.
For Atlanta.
For the world.
Magic Triumphs is almost here! To celebrate, Ace Books and participating blogs will be giving away three copies of each Kate Daniels book every weekday leading up to highly anticipated release on August 28th. Each giveaway will run for three days.
For my day, we're going to be giving away THREE copies of Magic Rises! I particularly adore this book because it brings situations that the characters have never experienced before, as well as introduces new characters that'll follow us for the rest of the series. It's definitely not one to be missed!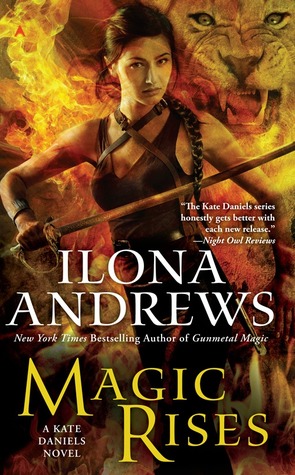 Magic Rises
Series: Kate Daniels #6
Get it Here: Amazon | Barnes & Noble | Book Depository
Synopsis:
Atlanta is a city plagued by magical problems. Kate Daniels will fight to solve them—no matter the cost.
Mercenary Kate Daniels and her mate, Curran, the Beast Lord, are struggling to solve a heartbreaking crisis. Unable to control their beasts, many of the Pack's shapeshifting children fail to survive to adulthood. While there is a medicine that can help, the secret to its making is closely guarded by the European packs, and there's little available in Atlanta.
Kate can't bear to watch innocents suffer, but the solution she and Curran have found threatens to be even more painful. The European shapeshifters who once outmaneuvered the Beast Lord have asked him to arbitrate a dispute—and they'll pay him in medicine. With the young people's survival and the Pack's future at stake, Kate and Curran know they must accept the offer—but they have little doubt that they're heading straight into a trap…
Follow the tour and enter to win them all!