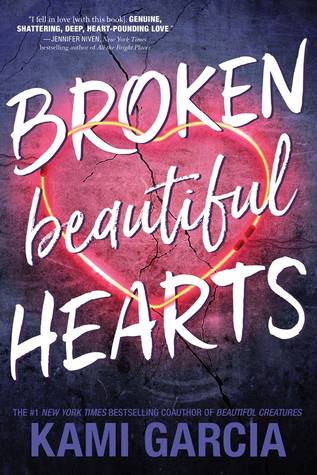 Beautiful Broken Hearts
Author: Kami Garcia
Release Date: February 6, 2018
Publisher: Imprint
Get it Here: Amazon | Barnes & Noble | Book Depository
Synopsis:
From #1 New York Times–bestselling author Kami Garcia comes a red-hot romance that will break your heart and put it back together again.
Her heart has to break before it can open.
When star soccer player Peyton Rios receives an offer from her first-choice college, senior year starts off exactly as planned. But when Peyton uncovers her boyfriend's dark secret, she confronts him—and finds herself falling down a flight of stairs. Peyton's knee—and maybe her dream of going pro—is shattered. Everyone is talking: Was she pushed, or did she fall? Peyton knows the truth, even if no one believes her.
He has to let someone in before it's too late.
With her future on the line, Peyton goes to stay with her uncle in a small Tennessee town to focus on her recovery. Dating is the last thing on her mind—until she meets sweet, sexy Owen Law.
But Peyton doesn't trust her heart, especially when she senses that Owen is hiding something. When their secrets are finally exposed, Peyton has to decide if love is worth fighting for.
I enjoyed Kami Garcia's previous contemporary, The Lovely Reckless, and this one was no different. Beautiful Broken Hearts follow the story of Peyton Rios, a biracial (half-Cuban, half-white) and talented soccer player whose dreams of going to UNC with a scholarship is wiped away after one incident with her abusive boyfriend. In the author's note, Garcia wrote about how she was in a similar situation in her life, and discussed the importance of seeking out for help when needed (including resources such as Break the Cycle and the National Domestic Violence Hotline). I think this book was especially important in highlighting abusive/manipulative relationships, and above all, the fact that sometimes you need to just put yourself first, before anything – or anyone – else.
Told from the first person POV of Peyton, Beautiful Broken Hearts reads very easily as a TV show. After her tragic accident that made her lose friends and gain scary stalkers/threats, Peyton moves to a backwater Tennessee town – a vast contrast to her previous school in DC. We're introduced to her cousins Cameron and Christian, who are the stereotypical American golden boys (they're twins that play football and have good looks), as well as high school drama to get entangled in. I thought this part of the book made it longer than it needed to be (especially petty girl-girl rivalry for the sake of conflict), and low-key made me round down when rating it (from a 3.5 to 3). These scenes could have been cut to make a more succinct and emphasized story.
"A striker has to have guts and take risks. You have to know when to pass or when to take the shot. There will be shots that look impossible, but they aren't. Sometimes the difference between winning and losing is taking that shot when you get the chance."
Peyton also meets Owen, a quiet and more reclusive boy who fights mixed martial arts and has his own secrets. They have a bit of an insta-attraction that turns into a mutually antagonistic relationship, that then works into a friends-to-romance kind of situation. I enjoyed the romance, mainly because Owen was such a soft sweetheart and super kind and understanding to Peyton. Their initial interactions are quite cute as well (they're not the biggest fans of each other), and I really enjoyed how Peyton first figured out where she stood in her life before going into a full relationship with him. Yay for self care!
"I don't believe that everything happens for a reason. Some things just happen, and you have to live with the fallout.
Miracles have explanations.
Love at first sight isn't an inexplicable phenomenon. It's science – biology and pheromones."
So I mentioned earlier that this book reads like a TV show. Many scenes are bogged down with banter and teenage angst. It was an odd contrast to the serious nature of the main conflict of the book, but ultimately proved diverting. I didn't mind it that much, until it got a bit excessive towards the middle in the stasis period before the climax. Peyton's character growth is tremendous though, and the book finished up neatly as things are wrapped up. It's a stand-alone novel that will make you feel a multitude of emotions throughout the story, but end up smiling in the end.
Beautiful Broken Hearts certainly is beautiful – the writing makes the pages fly by, and Peyton goes through a lot of trauma and hardship that only strengthen her. My main gripe might just be the formulaic teenage drama inserted in the middle that I found excessive. Despite that, Beautiful Broken Hearts remains an engrossing contemporary that explores the healing period after an abusive relationship and the importance of self-love.
abuse, manipulative relationship, stalking