What a wild ride! Crazy Rich Asians was everything the blurb promised and more. There's shockingly lavish descriptions, gossip that can go on for days, and ultimately excellent execution of the nuances of East/Southeast Asian culture. I was not disappointed by this series (I mean come on, I finished all three books in TWO DAYS the week before finals), and am even more excited to see the movie!! I'll split this series review in three short parts for each three books, with no spoilers. And with that, a quote that made me laugh out loud because of how true it is:
"Why do we Chinese never learn? Every time we get mixed up with the West, everything falls apart."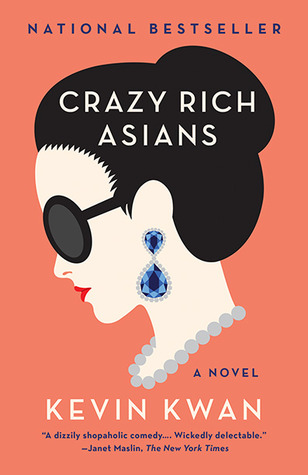 Crazy Rich Asians
The main conflict in Crazy Rich Asians is Rachel's summer vacation to Singapore and meeting her boyfriend of two years, Nick's, family. What he failed to mention was that his family is one of the richest in Singapore, and not many relatives (if at all) approve of their relationship together… especially since it seems like Nick is getting serious! I loved the grandiose atmosphere that Kwan writes and the GLORIOUS good descriptions! The family elements were also super interesting to see, although I admit some of the descriptions of a certain brand or certain person's connections got a bit tedious for me at times (this was throughout the series).
"'Welcome to Singapore, Rachel – where arguing about food is the national pastime…'"
The thing about Kwan's writing is that he might gloss over certain important scenes or have it get told afterwards. That makes it so… it doesn't really seem like there's a climax? Or resolution? I never get those vibes while following the plot – it's more like "this happens, and then this." Which wasn't too bad actually, making it an easy and quick read.
"'I've had enough of being around all these crazy rich Asians, all these people whose lives revolve around making money, spending money, flaunting money, comparing money, hiding money, controlling others with money, and ruining their lives over money."
Overall, this first book was full of heart, food, and family – three things you can never go wrong with! There are gold diggers and social climbers and rich heiresses galore. What other way to describe this trilogy than simply addictive?
China Rich Girlfriend
While Crazy Rich Asians follows the storyline of overseas rich Chinese families, China Rich Girlfriend goes to mainland China's top richest families and readers get to see a bit of a comparison between these two. The dynamic between mainland Chinese and overseas Chinese is really an interesting one to see, and I think Kwan adds bits and pieces of this dynamic wonderfully throughout the story. What's it like to think, my great-great-great-great-grandfather was from the mainland, but now we can't go to it because we're Singapore citizens now? Not to mention the tensions that arise because of Chinese history.
"'People are messy. Life gets messy. Things are not always going to work out perfectly just because you want them to.'"
Readers will find themselves drawn to the differences between the mainland Chinese celebrities and overseas Chinese celebrities, as well as the overlaps that occur. Plot-wise, this story focuses on Rachel's relationship with her father, who she has never known. Adding to this are several subplots following Astrid, who only wants the best for her family at the expense of her own happiness, and Kitty, a social climber who's learning the ropes of the rich. (I admit, I skimmed through Kitty's chapters because she was a bit boring and I was more for the Rachel and Nick ship than anything.)
Rich People Problems
This conclusion was SO HILARIOUS, especially since now you have a good idea of how each character and family member acts. Honestly, Kwan wrote them off with such vibrance and glamour, they practically jump off the pages. Especially that Eddie, lol. The main conflict of this book follows the inheritance of Grandma Suh Yi's vast fortune, which includes the expensive property that she resides in. Everyone rushes in, wanting a piece of something from her, and a lot of plots start overlapping. While this is happening, Astrid is trying to find a balance between what to sacrifice for her happiness versus others' happiness, and Kitty is still making weird rivalries between other rich people. It's a weird dynamic, that.
"'Win, love, how did this even become a battle? All I ever wanted was for us to be able to find happiness.'"
Throughout the series, there are also mentions of mental illness within several characters, and although I cannot say for the representation, I was surprised it was there. There are characters who exhibit bipolar disorder and depression, and I think Kwan did a good job in exploring and justifying those characters' actions that don't further stigmatize mental health.
Kwan wrote an amazing conclusion that tied everything up beautifully, which matches the very happy-go-lucky voice that the series has been expressing. I really adored this series because it's just so… extra. The characters for the most part are extra, the settings extremely extra, and the whole drama between people were extremely extra. And yet, I still enjoyed it! It's a very flighty read, but also touches on important subjects like stigma on mental illness and certain cultural practices. I definitely recommend this to people looking for a light, chick-lit read to brighten their day.
And finally, a hilarious quote that made me laugh aloud because THIS IS SO TRUE TOO.
"'Alamack, it's that Ed Saranwrap! I love his music!'
'As Ed Sheeran began singing his wildly popular love ballad, 'Thinking Out Loud'…"
Literally the majority of my East, Southeast, and South Asian friends' families don't bother to remember celebrity names (or friend names!) correctly. I love it.
Crazy Rich Asians is quirky, although unrealistic. And yet beyond the opulent settings and facades of the world of the rich, it also delves into deeper Asian culture (the main that are mentioned being East, Southeast, and South) and the discourse behind it. Let's finally see an East Asian romcom on screen in America! I for one will be celebrating the release of the movie in August. Will you?
abuse, suicidal thoughts, depression, racism, use of the word G_psy.
Gif sources: Crazy Rich Asians First Trailer, behind-the-scenes shots, and teaser stills!