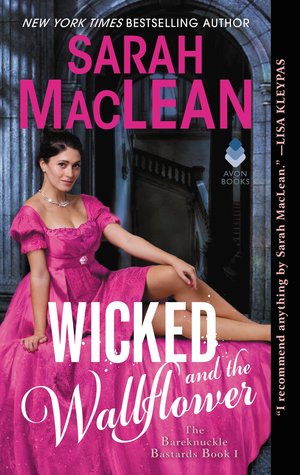 Wicked and the Wallflower
Author: Sarah MacLean
Series: The Bareknuckle Bastards #1
Release Date: June 19, 2018
Publisher: Avon
Get it Here: Amazon | Barnes & Noble | Book Depository
Synopsis:
When Wicked Comes Calling…
When a mysterious stranger finds his way into her bedchamber and offers his help in landing a duke, Lady Felicity Faircloth agrees—on one condition. She's seen enough of the world to believe in passion, and won't accept a marriage without it.
The Wallflower Makes a Dangerous Bargain…
Bastard son of a duke and king of London's dark streets, Devil has spent a lifetime wielding power and seizing opportunity, and the spinster wallflower is everything he needs to exact a revenge years in the making. All he must do is turn the plain little mouse into an irresistible temptress, set his trap, and destroy his enemy.
For the Promise of Passion…
But there's nothing plain about Felicity Faircloth, who quickly decides she'd rather have Devil than another. Soon, Devil's carefully laid plans are in chaos, and he must choose between everything he's ever wanted…and the only thing he's ever desired.
And Sarah MacLean does it again! Wicked and the Wallflower was wholly intoxicating, as Felicity and Devil's story grabbed me from the first chapter. I LOVE seeing a strong, seemingly-evil (he's not, I promise) man get on his knees for the woman he loves. And got dang, Felicity is definitely a heroine I could relate to. This is certainly an amazing start to the Bareknuckle Bastards series, and I cannot wait to see where MacLean goes next with these characters!
Wicked and the Wallflower follows Devil, a Bareknuckle Bastard looking for revenge, and Lady Felicity, a spinster on the shelf that only wants to retrieve her previous position as the belle of the ball. A good way to get to this goal? Getting engaged to the new duke in town. Felicity makes a deal with – dare I say it – Devil (not THE devil) as he plans to ruin both her and the duke for his revenge scheme. Like all revenge schemes, however, this one goes wrong as Felicity discovers that the favor of society is not what she wants to fight for, and Devil sees that there are more important things than revenge.
"She wished to be wanted. Beyond reason. She wished to be ached for."
I absolutely adored Felicity's character. In the beginning of the book, she aims to be a FLAME – someone desired and someone wanted. Someone who a moth would get drawn to. (Side note, she's one of the would-be fiancés in The Day of the Duchess, Maclean's previous book, and thus has a lot of scandal around her name. I loved this book as well and you can find my review here!). Even as she was striving to become the shining jewel of society, she realizes that that's not what she REALLY wants. I love how determined she was and how unselfish Devil proved himself to be.
Maclean writes really empowering romances with spectacular heroines and love interests that respect them as much as they love them. For example, in Wicked and the Wallflower, Devil's a pretty rugged character, growing up in the unsavory areas of London, yet treats Felicity like a queen (as she should be treated!). I for one really love seeing heroes that act like that because they don't need to exhibit toxic, masculine displays to be a swoony love interest. Their chemistry was almost instantaneous, and only exacerbated with their interest and banter with one another. I loved their dialogue and how their relationship progressed from a forbidden deal to a forbidden romance. Cue all the heart-clutching!
"'Or whole world is built by men. For them. And we're simple here for decoration, brought in at the end of everything important. Well, I grow tired of ends. Locks are beginnings.'
He turned to look at her, consumed with a desire to give her infinite beginnings.'"
A lot of the plot also focuses on the background of Devil's revenge and how it came to be, setting up for awesome books to come in the series. I enjoyed seeing Devil's little family, although the antagonist in this story really is setting himself up for a MAJOR redemption arc. I think this is a start of a darker, more intense series. Maclean writes about harsher topics such as abuse and the characters deal with a lot of losses through life. Even so, I think she explores these topics wonderfully, and with care.
I love love, and Maclean always introduces romantic couples that never fail to make my heart swoon in delight. You can't help but want to cheer for these characters as they strive towards a happy ending. I think she also has great commentary on going against what society dictates and forging your own path. If you're a romance fan, you're definitely going to want to pick this one up for its amazing couple, intriguing revenge plot, and heartfelt romance. I can't recommend Maclean's romances enough, and I'm happy to say this one was another hit for me!
abuse, violence, sexy times