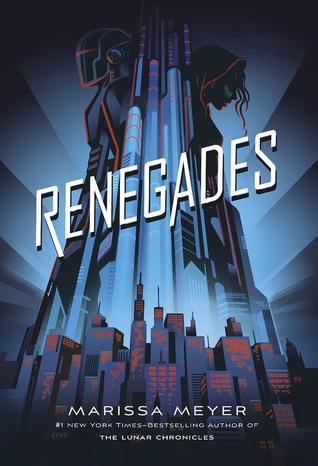 Renegades
Author: Marissa Meyer
Series: Renegades #1
Release Date: November 7, 2017
Publisher: Feiwel & Friends
Get it Here: Amazon | Barnes & Noble | Book Depository
Synopsis:
Secret Identities. Extraordinary Powers. She wants vengeance. He wants justice.
The Renegades are a syndicate of prodigies—humans with extraordinary abilities—who emerged from the ruins of a crumbled society and established peace and order where chaos reigned. As champions of justice, they remain a symbol of hope and courage to everyone…except the villains they once overthrew.
Nova has a reason to hate the Renegades, and she is on a mission for vengeance. As she gets closer to her target, she meets Adrian, a Renegade boy who believes in justice—and in Nova. But Nova's allegiance is to a villain who has the power to end them both.
Superhero fans will definitely recognize Renegades as a book that calls to them. It's a classic superhero book with villains, secret identities, and saving humanity. While Nova may be considered an anti-hero, I didn't really think so. Her character isn't morally grey as some (such as Adelina from The Young Elites for example.) She's vindictive, for sure, but she also believes in a just world – and in the end, that's what the Renegades are fighting for too. The whole 500+ page book is just one adventure after another, likening it to an episodic kind of vibe (very similar to Flash, the DC show). It was a fun, light sci-fi that explores what society really needs in a world of superheroes.
"Don't worry about helping yourselves. You've got enough on your plate, what with all the hiding and moping you've been doing lately. You take a day off. We're superheroes. We've got this.
Hope called themselves the Renegades."
Told from mostly the alternating POV's of Adrian and Nova, Renegades focuses on the tensions between the Anarchists, the villains, and Renegades, the heroes. Although it's not as clear-cut as that. The main characters surround three groups: Adrian's team of Renegades, the Renegade council, and the small but powerful team of Anarchists. Adrian is a Renegade true and true. His birth mother was one of its creators, and his adoptive fathers are the leading men of the Renegade council, who basically decides what happens in the town – from education to law enforcement to politics. Nova, on the other hand, believed in the Renegades until the day they looked away from her family's murder when she was six. She was then picked up by her uncle Ace, the leader of the Anarchists, who raised her under his care. Skip ten years, and the Renegades are the head honchos of the city. They battle crime and are basically celebrities, but the Anarchists plan to rise up again.
The book follows Nova at her failed assassination attempt to Captain Chromium, one of Adrian's fathers, and how she disguised herself and became a Renegade to uncoil their plans and secrets for the Anarchists to exploit. The superhero powers were pretty fun to explore, but nothing really new. Nova had the power to not sleep and to put other people to sleep – her Anarchist alias is the Nightmare and her Renegade name is Insomnia. Adrian can sketch things into existence – including additional prodigy powers for himself. There are an abundance of other classic powers as well that are cool, but perhaps nothing different from the numerous superhero YA books out there.
Other than the fun, light, and diverting adventure that Renegades offers, an important part of the book was the push and pull between Anarchists and Renegades. One group wants the freedom for prodigies, while the other wants justice and order in a time of chaos. When push comes to shove though… don't they essentially want the same thing, just with different procedures? There are good and bad sides of both groups, which we will see from Nova's POV. These complex questions were drawn out from Nova's power of observation as she recognizes how people without superpowers… might just be better off without those who have them.
"Heroism wasn't about what you could do, it was about what you did.
It was about who you saved when they needed saving."
There is a light, forbidden romance between Nova and Adrian. Very light though, and hardly there (which is a nice!). There is also exploration between the camaraderie of the different groups, like Nova's family kinship with the Anarchists and her developing friendship with the Renegades. Under the power plays and manipulation, underneath those veils are a person, whether people realize it or not. Becoming a Renegade makes Nova hesitate a bit with her plan to dismantle their system. But Renegades are not all looking for justice, as we soon come to find out.
Nova is a daring character who's innovative and on the path to revenge. Still, she hesitates with things such as murder and has a good side. Adrian supports the Renegades 110%, and I would have liked to have seen more hesitation and doubt from him. He's still exploring his own powers, which was what his character focused on. Although the book didn't explicitly say (which, it really should have), I'm pretty sure he's black. Nova is half-Filipina, half-Italian. One of the Renegades, Oscar, has a rare bone disease that makes him use a cane (I feel like the author should have at least identified which disease) while other POC's litter the cast of characters. At some points these diverse aspects felt like tokenization, and I would have liked to have seen an expansion of these marginalizations in the writing rather than a brief mention.
"There was the potential for evil everywhere, and the only way to combat it was if more people chose goodness. If more people chose heroism.
Not laziness. Not apathy. Not indifference."
Renegades was fun, and just the right book for my mood of action and exhilaration. The plot twists aren't very grand, and the characters are easy to root for but not the type readers would connect with emotionally. Nonetheless, the world is reminiscent of classic superhero stories for those who are in the mood. It's the type of predictability that you continue to like because it's comforting and you pretty much know where it's going – the direction you want it to. Only readers seeking for a loooong escape with a familiar adventure would appreciate this like I did – otherwise, be wary of the cliches.
mild violence, suicide