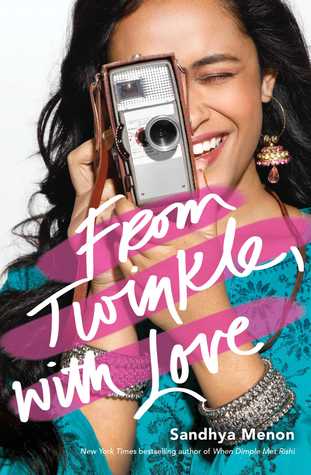 From Twinkle, With Love
Author: Sandhya Menon
Release Date: May 22, 2018
Publisher: Simon Pulse
Get it Here: Amazon | Barnes & Noble | Book Depository
Synopsis:
Aspiring filmmaker and wallflower Twinkle Mehra has stories she wants to tell and universes she wants to explore, if only the world would listen. So when fellow film geek Sahil Roy approaches her to direct a movie for the upcoming Summer Festival, Twinkle is all over it. The chance to publicly showcase her voice as a director? Dream come true. The fact that it gets her closer to her longtime crush, Neil Roy—a.k.a. Sahil's twin brother? Dream come true x 2.
When mystery man "N" begins emailing her, Twinkle is sure it's Neil, finally ready to begin their happily-ever-after. The only slightly inconvenient problem is that, in the course of movie-making, she's fallen madly in love with the irresistibly adorkable Sahil.
Twinkle soon realizes that resistance is futile: The romance she's got is not the one she's scripted. But will it be enough?
Told through the letters Twinkle writes to her favorite female filmmakers, From Twinkle, with Love navigates big truths about friendship, family, and the unexpected places love can find you.
Another stunning story from Sandhya Menon. I adored From Twinkle, With Love from cover to cover. It's heartwarming, it's real, and it's empowering. Told mostly from Twinkle's diary (along with blog posts, text messages, and emails), this book follows Twinkle's growth from quiet geek to powerful director. Her character changes are honestly so real and down-to-earth, and I love her even more for it – even when some of these changes aren't that positive. There's a super light and sweet romance, and a wonderful exploration of family and friendships. Menon writes another stellar contemporary that YA readers need to get as soon as they can.
I adore Twinkle. She's so flawful and full of heart. Twinkle is quiet and poor, but has lots to say to her new diary, which she names by different famous female directors (yessss). Her passion of film goes by unnoticed until she gets the chance to recreate a Dracula film with a female lead for her school's summer festival. From then on, she tackles the challenge of balancing friendship, romance, and film as she finished her junior year of high school.
"'Twinkle, what's your number one goal in life?'
'To change lives with my films and show the world what a Desi girl can do,' I said proudly. It was sort of my mission statement."
I love how absolutely empowering From Twinkle, With Love was, in regards to a lot of aspects. Twinkle openly critiques the lack of female directors in the film industry, and also the even less support for writers of color. (Yes ma'am, this is the kind of discourse I want in my contemporaries!) She was just so open in crushing the patriarchy in society and everyday life, which is admirable and very relatable. I really enjoyed following her growth and newfound confidence, even as she was temporarily led astray by these new parts of her personality. She's just a teen character that was so easy to connect to, empathize with, and love.
A lot of the book explores the relationships Twinkle has and how they progress. Twinkle finds herself losing her best friend Maddie while gaining a couple of new unexpected friends. One of these is Sahil, who is the twin of the all-star Neil, who Twinkle has a crush on. Although the thing is, her crush is more based on the fact that Neil could elevate her popularity status (rather than for his glistening personality). Sahil becomes the producer of her Dracu-lass film, which puts them in close contacts. Along the way, Twinkle finds herself and perhaps, where her heart really lays.
Of course, I have to mention the diversity seen in this #ownvoices book. While Twinkle's parents are immigrants from India, Neil and Sahil are half-Indian, half-white. Many of the friends are POC's and all are so fun to read about – even if they're doing something infuriating. The whole atmosphere of the book is so bubbly and sweet, I smile just thinking about the characters and scenes. Twinkle's mother also has depression, which can be seen from her actions and her absence from Twinkle's life. Instead of having parents to lean on, Twinkle relies on her supportive Dadi, or grandmother. (Who is also one of the cutest characters.) I loved seeing their interactions and the exploration of Twinkle's family in general.
"Jane, your films were about sticking it to the man, snapping back at the patriarchy by showing strong female protagonists who didn't conform to gender roles. They'd call me Twinkle the Glass Ceiling Smasher, and the world would be engulfed in a veritable tsunami of movies and plays and stories by women."
The romance plays actually a smaller role in contrast to Twinkle's own character growth. (Which I for one really enjoyed.) Sahil is soooo sweet and awkward and supportive. He's honestly such a squishy character that I couldn't help but fall in love with. Feelings are kind of thrown around with haste, as is the way in high school settings where hormones and emotions run rampant. I really enjoyed everyone's endgame, and ahh it was just so fangirl-worthy. Love, love, love the resolution to everything.
From Twinkle, With Love is exactly the kind of effervescent, loving romcom that'll make your heart soar with a range of emotions – mostly the light and bubbly kind! I adored reading from Twinkle's POV, and seeing her grow into herself during such an important time of her life. The relationships were all so well-written and with surprising depth and realism. I can't recommend this book enough, and basically everything Sandhya Menon writes. What are you waiting for? You needed this book, like, yesterday.
depression
Thank you Sandhya and Simon Teen for the review copy!
But Wait, Don't Forget to Preorder!
Don't miss out on these AMAZING pre-order goodies that Sandhya has prepared! And double omg: they were drawn by yours, truly! You really don't want to miss out on these cuties. Click on the picture to get redirected to the preorder link!