Y'all I am LIVING the purple/pink schemes on these romance books! Purple is my favoriteee color (as you can see from the blog, lol), so of course I'd be attracted to any book that has it. Bonus points for the amazing writing and fierce heroines! You're gonna really want to pick these romance reads up…
A Princess in Theory
Series: Reluctant Royals #1
+Add to Goodreads
Synopsis:
From acclaimed author Alyssa Cole comes the tale of a city Cinderella and her Prince Charming in disguise . . .
Between grad school and multiple jobs, Naledi Smith doesn't have time for fairy tales…or patience for the constant e-mails claiming she's betrothed to an African prince. Sure. Right. Delete! As a former foster kid, she's learned that the only things she can depend on are herself and the scientific method, and a silly e-mail won't convince her otherwise.
Prince Thabiso is the sole heir to the throne of Thesolo, shouldering the hopes of his parents and his people. At the top of their list? His marriage. Ever dutiful, he tracks down his missing betrothed. When Naledi mistakes the prince for a pauper, Thabiso can't resist the chance to experience life—and love—without the burden of his crown.
The chemistry between them is instant and irresistible, and flirty friendship quickly evolves into passionate nights. But when the truth is revealed, can a princess in theory become a princess ever after?
This was my first book by Alyssa Cole, but I'm definitely coming back for more! (Plus omgg, that cover is absolutely gorgeous.) A Princess in Theory is an AMAZING royal read that I adored from start to finish. Usually I'm not a fan of contemporary romances with royalty, but this one just took the cake. I adored the heroine, Ledi, who is a grad student studying public health (about epidemiology!) and how hard-working she is. There is a bit of a push-and-pull between her and Thabiso, the crown prince from Thesolo that is trying to woo her, but I believe her hesitancy in jumping into a relationship is very justified, and the progression of their relationship also showed phenomenal growth within their characters as well. It was just, overall, an amazing contemporary romance that I highly recommend to romance readers.
Basically the book begins EXTRA cute – with an email about a betrothal to an African prince that Ledi quickly deletes, thinking of it as spam. It isn't spam though, and it's actually Thabiso looking for his long-lost fiance, who he was betrothed to since he was a child. When her parents packed up and left their country to go to America, everyone thought of it as a betrayal. What they didn't know was that Ledi's parents died shortly after arriving to America and she was raised in the foster system, going to and from families and homes that didn't really care about her. She never really had a family, and this shows through her guarded heart, tough exterior, and solid independence. Deep down though, all she wants is a place to be a part of – somewhere she can call "home."
Thabiso is such a soft, sweet prince that doesn't quite live up to his playboy status. Although he's deemed Africa's most eligible bachelor, he's always had the memory of his long-lost betrothed in his heart. This hope is what galvanizes him to look for Ledi when his business brings him to America, and she ends up bringing out whole new facets of him that is a deep contrast to his stressful life as a crown prince. I love how easy it is for him to open up to Ledi, and just how honest he can be. Thabiso is extremely hard-working, but sometimes he just wants to take a step back and be his own person, rather than the prince that everyone wants him to be.
"He didn't expect a happily ever after like in the slim white romance books of his youth. He expected excitement, and it looked like Naledi could provide just that."
So when Thabiso and Ledi first meet, she accidentally thinks of him as the new hire for the kitchen and he keeps up this facade for the first half of the book. Although I don't really like deception in my romances (something that Ledi can agree on), I thought his reasoning and motivation was justified, and he certainly had to grovel to get back on Ledi's good side, which I really appreciated. The dynamics between Ledi's childhood in foster care and Thabiso's privileged upbringing in the palace was very interesting to explore, and that really contributed to their character outlooks as well. Despite these differences, they find solace with each other and a home they never thought they needed before meeting the other.
"She'd opened herself to him and, frightening as it was, she wanted more. Oh god, she wanted more."
I thought this contemporary romance was extremely sweet and heartwarming. Ledi was a queen after my own heart, and despite Thabiso's initial deception, he was still a very soft, very kind prince who really put other people in front of himself. Honestly, royal romance readers will love this one. Like, I usually stay away from anything with "crown" or "royalty" or "prince" or "princess" in its title or cover, but this is one series I'm stuck to like a magnet. Definitely pick this one up if you're looking for a charming contemporary romance!
explicit sexy times, alcohol abuse
---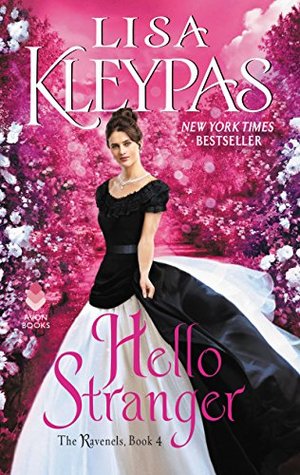 Dear Stranger
Series: Ravenels #4
+Add to Goodreads
Synopsis:
A woman who defies her time
Dr. Garrett Gibson, the only female physician in England, is as daring and independent as any man—why not take her pleasures like one? Yet she has never been tempted to embark on an affair, until now. Ethan Ransom, a former detective for Scotland Yard, is as gallant as he is secretive, a rumored assassin whose true loyalties are a mystery. For one exhilarating night, they give in to their potent attraction before becoming strangers again.
A man who breaks every rule
As a Ravenel by-blow spurned by his father, Ethan has little interest in polite society, yet he is captivated by the bold and beautiful Garrett. Despite their vow to resist each other after that sublime night, she is soon drawn into his most dangerous assignment yet. When the mission goes wrong, it will take all of Garrett's skill and courage to save him. As they face the menace of a treacherous government plot, Ethan is willing to take any risk for the love of the most extraordinary woman he's ever known.
I've been waiting for Dear Stranger since Kleypas's previous book in this series, and I was not disappointed at all. (Seriously, her most recent books have all been stellar and amazing.) The Ravenels series has so far featured some of the most empowering heroines in historical romance that I've read, and the men who love and support them. Previously, Cassandra's independence and business acumen took my breath away. This time, Garrett's passion for medicine and helping people really struck close to my heart. I loved seeing how strong she was and how Evan fell in love with her capabilities, independence, and overall character.
"'I reassembled an entire disarticulated skeleton in medical school. There's no such thing as a romantic bone.'"
Garrett and Evan have met fleetingly over the course of this series. Evan, a spy who works for the government, developed an interest in her and kept an eye out whenever she went into dangerous parts of the city to look at patients. They start meeting more frequently because this man just can't stay away. (Seriously, this man is so soft and I love him.) I loved how much he supported Garrett in all possible ways: from her fencing/fighting skills to her medicine practice to her decisions in general. You can tell that he wants to stay away for her safety but the chemistry is too real, and soon enough, Garrett ends up getting involved with the mild political/espionage plot going on.
"She was a strong, resilient woman, a force of nature.
He only worried that no one would bring her flowers."
I adored Garrett and her insecurities in regards to opening up, despite her initial interest in Evan. She's a very confident woman doctor – a rarity in medicine – and this makes for some vulnerable moments as well. Because of that, she guards her heart well and never really saw any value in getting married or going through the conventional route for women during the time and place. But she also can't help her interest in Evan and how he wants to support and protect her (even though she can obviously protect herself).
Garrett also speaks of her doubts on the relationship because of the short period of time that she had known Evan, and her quickly rising feelings for him. I thought this was so interesting to include because historical romances almost never address the fast-to-develop romantic feelings that happen to couples, much less the unreliability of it. Low key thought it was anachronistic (what do I know of women in eighteenth century Great Britain?), but nonetheless I'm glad it was added because it only goes to show how even Garrett's rational mind loses logic when it comes to someone she loves.
"Garrett had no regrets: This was the life she had wanted. At the same time… she was tired of being cautious and responsible. She yearned to fling herself headlong into the experience of being loved, desired, possessing, and possessed."
I loved Hello Stranger and seriously can't wait for the next installments of this series! Garrett and Evan make for a lovely, sometimes contrasting couple, and I love all their interactions – from banter to chemistry to support. I really recommend Lisa Kleypas's later books (2008 and beyond perhaps? I was not a fan of her older ones) to romance readers who haven't explored the historical romance subcategory. They're always a delight, and with sweet characters that you can't stop reading about!
mild violence, explicit sexy times