Hello everyone!
I'm incredibly excited to be on this blog tour for Starry Eyes by Jenn Bennett. I've been following all her YA contemporary novels, and they have ALL been a hit. She's definitely one author that you can't miss out on! Starry Eyes brings two characters to life that you're going to absolutely fall in love with, just like I did. There's camping, survival skills, the cutest banter, and wonderful exploration of family dynamics. Let's get this party started!
---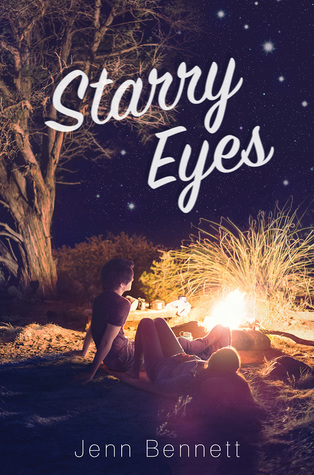 Starry Eyes
Author: Jenn Bennett
Release Date: April 3, 2018
Publisher: Simon Pulse
Genre: Young Adult, Contemporary, Romance
Get it Here:Amazon | Barnes & Noble | Book Depository | Kobo | Indiebound | iBooks
Synopsis:
Ever since last year's homecoming dance, best friends-turned-best enemies Zorie and Lennon have made an art of avoiding each other. It doesn't hurt that their fami-lies are the modern day, Californian version of the Montagues and Capulets.
But when a group camping trip goes south, Zorie and Lennon find themselves stranded in the wilderness. Alone. Together.
What could go wrong?
With no one but each other for company, Zorie and Lennon have no choice but to hash out their issues via witty jabs and insults as they try to make their way to safe-ty. But fighting each other while also fighting off the forces of nature makes getting out of the woods in one piece less and less likely.
And as the two travel deeper into Northern California's rugged backcountry, secrets and hidden feelings surface. But can Zorie and Lennon's rekindled connection sur-vive out in the real world? Or was it just a result of the fresh forest air and the magic of the twinkling stars?
Suchhhh a good YA contemporary read. Perfect for the summer: that comfortable time in-between semesters where teens have that sense of freedom and independence. Jenn Bennett always writes hit contemporaries, and Starry Eyes was no exception. There were excellent, down-to-earth characters, the most wholesome romance, and an adventurous setting. There was a bit more drama than her past books, but the atmosphere of the book overall remained light and sweet. Here are some reasons, with the help of emojis, that explain why I recommend this book.Zorie's Flawed Character = Us 
The book follows Zorie's first-person POV. She loves planning through bullet journals and calendars. (Sounds like someone you know? 😉 ) She needs to know what the plan is or she'll get anxiety. I loved following her thoughts, her insecurities, and her discoveries. It's the summer before her senior year of high school, but she's got her eyes set on becoming an astrophysicist. She also has chronic urticaria, which is chronic hives that appear when she's stressed or comes into contact with things she's allergic to. I loved Zorie's character and her penchant for planning.
I believe in schedules, routines, washi-tape-covered calendars, bulleted lists in graph-paper journals, and best-laid plans.
Hiking Trip? Count Me In! 
The premise of the story is that Zorie goes camping with some popular people in her high school to try to raise her social standing. Zorie's kind of lost at this moment of her life. Her ex-best friend Lennon has cut contact with her and her childhood friend Reagan distanced herself after she became rich and started training for the Olympics. She also takes this opportunity to get closer to a cute guy named Brett who she's interested in. But not all goes well, and a heated argument in front of a waterfall leave Zorie stranded at the park… with her ex-best friend. Ensue romantic times.
Best. Romance. Ever. (Plus Points For Excellent Discussion of Sex!) 
Bennett's romances are always fantastically written. This time, she takes the best-friends-to-lovers trope and twists it to become best-friends-to-lovers-to-enemies-back-to-lovers. Fine, there is some drama and misunderstandings to create this scenario. But I didn't mind – these mistakes happen and the characters did a great job in apologizing and owning up for what they did and getting back on track. Hello Romeo and Juliet vibes? Zorie's dad dislikes the fact that Lennon's moms opened a sex store right next to his massage/acupuncture clinic and blames their family for ruining his business. Ensue forbidden romance.
'We are goddamn amazing. We're a rocket ship filled with potential. Either we die in a fiery blaze before we leave the Earth's atmosphere, or we make it through and orbit the moon.'
It's the small things that make this romance so beautiful: the heated glances, subconscious trust, sparkling chemistry, and reciprocal respect for each person's passions. Lennon is such a swoon-worthy love interest to. He's biracial (his father's an Egyptian-American rock star!) and exhibits emo vibes. He wears all black, likes reptiles, and enjoys horror manga. But he's also an avid hiker and, luckily for Zorie, knows a lot about survival.
The Stepmother-Daughter Relationship is Flawless 
Zorie's birth mother died when she was a young girl, but she maintains an excellent relationship with her stepmother, who she calls Mom. Zorie goes through some family trouble in the story, but throughout it all, her mother stays strong and supportive. I loved the small incorporation that she's Korean-American. Bennett is always great with adding diverse elements to her contemporaries here and there in subtle yet important ways. I found their relationship to be sooo heartwarming and a large reason why I adored this book.
Uncertainty isn't always a bad thing. Sometimes it can even be filled with extraordinary potential.
Sure, Starry Eyes follows similar tropes in contemporary YA that have been seen before. But Bennett's writing just puts it on another level. The characters are refreshing, the dialogue is witty and sweet, and the relationships are wholesome and realistic. I will pretty much read anything this author releases, and with relish. I'm so glad this was another hit from her!
suicide, homophobia (called out)
Thank you Netgalley and Simon & Schuster for the review copy!
Jenn Bennett is an award-winning author of young adult books, including: Alex, Ap-proximately; The Anatomical Shape of a Heart (aka Night Owls in the U.K.); and Starry Eyes. She also writes romance and urban fantasy for adults. Her books have earned multiple starred reviews, won the Romance Writers of America's pres-tigious RITA® Award, and been included on Publishers Weekly Best Books annual list. She lives near Atlanta with one husband and two dogs. Visit her at http://www.jennbennett.net.
Win (1) of 3 ARC's of Starry Eyes!
US only
Runs March 28 – April 17, 2018
Follow the Rest of the Tour Here!
March 28th
Pink Polka Dot Books– Welcome Post
March 29th
The Readers Den– Review
It Starts at Midnight– Review
The Left-Handed Book Lover– Guest Post
March 30th
Vicky Who Reads– Creative Post
That Artsy Reader Girl– Guest Post
We Live and Breathe Books– Review & Favorite Quotes
March 31st
Brunette Biblio– Review
Stories on Stage– Review
The Bibliophagist– Review
April 1st
The Clever Reader– Q&A
April 2nd
Adventures of a Book Junkie– Q&A
One Way Or An Author– Review
Life of a Literary Nerd– Review
April 3rd
Magical Reads– Review & Favorite Quotes
Blushing Bibliophile– Review
Here's to Happy Endings– Review