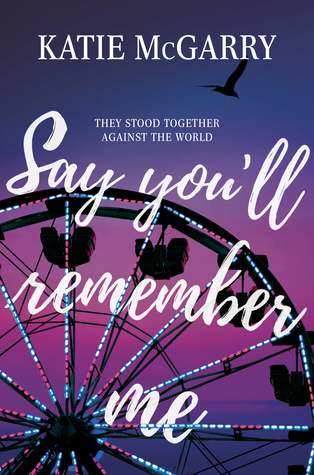 Say You'll Remember Me
Author: Katie McGarry
Release Date: January 30, 2018
Publisher: Harlequin Teen
Get it Here: Amazon | Barnes & Noble | Book Depository
Synopsis:
When Drix was convicted of a crime–one he didn't commit–he thought his life was over. But opportunity came with the new Second Chance Program, the governor's newest pet project to get delinquents off the streets, rehabilitated and back into society. Drix knows this is his chance to get his life back on track, even if it means being paraded in front of reporters for a while.Elle knows she lives a life of privilege. As the governor's daughter, she can open doors with her name alone. But the expectations and pressure to be someone she isn't may be too much to handle. She wants to follow her own path, whatever that means.
When Drix and Elle meet, their connection is immediate, but so are their problems. Drix is not the type of boy Elle's parents have in mind for her, and Elle is not the kind of girl who can understand Drix's messy life.
But sometimes love can breach all barriers.
Fighting against a society that can't imagine them together, Drix and Elle must push themselves–Drix to confront the truth of the robbery, and Elle to assert her independence–and each other to finally get what they deserve.
I was in the mood for a feel-good contemporary Young Adult book, and Say You'll Remember Me hit all the right spots. There's a forbidden romance that has some insta-attraction, amazing character growth, and the exploration of familial dynamics from two vastly different point of views. I've only read one other book by McGarry, but so far they've both been successful, and I can't wait to see what she writes next.
Say You'll Remember Me follows the alternating POV's of Elle and Drix, both immensely different and flawed characters. I really grew to love them both, as well as the strength they had within themselves. While Elle is the picture-perfect daughter of the governor, Drix is a participant of the Second Chance Program for kids who went to juvie that Elle's father spearheaded. They meet at a carnival and sparks instantly fly. However, a forbidden romance sets in when both of their backgrounds keep them from the freedom of being in a relationship with each other.
Both Elle, Drix, and their friends and families are wonderfully explored. Drix is on the more quiet side, especially after his time in juvie and during the Second Chance Program, where he stayed in the wilderness. While before, he was wild and got involved with girls, alcohol, and drugs, spending time in solitude has made him reconsider his views and future. An interesting mystery factor is added to the plot of the book when readers find out that he's not actually the one who did the crime, even though he took responsibility.
"Blank slate. That's what I'm scared of. I may not have liked parts of the person I was before I was arrested, but at least I knew who I was. This blank slate, this chance to create someone new, scares me. This is a new type of pressure."
Even though Elle is the picture-perfect daughter, she has her own path that diverts from her parents' choices for her. She wants to go into computer science and likes coding, even though her parents want her to help with her father's campaign. She likes Drix instead of the boy that her parents chose for her. She can get angry quite easily, but hides it under obedience towards her parents. And yet, she can't find the will to say no to her parents' will and keeps up her good girl act. I could really empathize with Elle's dilemma because letting down your loved ones is never something that someone actively wants to do. But throughout the story she learns that sometimes she deserves to be selfish to actively go after what she's passionate about.
"Better. I'm supposed to be better. I'm always supposed to be better. Because who I am isn't good enough. Will it ever be?"
The romance progresses quite quickly after the initial meet-up, and I was very happy about it. I love the contrasting personalities and backgrounds of Drix and Elle, and how two vastly different people found solace with each other. I also like how even though there weren't any sex scenes, safe sex was discussed (yes ma'am!). The other relationships explored include Drix and his crew (composed of family and friends like family), as well as Elle and her family. There were some dissonance in the book between these relationships, but ultimately they came out stronger in the end.
I thought this book gave really good insight about the judicial system and its problematic elements in regards to public defenders and the school-to-prison pipeline. McGarry addresses these issues rather skillfully, and it was certainly eye-opening for me to read since I didn't know much about the legal system for adolescents. This addition brought another reflection of reality to the book that I really appreciated.
I really enjoyed Say You'll Remember Me! It wasn't particularly mind-blowing, or a contemporary novel that I'll reread all the time, but it was perfect for my mood and had great messages of love, strength, and loyalty. Elle and Drix were amazing characters, and their growth is quite exemplary. The romance itself is on the lighter side (even as it is quick), and I overall enjoyed it. Contemporary fans will definitely like this one, and I would recommend this one to readers who want a light yet meaningful read between two wandering individuals finding their path in life.
animal death, abuse