Hello everyone!
I'm excited to be featuring a moodboard for the historical fantasy, Ink, Iron, and Glass by Gwendolyn Clare – coming out February 20, 2018 (this week!!) from Imprint. It's a fun adventure taking place in 19th century Italy and a bit reminiscent of the atmosphere of steampunk books. There are talented characters who are involved in alchemy, scriptology (ooh), and engineering, alternate-history inventions, and a grand mystery. You can check out my review for it over here at Happy Indulgence!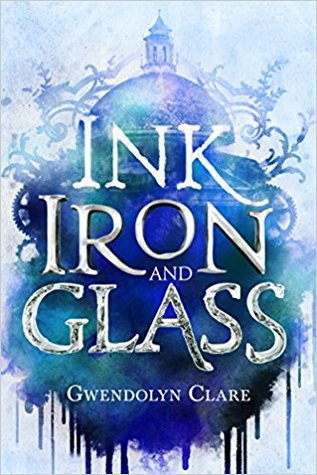 Ink, Iron, and Glass
Author: Gwendolyn Clare
Series: Ink, Iron, and Glass #1
Release Date: February 20, 2018
Publisher: Imprint
Get it Here: Amazon | Barnes & Noble | Book Depository
Synopsis:
Can she write a world gone wrong?
A certain pen, a certain book, and a certain person can craft entirely new worlds through a branch of science called scriptology. Elsa comes from one such world that was written into creation, where her mother―a noted scriptologist―constantly alters and expands their reality.
But when her home is attacked and her mother kidnapped, Elsa is forced to cross into the real world and use her own scriptology gifts to find her. In an alternative Victorian Italy, Elsa finds a secret society of young scientists with a gift for mechanics, alchemy, or scriptology―and meets Leo, a gorgeous mechanist with a smart mouth and tragic past. She recruits the help of these fellow geniuses just as an assassin arrives on their doorstep.
In this thrilling debut, worlds collide as Elsa unveils a deep political conspiracy seeking to unlock the most dangerous weapon ever created―and only she can stop it.
Moodboard
Image Credit: Pexels
I tried to match the color of the moodboard with the pretty blues of the cover. A lot of the book revolves around friendship and family, which is especially important when you're in an unfamiliar setting, like in Elsa's situation. I also tried to convey the steampunk vibes of the historical setting, as well as the mysterious elements. I love the concept of creating homes within books (writing worlds into existence), and I can't wait to see what the next book in the duology has in store for us readers!
The small quote in the graphic, "She was the master of her world," is taken from the book in reference to Veldana, the imagination-turned-reality world that Elsa grew up in!
Gwendolyn Clare's debut novel — INK, IRON, AND GLASS — is the first in a steampunk duology about a young mad scientist with the ability to write new worlds into existence, forthcoming from Imprint in 2018. Her short stories have appeared in Clarkesworld, Asimov's, and Beneath Ceaseless Skies, among others, and her poetry has been nominated for the Rhysling Award. She holds a BA in Ecology, a BS in Geophysics, a PhD in Mycology, and swears she's done collecting acronyms. She lives in North Carolina with too many cats, too many ducks, and never enough books.
Check out the rest of the tour!
| | | |
| --- | --- | --- |
| Blog | Date | Content |
| The Bumble Girl | 2/13 | Gwen- Character Interview |
| Novel Knight Book Reviews | 2/14 | Gwen- Inspiration behind INK, IRON, AND GLASS |
| The Book Nut | 2/15 | Playlist |
| YA Wednesdays | 2/16 | Gwen- Fancast |
| Ex Libris Kate | 2/17 | Gwen- Author Interview |
| One Way or an Author | 2/18 | Moodboard |
| Books and Ladders | 2/19 | Moodboard |
| Fangirlish.com | 2/20 | Fancast |