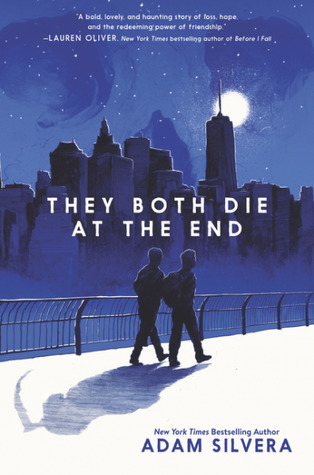 They Both Die At The End
Author: Adam Silvera
Release Date: September 5, 2017
Publisher: HarperTeen
Get it Here: Amazon | Barnes & Noble | Book Depository
Synopsis:
On September 5, a little after midnight, Death-Cast calls Mateo Torrez and Rufus Emeterio to give them some bad news: They're going to die today. Mateo and Rufus are total strangers, but, for different reasons, they're both looking to make a new friend on their End Day. The good news: There's an app for that. It's called the Last Friend, and through it, Rufus and Mateo are about to meet up for one last great adventure and to live a lifetime in a single day.
Despite the ominous connotations of the title, They Both Die at the End is ultimately a story about life and having had lived. Silvera's writing is striking and cuts right into a reader's heart as we navigate through the last day that Mateo and Rufus have to live. Despite the short time, they find both fun and friendship and love with the other as each of them grow. Silvera brings two vastly different boys together and offers a close insight on their doubts and vulnerabilities, as well as strengths and love, in this beautiful contemporary that will leave you with an aching but full heart.
What would you do if one early morning, you get the Death-Cast? This is the call that determines the day of your death. Silvera once again mixes the mundanity of contemporary settings with an extra special aspect that the book revolves around. I remember reading and sobbing on the plane while reading More Happy Than Not years ago. With They Both Die At The End, I cried silent tears and looked out the window from the train after finishing. His writing is heartbreaking yet open, honest yet intense. Readers move through a first person POV of both Mateo and Rufus from the moment they get their Death-Cast call to their deaths. In between these changes are third person scenes with characters that are both close to them and not. Characters that would affect their day.
I loved seeing the distinct personalities of both Rufus and Mateo. Rufus is an out bisexual boy who is Cuban-American, while Mateo is Puerto-Rican and struggles to come out as gay in the book. While Rufus is very carefree and daring, Mateo is wary of the dangers in the world and closed. While Rufus can be a bit selfish and intense with feelings, Mateo is very selfless and caring. The one thing that brings them together is Last Friend, an app that Deckers, or people who are living their last days, can use to find companionship in this last day. Despite their differences, both boys find solace with the other and discover elements of themselves they would not have thought possible. I think Mateo and Rufus bring out the best of each other. There's a great balance to their relationship where each affects the other in having a positive growth in their life (despite the one day to live).
"I collapse back onto the floor, thinking about how it'd do or die now. Not even that. Do, and then die."
And thus starts the adventure of Mateo and Rufus's last day to live. Their perspectives bring us through the streets and subways of New York, through the jungles and skies of the world (albeit virtually). We have lovely, introspective dialogue between the two as they learn more of the other. This day adventure is basically the whole book – and yet despite the short length, I could very well see their relationship progression as realistic. There's just something so open and honest about it, about what knowing you would die by the end of the day does to a character and their development. Silvera takes this kind of premise with precision and heart, making for an unforgettable contemporary.
There were beautiful family and friendship elements in this book that made my heart sing. Rufus lives in a foster home and has a loving foster family – boys that are his brothers perhaps not in blood, but in soul. They call their squad the Plutos. Mateo is a godfather to a cute little girl and has a wonderful friendship with her mother. And amongst these relationships are the revolving stars of Mateo and Rufus, whose slow burn romance comes in a both comfortable and beautiful way. These relationships all made me feel distinct emotions with their realistic elements and caring interactions: betrayal, strength, loyalty, courage, and overlapping it all, love.
"Entire lives aren't lessons, but there are lessons in lives.
You may be born into a family, but you walk into friendships. Some you'll discover you should put behind you. Others are worth every risk."
With such a premise surrounding death, Silvera brings great introspection and exploration of the topic of death and the its surrounding emotions and connotations through dialogue and character interactions. I found the thought process extremely realistic as Mateo and Rufus and the other intersecting POV's think about their last days to live and how to spend them. The aspect of Deckers and the Death-Cast brings a very thoughtful point to how we change what we do based on the knowledge of our deaths, and the deaths of the people around us. It's there in the small ways people treat you, in the way businesses spring up to make people's last days' worth living. One thing that also made me appreciate this exploration even more is that Silvera doesn't just focus on the good – the people that spend their last days experiencing all that they can do. We see a hateful bomber make sure that his last day is not the only last day. We hear about how the Last Friend app can be dangerous with some interactions. Silver reminds us time and time again that the world is deadly, but we can make this risk of living worth it based on how we live.
"'We're not dying because of love. We were going to die today, no matter what. You didn't just keep me alive, you made me live.'"
We Both Die at the End is not a story about death. It's about life, and the risks you take living. It's a reminder for us to take what we can out of our lives because a day can fit so many things, so much growth. You can have reconciliation with an ex in a day. You can find the courage to come out – both out from the house and out with your sexual orientation – in a day. You can build a deep friendship in a day. You can fall in love in a day. It's all up to where you decide where your path will take you, no matter the result at the end of the day. No matter if it's death. Because to love is to have lived, and yes, although Mateo and Rufus both die at the end, they both have lived in the end.
Thank you Edelweiss and HarperTeen for the review copy!